NEAT Acoustics Iota Alpha loudspeaker
Reviewers of high-fidelity gear are a trend-sniffing, topology-bandying bunch. When four of our kin gathered last November over lunch, during the
2016 New York Audio Show
, the high-end chatter flew fast and furious. "Did you hear those mother-rocking big horns on the seventh floor?" "Nah, man, the Bruno Putzeys speakers on nine were best in show." "What about those li'l Lowthers on eight? Great sweet spot, but small as peanuts."
And so it goes. Hi-fi reviewers couldn't live without one another. Heck, we may need each other more than consumers do! For my Stereophile byline, I have the best audio wordsmiths in the biz to thank: I need their insights, recommendations, groans, and flabbergasted guffaws. And because, unlike some of my Stereophile brethren, I'm not a globe-trotting correspondent, I depend on their show reports to fuel my curiosity.
Such was the case with NEAT Acoustics' Iota Alpha loudspeaker ($1995/pair). Over Chinese food with Steve Guttenberg, Sound & Vision contributor Mike Trei, and me, Herb Reichert asked: "You heard the NEAT Acoustics speakers?"—a question he repeated a number of times during NYAS, at different lunch counters over different cuisines. I thought for sure he wanted them for himself.
Later, I saw that the Iota Alpha was name-checked by yet another reporter: Digital Audio Review's John Darko had interviewed NEAT's founder and designer, Bob Surgeoner, in Munich the previous May. Darko seemed excited about these sleek and mighty mites. He got me excited, too.
I have a thing for bookshelf speakers, though I haven't yet found a perfect pair that I can afford. The Iota Alpha ain't it—it's a mini-floorstander, man!—but it sure reminds me of a bookshelf model sitting on the floor. The Iota Alpha measures 17.6" high by 7.8" wide by 6.25" deep. Sturdy spikes lift the speaker 1½" off the ground. A sloped upper section holds a 2"-high planar-magnetic tweeter and a 4" midrange drive-unit. There's a 1½" port midway on the rear panel, and two heavy-duty binding posts are tucked in near its bottom lip. The petite NEAT also has a 5.5" down-firing woofer, completing a design that essentially couples NEAT's best-selling Iota two-way bookshelf speaker with a low(er)-frequency driver. Several finishes are available; my review pair came in lovely maple-like pale wood veneer.
Here's a diminutive floorstander with a planar-magnetic tweeter for its claimed wide-open treble frequencies and increased resolution, a tiny midrange driver, and its true piŃce de résistance (in my book): that floor-firing woofer. The design is unique: a foot-and-a-half-tall floorstander! When it first appeared on my computer screen, I chuckled. When the review samples arrived, I cracked the top of the box in my bohemian listening space, then laughed as not one but two beautifully finished speakers emerged. The Iota Alphas' single box weighed so little that I'd gotten all huffy with the FedEx guy: I was sure that a pair of speakers would arrive in a pair of boxes.
Then-fulltime musician Bob Surgeoner founded NEAT Acoustics Ltd. (NEAT stands for North East Audio Traders) in 1989, and the company has become quite popular in the land of Brexit. Manufactured in Barnard Castle, in County Durham, in the northeast of England, NEAT's best-selling models are the basic Iota ($995) and three floorstanders: the two-way Motive SX2 ($2395), the three-way Motive SX1 ($2995), and the 2½-way Momentum SX5i ($6295) (all prices per pair). The Iota Alpha nips at their heels. NEAT's biggest markets are the UK, Germany, Austria, and Russia, with the US, Canada, and Australia playing catch-up. I'd say that's an extremely wide swath of hi-fi tastes and temperaments.
Design
The elfin Iota Alpha stands 19" tall on its four silver spikes. All of its cabinet walls are made of 15mm-thick MDF, including a slab that seals off the tweeter and midrange drivers from the cabinet's nether region, to give the downfiring woofer more power and better definition. On the slanted top baffle NEAT has paired, side by side, a 2" Monacor planar-magnetic tweeter and a 4" Tymphany Peerless midrange driver, both firing up at an angle rather than directly at the listener. The crossover, hardwired point to point, includes British Volt, Mundorf, and Audaphon German inductors, as well as British ICW Clarity capacitors. The woofer is rolled off beginning at 80Hz; the midrange hands off to the tweeter at 5kHz. The speaker's specified sensitivity is 86dB/W/m, the nominal impedance 4 ohms.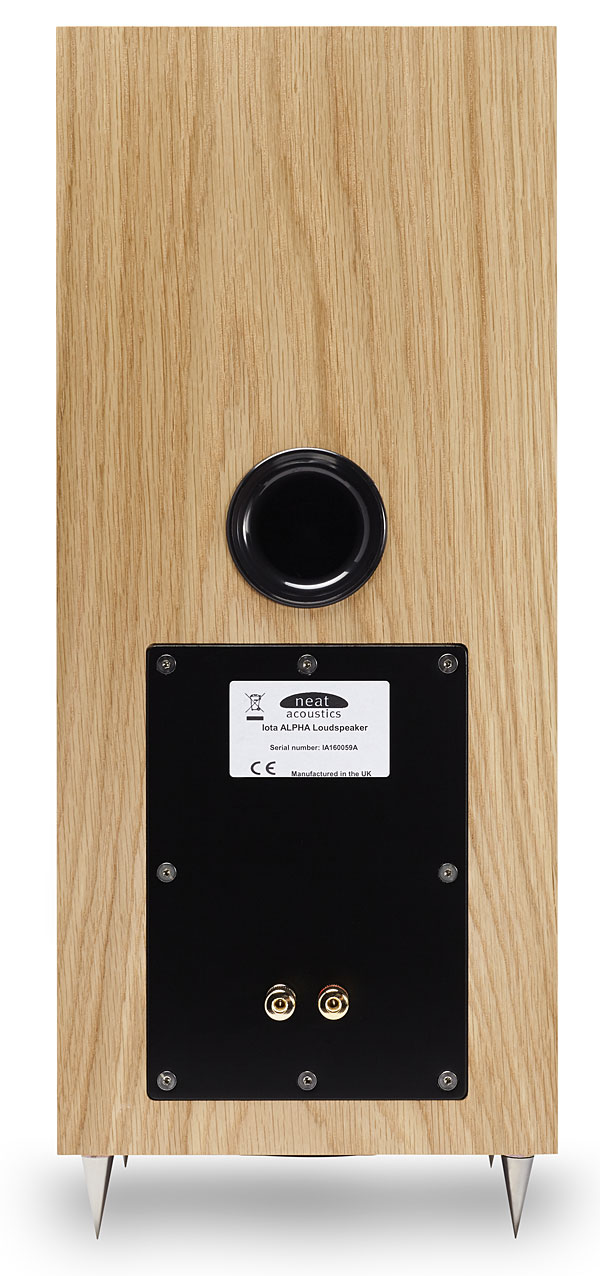 When I asked Surgeoner how the Iota Alpha managed to be more than just his best-selling bookshelf model coupled to a woofer section, he replied: "The upper section of the Iota Alpha uses the same drive-units and crossover as the original Iota, but instead of being ported, the Alpha's top section is sealed, thus changing the character, especially in the bass. So we have a sealed two-way speaker with restricted low-frequency output augmented by a low-bass section. It differs from an Iota with a conventional subwoofer in having been voiced and tuned as a complete entity."
Setup
The Iota Alphas were the most difficult speakers to position for optimal sound quality that I've ever had in my Manhattan boogaloo bomb shelter. You might assume they'd find their voice most quickly when placed near the front wall, but finding precisely how far from that wall was very difficult: too close and the low end boomed; too far out and the tweeter honked and hacked like a four-day NyQuil bender. But once the Iotas were fully broken in, they ended up 14" from the front wall and 95" from the listening chair in my larger room—and were being driven by my system of Kuzma, Shindo Laboratory, and PS Audio separates. I was instantly taken by those seamless and extraordinarily clean planar-magnetic tweeters.
Hearing planar-magnetic tweeters for the first time can make your ears go all loopy. Mine did. A conventional silk-dome tweeter can't match a planar-magnetic's wide-open high-frequency extension and upper-range resolution. The difference is startling, and it took me some time to adjust to it. While heroically resolving information throughout the audioband, the Iota Alphas also exposed every hair-thin crack, dust mote, and nasal dewdrop on the surface of every LP I played. Treble information and lower-midrange notes were sweetly open; the bass extension of such small speakers was also a revelation—and I'm not talking boomy, wimpy low end, but deep, tight, decently toneful bass frequencies.