Jake Shimabukuro In The Bluebird Music Suite At The Venetian
Available elevators at CES are usually scarce, so seasoned show-goers hit the stairs at the end of each floor to move up or down. Since the Simaudio room was right next to the stairs, we decided to head straight up five floors to the 35th where distributor Bluebird Music had their nest in one of the larger Venetian suites. Jake bounced up the stairs no problem carrying his ukulele, the rest of us maybe a tad more winded. But we made it and were greeted by the Bluebird and Chord crew as we entered.
John Atkinson had stuck with us, wanting to hear Jake play as often as possible, and Bluebird's President, Jay Rein, and Chord's engineering consultant, Rob Watts, also joined the party. On hand was a fine collection of Chord electronics, as well as another personal favorite, speakers from Vienna Acoustics. I'll also insert some comments here from Jason Victor Serinus about the cables used, since he missed getting a photo for his show report: "The new Van den Hul Platinum Hybrid MkII ($9495/1m pair with either RCA or XLR terminations) contains two 0.3mm solid core ultra-pure solid platinum signal conductors in a platinum-colored high density jacket of proprietary material, and comes with either rhodium-plated RCA or silver-plated Neutrik XLR connectors."
While we were setting up, Jake was in the back room listening to the new Chord Hugo2 with some Audeze headphones. He has a pair of Grados that he loves and if it isn't obvious also liked what he was hearing with the Audeze/Chord combo. I'm starting to get a little worried we're spoiling him a bit.
You can see in the photo below how everyone arranged on the couch and again we played "Blue Haiku" and then "Galloping Seahorses". My first reaction: here was another fabulous, open sounding presentation. And these being the smallest speakers we've heard in a room this size, I was immediately impressed with how they filled the rather large space.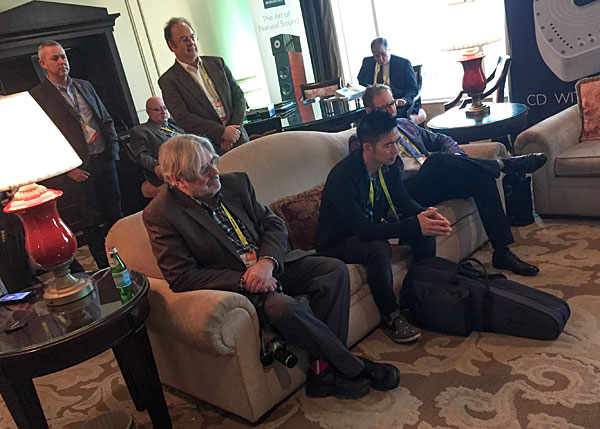 Jake: "What I liked about this is that it had a very honest and neutral sound. Nothing was over-exaggerated. The true character of the ukulele, especially at the beginning of the second piece ['Galloping Seahorses'], that was the truest representation of what my baritone sounded like. I don't have it here, but that baritone is a fifty year old instrument. It sounded more real, more lifelike."
Rob Watts noted that what he observed "was that it had the real impact of the strings, the speed and the sharpness, but at the same time sounded quite smooth. It's getting that mix of impact and speed at the same time that we find really key to what we are trying to do."
Jake then added, "well rounded and very easy to listen to. I'm excited to hear how 'Eleanor Rigby' sounds." Jake then pulled out his ukulele and for the fifth time played the tune for us live, and then we listened to the studio version.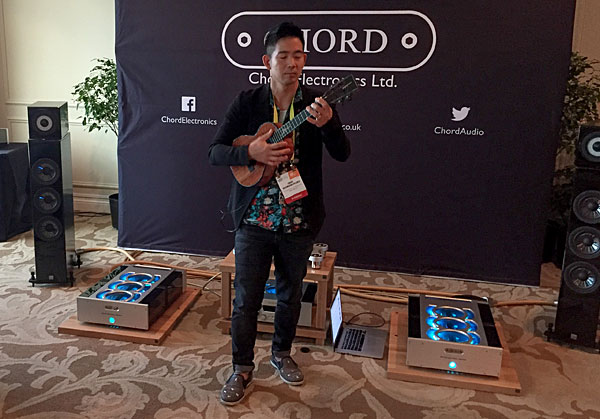 Jake: "Very, very honest. I thought this the closest of all the systems so far. I felt this one did not have as much of a muffled top end and there was a lot more air on the upper harmonics. Nothing was over-exaggerated. Really maintained the quality of the ukulele. I didn't hear any of the extended low end we heard on some of the other systems, but very clean. I still sensed a little compression in the dynamics, but I think that's the nature of the microphones. I felt this the most honest so far, the most neutral."
Rob Watts: "[The recording] definitely sounded warmer, and I suspect, you're right, that's down to the microphones."
Jake: "There wasn't any brightness in the other systems. In the last couple rooms, the album tracks had great impact in the bass and the kick drum. But when we did the solo acoustic thing, some of those lower frequencies were accentuated and took away some of the higher frequencies."
Rob Watts: "The problem with digital in the past is it sounded horrendously hard and bright, and a lot of digital designers are over-compensating and trying to make things unnaturally soft and unnaturally smooth. But real music is warm and smooth but also hard and sharp and fast and the trick is trying to balance those things. That's why it gets really difficult. It's quite easy to sculpt a sound to sound a particular way. But to make it transparent, that requires a lot more work."
Rob then joked about getting Jake to help him as a reference to achieve accurate sound, and Jake responded "this is my first time experiencing any of this. I'm passionate about the best quality sound, but not many musicians have access to this world. This is a real treat--it's been so inspiring."
Jay Rein closes with comments about hearing Jake's live ukulele playing: "I had this expectation of something quite different in my mind, but to hear you play, the sound of the instrument itself was so beautiful. But what really came through was the emotion of the playing. When you started Eleanor Rigby, [the emotional reaction] was spontaneous. And it's so hard to actually capture that in a recording. The dynamics of when you play quiet are so hard to do. We're all aiming for that goal."
Bluebird Music Equipment List:
Vienna Acoustics Liszt speakers, $14,998
Chord Red Reference MkII CD player $21,900 Chord CPA 5000 preamp $17000
Chord SPM 6000 monos $41,000
Van den Hul Platinum interconnect and Cumulus 3T speaker cable $19,000
More info on Jake @CES here. You can read all of the Jake @CES posts here.