The Best Jazz Albums of 2016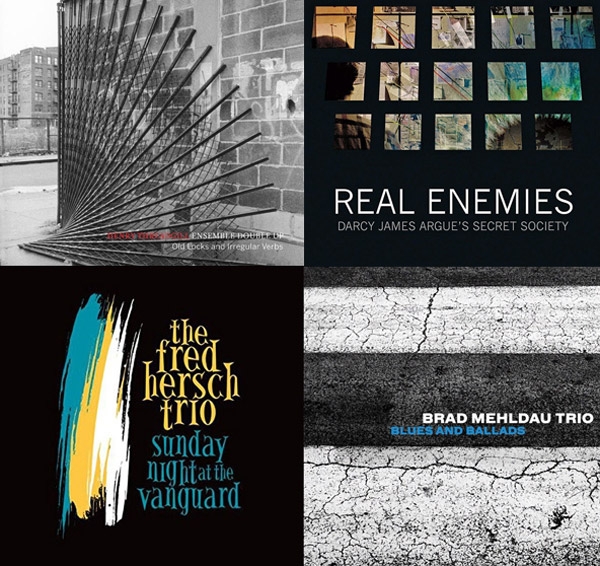 It's that time of the year again. Here are my picks for the 10 best new jazz albums of 2016—and the four best historical releases:
New:
Henry Threadgill's Ensemble Double Up, Old Locks and Irregular Verbs (Pi).
Darcy James Argue's Secret Society, Real Enemies (New Amsterdam).
Frank Kimbrough, Solstice (Pirouet).
Fred Hersch Trio, Sunday Night at the Vanguard (Palmetto).
Brad Mehldau Trio, Blues and Ballads (Nonesuch).
Wadada Leo Smith, America's National Parks (Cuneiform, 2 CDs).
Dave Douglas & Frank Woeste, Dada People (Greenleaf).
Krakauer's Ancestral Groove, Checkpoint (Table Pounding Records).
Kenny Barron Trio, Book of Intuition (Impulse!).
Matt Wilson's Big Happy Family, Beginning of a Memory (Palmetto).
Historical:
Larry Young, In Paris: The ORTF Recordings (Resonance, 2CD/2LP).
Erroll Garner, Ready Take One (Sony, CD/2LP).
Sarah Vaughan, Live at Rosy's (Resonance).
Shirley Horn, Live at the 4 Queens (Resonance).

In Slate, where I write a regular column (though mainly on foreign policy), I recite this list and link to one track or a lengthy excerpt from each album.
For Stereophile readers (who may have read my blog-reviews of most of these albums over the past year), I offer the bonus of a sonic assessment. The remarkable thing is that all of the above albums sound at least pretty good. The Kimbrough, Mehldau, and Barron sound extraordinarily good, especially, I'd say, the Kimbrough, which was recorded at Sear Studio. The historical albums—all never-before-released in any format—also sound very good, the LPs (where available) more so than the CDs (surprise).
And happy listening for the holidays to one and all!