Devialet Opens First Standalone US Store in SoHo, NYC
This past Friday, November 17, critically acclaimed French audio startup Devialet officially opened the doors to their first US standalone store right here in SoHo, NY (footnote 1). This store joins five other standalones globally (Paris, London, Berlin) and, as of yet, no future plans of additional US locations have been disclosed.
On Thursday, November 16, the eve of the official opening, I attended the shop's exclusive launch party to get a firsthand look inside. It was a very "New York" party. Waiters (who are probably models/actors) carrying truffle puffs and scallops, wine (none of that cheap prosecco or bad gin you find at many audiophile parties), fashionable socialite types taking selfies with the "Devialet" sign, and dapper Moscot-frame-wearing men—all mingling together in a sea of French and American accents. Debatably pretentious from afar, but after further inspection, incredibly genuine; a very, very New York party it was.
The interior is sleek; a 2200 square-foot, two-floor stretch of clean white space with minimal design elements and finely tuned lighting. Wireless Phantom active speakers (footnote 2) blasting music by the likes of Wiz Khalifa and the Alabama Shakes line the walls, intermingled with angular seating spaces. To the left, the Gold Phantom, Devialet's most recent release and most powerful iteration of the Phantom, glows as the star of the show, with shiny golden rays of sun streaming out from behind. The store carries the entire line of phantoms: Phantom (750 watts; $1990), Silver Phantom (3000W; $2390), the new Gold Phantom (4500W; $2990), their Expert Pro series of amplifiers ($7690+, footnote 3), and the full lineup of related accessories.
A little bit forward, looking to the left, one can see a wall full of Phantom related accessories, including the Tree, Remote, Dialog, Cocoon, and Gecko.
A bit deeper into the white hole, and one comes face-to-face with what Devialet calls their "Immersive Room", a private listening space sonically isolated from the rest of the shop, viewable through floor-to-ceiling glass walls on both sides. On one end of the room sits three equally spaced Phantoms and a glowing screen displaying configuration possibilities; on the other, a group of well dressed people sitting atop the very same angular seating spaces. This room can be booked for private listening sessions.
Behind the Immersive Room is a slim balcony that overlooks the lower level, which I am told will eventually represent a living room space—a much more realistic listening experience for the average potential customer. During the party, artist Oliver Jeffers was painting the entire back wall of the shop with this incredible work of art. (Like I said, it was a very New York party.)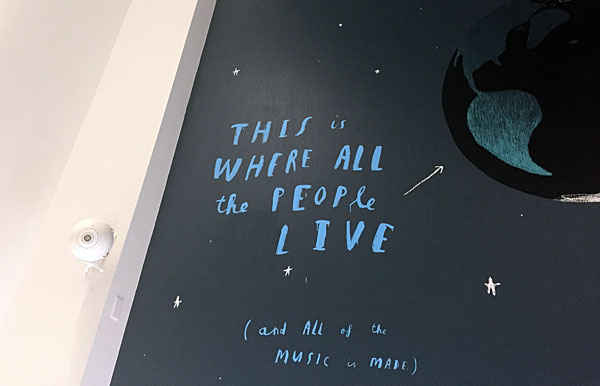 While exploring the lower level, I was introduced to Adrien Da Maia, the GM of North America who played (and will continue to play) a major role in the store's opening.
* * *
Jana Dagdagan: Is your European customer base different from your US customer base?
Adrien Da Maia: Not really, Devialet product and technologies cater to all music lovers worldwide. Whether in the US or in Europe, we have seen the same enthusiasm and excitement for Phantom as well as a long-standing following for our Expert Pro range.
JD: Do you consider yourself an audiophile?
ADM: Everybody working at Devialet is truly passionate about music. We are proud to have some of the best audio engineers in the world, and it is our mission statement to convert everyone into audiophiles.
JD: Do you see the Phantom line as a potential gateway to the Expert Pro?
ADM: Definitely, for many, Phantom is the first experience of a true audiophile listening session: the beauty of analog amplification powered by digital.
* * *
A bit simplified for my taste, but the phrase "it is our mission statement to convert everyone into audiophiles" struck me. Deeply. Those words are constantly thrown around haphazardly in this industry, but are very rarely coupled with well-intended, result-seeking actions.
Many audiophiles, including existing Devialet fans, have qualms with the bassiness and powerful nature of the Phantom. (And I wouldn't necessarily disagree with them.) But in creating a product like the Phantom—an aesthetically pleasing unit with a purpose and a gateway to audiophile land (via the Expert Pro line), and building a modern, welcoming atmosphere with modern, welcoming music—Devialet is, indeed, well on their way to "converting everyone into audiophiles."
---
Footnote 1: The Devialet store is located at 92 Greene St. New York, NY 10012. For more info, click
here
.
Footnote 2: Tyll Hertsens reviewed the Phantom for our sister site InnerFidelity.com.
Footnote 3: John Atkinson reviewed the original Devialet D-Premier integrated amplifier in January 2012.