Perspective
NYAS 2015. Rye Brook, NY.—Then, a lone capsule filled with liquid anxiety, outfitted in wobbly heels and a blanket of sweat aimlessly wandered through the halls of hotel hi-fi. She had recently interviewed for her dream job at her dream publication, Stereophile, but had not heard back yet. She desperately hoped to meet Sirs Art Dudley and Michael Lavorgna for the first time, and luckily succeeded in doing so at the 'Zen and the Art of Audio Reviewing' seminar.
NYAS 2016. Central Park, NY.—Now, that very same capsule, still sloshing to the brim with liquid anxiety, wandered this year's hi-fi halls (in classier shoes). Except this time, she proudly wore a Stereophile badge, and had replaced the blanket of sweat for a black leather jacket. And rather than attending a seminar and waiting in line to chat with Michael (left in the photo below) and Art (right)—yes, they're on a first-name basis now—she was able to walk the floors with them.
It's fascinating to think about just how much can change in a year's time. In this way, the New York Audio Show transcended beyond being just a hi-fi show, and acted as a marker in the timeline of my audiophile life. Between a year ago and now, no other singular event has occurred that has allowed me to take a comparative that was then, this is now approach to reassessing myself.
I've come to realize something: we, collectively, as humans of the audiophile variety, tend to be set in our ways. We are fiercely passionate beings, critical by nature, and loyal to our opinions.
Audio shows are about opening our minds, giving our mental barriers a day off, and allowing ourselves permission to honestly reassess. Self-discover. What are you listening to right now? How has your most recent live concert experience influenced your current sonic preferences? How much worse has your hearing gotten? Perhaps that comically expensive interconnect really does make a difference. Perhaps you can now appreciate solid-state. Or not. Maybe that goddamn tweeter really does still sound like it's made of tin foil, maybe that industry guy is still a Grade A asshole, and maybe power conditioners still don't make a difference. But hey, you tried. That's all that matters.
Even before I stepped foot into the Park Lane Hotel on Friday morning, I was a bit down. How is it that a hi-fi show taking place in the city of all cities, Stereophile's home base, and home to some of the USA's premiere physical retailers and dealers, only has a few floors, 30 rooms, no seminars, and no live music?
Perspective.
A compact audio show in a compact city allows for a greater concentration of audiophiles, producing a greater sense of community! Fewer rooms allows for more focus on each individual room, and more time to listen in depth!
Right. So. Let me tell you about my favorite rooms.
1: The Linear Tube Audio room, which played music from a Wolf Audio Systems Red Wolf Server ($8000), through a Veracity Audio Chrysalis DAC (approx. $7100), a Linear Tube Audio MZ2-S ($1845) and ZOTL40 ($5800), to gorgeous Sadurni Acoustics Miracoli horn speakers ($22,000/pair).
Oh, how I love horns. I'm growing to love them more and more at every encounter. And tubes! I can't enough of tubes. Horns and tubes! What a great combination. I wasn't that into any of the music they were playing when I entered the room, but luckily I was able to take my pick of music. I chose Aphex Twin's "minipops 67 [120.2][source field mix]" from Syro and the room's entire vibe changed. The Chrysalis DAC (which was making its first US debut at the NYAS) was clean-cut and solidly articulate. Pair that with Linear Tube Audio's comforting tubey warmth and the sheer power of Sadurni's horn speakers, and the whole room was dancing.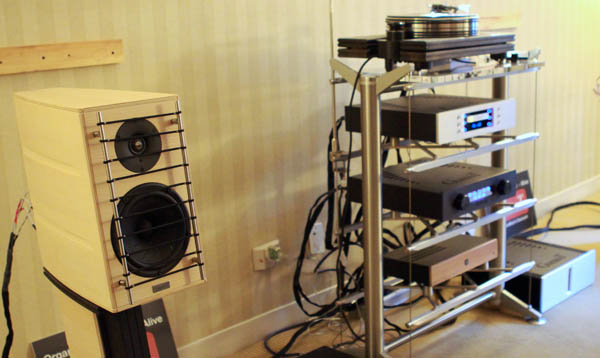 2: The Wes Bender Studio NYC room, consisting of a GamuT CD3 compact disc player ($7990), a Pear Audio Blue/Kid Thomas turntable with a Cornet 2 tonearm ($7995), a Pear Audio Blue Classic phonostage ($1995), Pear Audio external power supply ($1995), and a Transfiguration Proteus cartridge ($6000) for the source. Amplification was provided by a GamuT D200i dual-mono stereo amplifier ($13,990) and a GamuT D3i dual mono line stage preamplifier ($8380), playing music through GamuT RS3i loudspeakers in ivory ($20,990/pair). GamuT Reference cables were used throughout.
My consistently favorite showroom DJ, Jose Ramirez (of Dr. Vinyl), was already singing and dancing along to the music when I entered the room. As if on cue, he winked at me and put on "Desafinado" from the same Getz/Gilberto featuring Antonio Carlos Jobim album he played at RMAF last month. I recognized the same full bass and fun sound signature that I had so enjoyed upon my first GamuT encounter. Afterwards, I was completely caught by surprise when he played "Spinning Wheel" off of Blood, Sweat and Tears' self-titled LP.
A few years back, while I was still a very serious conservatory student, I did some arranging and copyist work for the Gil Evans Estate (essentially—Gil's son, Miles) where I met and grew very fond of the great trumpeter Lew Soloff over a period of years. When I heard the power of Lew's piercing, iconic solo on "Spinning Wheel" I starting tearing up a little. Jose couldn't have possibly known this, but it intensified my ability to connect with the system and feel it on a different level. Rest in peace, Lew.
3: The Volti Audio/Vinnie Rossi/Triode Wire Labs/Fidelis room, which consisted of Rival, Volti's new compact horn speaker ($7900/pair), a Vinnie Rossi LIO integrated amplifier (with DHT PRE, custom configured; $10,280), and a Vinnie Rossi VR120 stereo power amplifier ($4995). The analog source included Acoustic Signature's Triple X turntable ($5795), TA-2000 tonearm ($2399), and Dynavector XX2 Mk.2 Cartridge ($1995). Triode Wire Labs cables were used throughout.
I thoroughly enjoyed Vinnie Rossi's room at RMAF2016, so I was excited to hear his amplifiers again at this show. We listened to some Elvis at first, which showed off the system's evenness and depth. I then requested jazz, and they put on "The Alternate Blues" from the Thorens 125th Anniversary LP, which featured Clark Terry, Freddie Hubbard, and Dizzy Gillespie. With jazz, over any other genre, balance is king—to me, at least. I was pleased to hear how well this system laid out the instruments, and how well defined Dizzy's horn (which can sometimes come off as muddy) sounded. It was a comfort system; nostalgic, deep, and enveloping.
These three rooms were not only my personal sonic favorites, but also the rooms that I saw making the best attempt at creating an entertaining, accepting atmosphere for everyone.
Remember: You're allowed to change your mind. You're allowed to be wrong. You're allowed to like Diana Krall. You're allowed to say, "I don't know." That is precisely what audio shows are for: exposure, self-discovery, and letting change happen. Or not.
Perspective.