NYAS 2016: Ken's Saturday on Central Park South
Seeing as it's smack dab in the middle of the New York Marathon route, finding a way into The Park Lane Hotel presented its share of challenges, even on Saturday: though the race wouldn't begin until Sunday, gangs of scantily clad runners of all shapes and sizes dominated the sidewalks of Central Park South, forcing pedestrians to hit the concrete and scream, Ratso Rizzo style, "Hey! I'm walkin' here!"
Ahhh—I made it. Peace. Serenity. It's day two of the New York Audio Show!
Back on the seventh floor, my first stop was a room that remained jammed from first day to last. Linear Tube Audio presented a stunning-looking and -sounding system consisting of Wolf Audio Systems Red Wolf Server ($8000), Veracity Audio Chrysalis DAC ($7100), Linear Tube Audio's microZOTL MZ2-S power amplifier ($1845)—and, on static display, ZOTL 40 power amplifier ($5800)—Sadurni Acoustics Miracoli speakers ($22,000/pair), various Audience AU24 SX interconnects and speaker cables (from $1560), Audience AU24 power cords ($1030/5'), Audience aR6-TSSOX power conditioner ($6450), and a four-shelf rack from Box Furniture ($4130).
Based on designer David Berning's amplifiers, Linear Tube Audio's small-footprint MZ2-S contains NOS 12SN7 and 6201/12AT7 tubes and a beefed-up power supply. For its part, the large, V-shaped, UK-built Veracity Audio Chrysalis DAC is outfitted with 6SN7 (2) and ECC82 (2) tubes. This Gregor Szymczyk design, which has serious Bubinga-wood appeal, is manufactured with the user's choice of 6SN7 tubes, including samples from Mullard, Electro-Harmonix, Philips, Raytheon, Genelex, Sylvania, Northern Electric, and Psvane Tseries. Two copper-foil/paper-in-oil capacitors are by Jensen. The Chrysalis offers both PCM and DSD, plus a headphone amp/jack, in pure class-A single-ended triode design. The beautiful elephant in the room, the massive Sadurni Acoustics loudspeaker, is a four-way front-horn-loaded design, with a stated frequency response of 20Hz to 50kHz. Horn-loaded from 140Hz up, it uses two opposing 8" paper woofers per side, powered by an internal servo-controlled 300W class-D amplifier, all manufactured in Texas.
Streaming the jubilant jazz of Stephan Oliva, Bruno Chevillon, and Paul Motian's Intérieur Nuit, this system provided splendid musical movement while silencing everyone within earshot with its naturalism, frequency extension, and purity: the Veracity/Linear Tube Audio/Sadurni combination easily takes this reporter's "best in show" award. Compared to the strained sounds, puny soundstages, and generally non-musical presentations that erupted from many rooms, here was a visceral line-up that created images with lifelike stature, pure tonalities, and an easily believable sense of weight, flow, and slam. From Hugh Masakela's joyous shouts to Nils Lofgren's blues-guitar forays, Veracity/LTA/Sadurni created immersive music magic.
Over in the Kubotek Corporation-Haniwa Audio room, an array of valve gear powering the tiniest speakers in the show created a buzz-worthy ruckus. The system used what appeared to be a modified Kuzma turntable, fronting a variety of Haniwa components: HCTR-01 Mk.II Precision Vinyl Data Pick Up System ($12,000), HCTR01 MC Cartridge ($5000), HEQA02 Phono Equalizer Amplifier ($5000), HAMP05 Mid/High Range Tube Stereo Power Amplifier ($4000), HAMP 30 Low Range Tube Monaural Power Amplifier ($6000), and HSP1C04 Full Range Cube Speakers ($12,000).
On their promotional materials, the exhibitors used as their motto, "The Quest for True Stereo Music." It's safe to say the former owner of records used in this room—the late Harry Pearson—would view their "quest" as true sacrilege: as seen in the above photo, at least 15 of Harry's LPs were stacked and strewn across the tops of amplifiers and on the floor. Titles from RCA (Living Stereo pressings), Columbia ("two-eyes" pressings), and Riverside were treated as useless playing cards, rather than as valuable containers of music history. A man in shirt and tie—the designer/owner, I assume—pointed to the records and boasted, "Harry Pearson collection!" I scoffed, "Harry wouldn't appreciate his records being treated this way." He smiled.
Spinning Stravinsky's Firebird Suite, conducted by Antal Dorati, from an RCA Living Stereo LP, the Haniwa system lacked bass, and transients were harsh, although small-scale texture and tone were good—even stirring.
Next door, German electronics manufacturer AVM Audio Video presented their new Ovation 6.2 products, in concert with the venerable British speaker manufacturer PMC. One AVM/PMC system included the Ovation 6.2 class-A/AB high-current MOS-FET integrated amplifier, Ovation 6.2 Media Player with CD drive, and PMC twenty•24 loudspeakers ($5400), with Nordost Valhalla 2 cabling. System two included the Evolution SD 5.2 Analog preamplifier with custom-made AVM 83T tube line stage, Evolution MP 5.2 tube-driven media Player with CD drive, Evolution MA 3.2S Mono Block amps, and PMC fact•12 loudspeakers ($20,850), with Nordost Heimdal 2 cables. Electronics for both systems were held in a single HRS rack, making it difficult to know what piece was doing the business at any given time. (AVM prices were MIA.)
The big 'n' shiny AVM-PMC assemblage produced super smooth sounds. The music files were equally shiny, from Boz Scaggs to various faceless pop crooners to—no, please, no—"The Pink Panther Theme." Music was presented with zero trace of glare or etch, bass notes were rich and ripe, and a general feeling of solidity and assurance was the order of the day.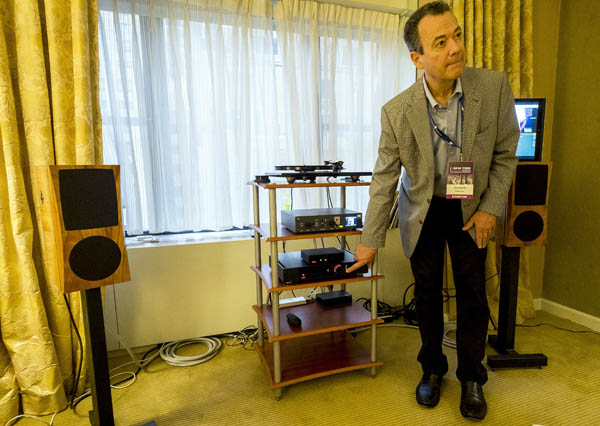 Audio shows are about more than esoteric speaker designs, costly all-in-one lifestyle machines, or glistening turntables. In the case of exhibitor Sweet Vinyl, audio shows are also the place to clean up the sound of your beloved vinyl.
With the aid of smartphones and a proprietary app, Sweet Vinyl's Dan Eakins and Leo Harty treated showgoers to the sounds of vinyl sides that had been electronically de-clicked, de-noised, de-popped, and perhaps even de-loused. Their Sugarcube SC-1 ($1500) and SC-2 ($2500) "Hi res all-in-one vinyl digital recording and playback platforms" provided a convincing demonstration. Using the app to switch between de-clicked and non-de-clicked vinyl playback, with practically zero latency, it was easy to hear these sugary machines do their removal magic. The Sugarcubes can create hi-res rips to files, or, for the vinyl lover, they silence clicks, pops, and scratches in real time. An amazing pair of devices designed for those who demand dead-quiet, black backgrounds from their precious vinyl discs.