Art's Day at the New York Audio Show
My Friday-morning train from upstate New York arrived in Manhattan ahead of schedule—how often does
that
happen?—giving me the luxury of walking, rather than taking a subway or a cab, to the Park Lane Hotel, located on West 59th Street: this year's venue for the New York Audio Show. So I set out from Lexington Avenue and headed west on 57th Street, admiring as I did the window displays of the many high-end jewelers and clothiers and galleries along the way. By the time I cut north toward 59th Street—the southern border of Central Park—the passersby were more well-dressed, the uniformed doormen more numerous, shopping bags from Van Cleef & Arpels and Bergdorf Goodman more plentiful, diversity of humanity on the wane, the Yorkie count way, way up.
By the time I reached the Park Lane Hotel's posh-minus entrance, I felt as though I'd entered a whole different world—but this time I wasn't sneering. Indeed, I was wondering: what would it take for all these people of means to take interest in our little world of handmade electronics and rare phono cartridges and loudspeakers that were surely meant to be enjoyed in the largest and grandest of rooms? For people who are used to the best of everything, is high-end audio really that big a leap?
Yeah, pretty much. And maybe that's for the best: not that the wealthy aren't as capable of enjoying art as investing in it, but at the New York Audio Show, the diversity missing from the hotel's surroundings was restored, with attendees—surprisingly large in number for a workday afternoon—from seemingly all walks of life. It was refreshing.
The same could be said of the playback systems I encountered there during my one-day visit: some grand, some humble, and most snugged solidly into high-end audio's attainable-if-not-painlessly-so mainstream. So it was at the first exhibit I visited, that of Manhattan retailer Sound by Singer, where one of my favorite British loudspeakers, the Harbeth Reference Monitor 40.2 ($14,795/pair in cherry) was driven by VAC's 100Wpc Signature 200 iQ power amp ($14,000) and Master Preamplifier ($27,000 for the line only version, plus $13,000 additional for the phono-stage option as demonstrated), Aurender N10 caching server ($8000), the Zero Uno tubed DAC by Canever Audio ($7995), and an Acoustic Signature Ascona Mk.II turntable ($33,999) plus 12" TA-9000 tonearm ($18,999). It was a beautifully balanced system: explicit without being in-your-face on a digital file of Neil Young's "There's a World" (great sense of scale on that one, too) with no-less-great tone and presence on a selection from the LP Coleman Hawkins Encounters Ben Webster.
From that ballroom-level exhibit I traveled upstairs to the 9th floor, where I first visited the room shared by Robyatt Audio and Oswalds Mill Audio. The latter company, which designs and manufactures almost every link in the audio chain, is known for their visually stunning speakers that rely on horns for their compatibility with low-power tube amps—but for the New York show, OMA elected instead to demonstrate a two-way speaker called The Monitor, which uses a proprietary German-made AMT driver for the upper mids and high frequencies, and which is available in both the well finished version shown at the NYAS and an active pro-audio version in a more utilitarian enclosure. At the opposite end of the system was the beautifully restored Garrard 401 turntable seen above, nestled in an OMA slate plinth and fitted with two 11" Schröder CB (captured bearing) ebony tonearms ($4750 each) and a variety of Miyajima cartridges, including the reliably musical Madake stereo cartridge ($5895).
That being said, one could argue that the real star of this system was one of its smaller bits: a limited-edition reissue of the classic mesh-plate 50 directly heated triode tube, manufactured in a joint venture between Robyatt and Grant Audio ($1275/pair). Seen here in a pair of Tektron mono amplifiers designed for use with a selection of DHTs—given its distinctive filament-voltage and plate-resistance characteristics, the 50 is not a drop-in replacement for a 2A3 or other such tube—the Grant/Robyatt 50 is said to be available for pre-ordering (and I hope to be reviewing them in the near future).
In a room sponsored by the Scarsdale, New York retailer Value Electronics, I heard a decidedly home theater-oriented surround-sound system using Definitive Technology BP9080X and BP9040 loudspeakers (individual prices were not available, but the rep conducting the demonstration said that the retail for all the complete loudspeaker package was $6500). Apart from a Panasonic DMPUB900 disc player, the electronics in this Dolby Atmos-enabled system were by Marantz. A clip from the most recent Mad Max film was played—a film I enjoyed at the theater when it first came out, although in such close quarters the aggressiveness of the near-constant low-frequency noise was a bit too much for me.
Stress relief was found in the first of two Adirondack Audio & Video rooms I visited, this one featuring loudspeakers from Triangle and electronics from Hegel—the P30 preamplifier ($7500), H30 amplifier ($15,000), Mohican CD player ($5000), and HD30 DAC ($4800)—the latter repped by the always wonderful Eileen Gosvig. A system comprising Triangle Magellan loudspeakers, with a Soulines Dostoyovsky turntable ($2400) that had been fitted with a Rega RB300 tonearm and all Nordost cabling—as well as Nordost's new and curiously named Sort Lift cable risers—sounded compelling on an LP copy of the Allman Brothers' live collection 2nd Set. And while I have little love for the zingy tone produced by an acoustic guitar fitted with an under-the-bridge-saddle pickup, the playback system must be praised, not faulted, for being truthful to that sound.
One of the most enjoyable systems I heard on Friday—right up there with Sound by Singer's system and with the GamuT-anchored system I heard at the room sponsored by Wes Bender Studios, the latter to be covered in a later post by one of my colleagues—was this tidy, unprepossessing system in the second Adirondack room. It was built around Monitor Audio's Platinum 300 Series 2 loudspeaker ($15,000/pair), driven by the 125Wpc Plinius SA-103 amplifier ($10,150) and Kaitaki preamp ($6650 with phono stage, as demonstrated) and fed by a Soulines Kubrick DCX turntable ($4000) fitted with an Oracle SME tonearm, the whole of it wired with cables from Kimber Kable. The limber, subtly nuanced playing of the great guitarist Grant Green was brilliantly served by this system.
Upon entering the Alta Audio room and casually thumbing through the promotional literature on display there, I noticed that none of the brochures seem to correspond with the large, floorstanding Alta speakers in use. I asked the man running the demonstration, and was told that they were prototypes of the forthcoming Alta Hestia Titanium ($27,000/pair, projected), a speaker he said had already proven itself superior to models higher up in the Alta line. Be that as it may, it sounded to me as though the Hestia Titanium, which sounded fine on a Baroque-music selection—played on the system's VPI Avenger turntable, with the amplification from Krell (footnote 1)—was a bit too much speaker for the room: a jazz fusion-style recording, played on the system's Soulution 541 CD player, presented very unclear bass notes (a problem that might also have been aided by turning the volume knob a bit to the left).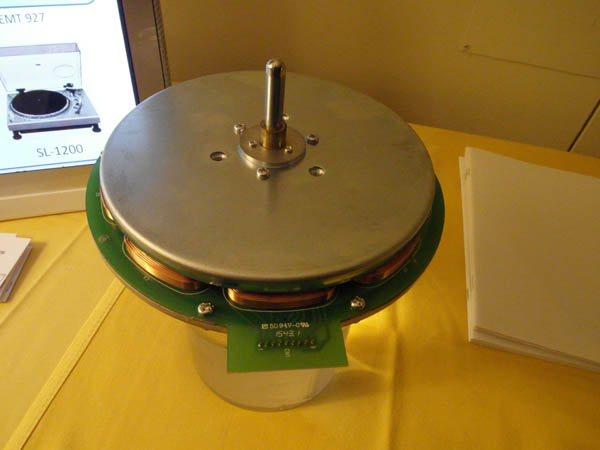 Finally, as this life-long phonograph fan has to admit, some equipment suppliers are capitalizing on the vinyl revival by stamping once-famous names on rectangular boards fitted in desultory fashion with unremarkable belt-drive mechanisms—and calling them "high-end turntables." The famous Japanese company Technics is so not one of those. The direct-drive technology they pioneered with the first SP-10 turntable of 1970 has been pushed a step further in the 2016 SL-1200G turntable. Seen here is the remarkably well-built hub/bearing/motor assembly of the new turntable, key to which are the core-less stator coils that are said to result in lower levels of cogging—and, as a consequence, a higher signal-to-noise ratio—than ever before.
And there you have it: By the end of the afternoon, the corridors were quite full of showgoers, and the general atmosphere was one of optimism and good cheer. And so the Chester Group, whose New York show has led a somewhat nomadic existence during its five years of life, seems to have pulled off if not the impossible then at least the improbable: they've (re-)created a real New York City audio show, and doing so they have found a hotel that's attractive, accessible, and has well-running elevators. What more could I want?
---
Footnote 1: It was good to chat with Krell co-founder Rondi D'Agostino at the show, who has taken back control of the company.—
John Atkinson