A Visit to the Audiologist
We all live with earwax. Some more than others, but none of us are immune.
A buildup of excess wax can potentially cause blockage, tinnitus, an infection, or worse: sudden or partial loss of hearing! (Whatever you do, do not Google image search "earwax buildup.") To the average human, a temporary reduction in hearing is an inconvenience. But to the average audiophile, a temporary reduction in hearing could very well mean fatality. (Said in Mortal Kombat fashion.)
Being a proud member of the "some more than others" party, I routinely get my excess wax extracted twice a year by my general practitioner. In between those times, I also use Debrox drops once a month. Aside from being an oddly satisfying sensation, it also helps me guarantee that I'm hearing everything I should be hearing to the best of my ability.
This past Friday, as I was beginning my workday, I decided to take things a step further and not only have my wax extracted, but also take a hearing test. Double the fun! And—why wait? I must do this right now, I thought to myself, in a very matter-of-fact way. When I Google searched "audiologist nyc," the first result was Dr. Andrew Resnick, who also happened to be close by and have a rare last minute opening soon. Destiny calls—even through the wax. Thus began my spontaneous audiology trek through the wild winds and the pouring rain. Oh, how I love New York City in the fall.
Upon entering Dr. Resnick's office, my eyes immediately spotted his Audioengine A2+ speakers sitting atop his desk. I must be in the right place, I thought to myself. He made me feel at ease as he began examining my ears and shoveling out piles of wax—my pride and joy.
After my ears were sufficiently spruced, it was time to begin the hearing tests. I then entered a dark grey cube of foam insulation with a window looking out onto the doctor's desk.
He first conducted a Pure Tone Audiometry (Air Conduction) test. In this test, I was played various frequencies up to 8kHz at various volumes through a pair of Telephonics 296D000-1 headphones, which are apparently the reference standard for the audiometric industry. I was instructed to click a button each time I heard a tone. It was similar to all the annual physicals I took as a child, but more thorough.
Next up was the Speech Reception Threshold test. Dr. Resnick would say a word that I'd hear in my headphones at varying volumes, and I'd repeat it back if it was audible.
Third was the Word Recognition Test. Noise was played constantly in one ear, while a recorded voice would ask me to repeat a single word. This one was kind of fun. I couldn't stop giggling.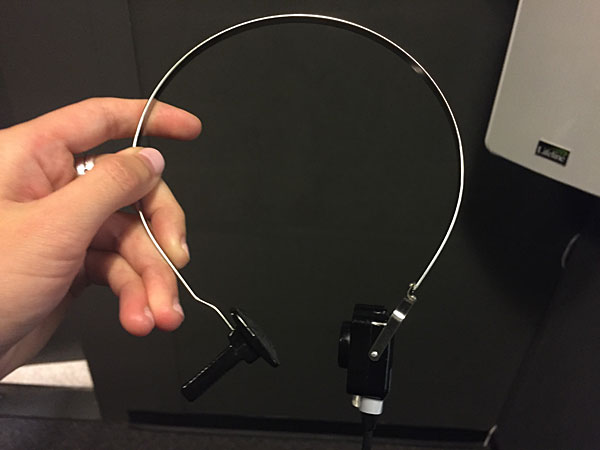 The final test was a Pure Tone Test (Bone Conduction). It was similar to the first test, but used bone conduction headphones that emitted vibrations to the inner ear, rather than audible sound. This is used to zoom in further and indicate which part of the ear is responsible for hearing loss. All four tests are used in combination with each other to best examine one's hearing.
The results: I'm not deaf. My hearing is pretty average for a 23 year-old. You'll notice a slight dip around 6kHz, which I am told is normal for people who frequent live music venues. The dip is more prominent in my right ear than my left, which is possibly because of all the times I played saxophone in a big band during college, in which the rhythm section was always to the right. Who knows, really? I'm a little disappointed, because I carry earplugs with me everywhere and wear them religiously, but . . . c'est la vie. Could be worse.
Jana Dagdagan: Does having better overall hearing correlate with having a better ability to hear the detail and quality of music? As in, if someone has hearing loss and requires music to be at a higher volume to be audible, does that affect his/her ability to hear specific sonic characteristics/qualities within the music? Or is hearing loss irrelevant, so long as the music is raised to the necessary volume?
Andrew Resnick, AU.D.: No, in general I wouldn't say that having better overall hearing correlates with a better ability to hear the detail and quality of music, but this is a complex question. Some people with hearing loss, usually when it's a more significant sensorineural (inner ear) hearing loss, experience certain kinds of distortion of sound due to the impairment of the cochlea. This may cause music to sound quite poor, and in some cases even out of tune. So in a case like this, yes, they would have more difficulty to hear and/or appreciate some aspects of music. But it will also depend on their background and experience with music. I've seen musicians with quite severe hearing loss who are still able to perform, and to hear nuances in music. But I've also seen people who have only a "moderate" hearing loss who have lost all ability to enjoy listening to music.
JD: How important is it for the average person to regularly see an audiologist to get their hearing checked? (Not an audio engineer/music professional.)
AR: As a general recommendation, I would say the average person should see an audiologist every 3–5 years after a baseline hearing test that shows normal hearing, and once a year if a hearing test shows a hearing loss.
JD: If a hi-fi reviewer (someone who listens to hi-fidelity audio gear and comments upon its sonic performance) is unable to properly hear a specific frequency (take my lack around 6kHz, for instance) does that compromise their ability to accurately convey how a particular piece of gear sounds? Or does it not matter if there are no further changes to my hearing, because I'm then able to understand a piece of gear relatively to other pieces of gear?
AR: The effect that a hearing loss will have on a reviewer's ability to accurately convey how a particular piece of gear sounds will depend on the extent of the hearing loss, and the level at which they're listening to the gear. If someone (like you) has a 25 or even 40dB deficit at one frequency, this probably won't have an effect, because music will probably be listened to at a level above this. If you're listening at, say, 80dB, then your inability to hear a certain frequency when it's as soft as 30dB won't really matter. On the other hand, if someone can't hear certain frequencies until they're at 70–90dB, which would be a severe hearing loss for those frequencies, then this is more likely to have an impact on how they're perceiving music. It shouldn't matter as much for that person to compare one piece of gear to another, in terms of the relative sound to that person, but it may affect the comparison of what they're hearing to what someone else with normal hearing would hear.
JD: How has being a practicing audiologist affected your daily life and music listening tendencies, if at all?
AR: Being a practicing audiologist has certainly given me a further appreciation for how absolutely incredible the human ear is, and how delicate it is. I am very careful about protecting my ears when I'm exposed to loud music. But there's still a teenage rock guitar player inside of me, and I do appreciate turning it up at times.
* * *
It gives me hope to learn that there is not necessarily a direct correlation—that listening can be more about application and accumulated experience, rather than technical results from a hearing test. (Extreme situations excluded, that is.)
As I exited Dr. Resnick's clinic to return to the Stereophile office, I felt like I had purchased a brand new set of hearing units. No more were the lofty caverns of wax covered by mundane skin flaps. The sounds of the city, the sheer power of raindrops, the elusive singsong voice of wind—what was once dreary background noise, was now the music of the city. It wasn't even only about the basic wax removal. It was about chatting with an experience audiologist and understanding my hearing on a deeper level. A refresh.
I am Daredevil. I hear all.
So there you have it, audiophiles. They say you should "start with the source," but I think a visit to the audiologist could just possibly be the best $150 upgrade to your system yet.