Recording of November 2016: Martha Argerich Early Recordings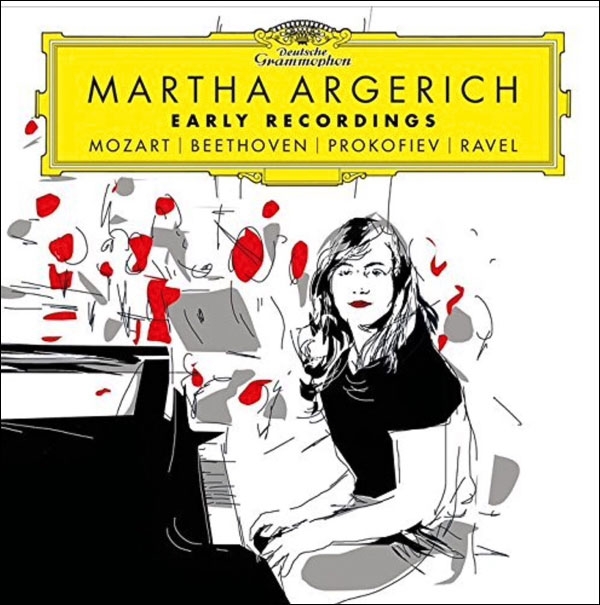 Martha Argerich: Early Recordings
Beethoven: Piano Sonata 7 in D, Op.10 No.3. Mozart: Piano Sonata 18 in D, K.576. Prokofiev: Toccata, Op.11; Piano Sonatas 3 in a, Op.29 & 7 in B-flat, Op.83. Ravel:
Gaspard de la Nuit
, Sonatine.
Martha Argerich, piano
Deutsche Grammophon 479 5978 (2 mono CDs). 2016. No prod. or eng. credits given. ADD. TT: 2:10:50
Performance *****
Sonics ***½
There is no dearth of recordings by the great Argentine pianist Martha Argerich—over 150 are listed in her discography—and here, in honor of her 75th birthday, are two more discs, comprising previously unreleased material. Argerich has been playing publicly since she was eight years old; in 1957, she won the Busoni and Geneva competitions and continued to concertize, but it was not until she won the Chopin Competition, in Warsaw, in 1965 that she began to become a household name (in pianist-loving households). There is a rumor that she has never given a bad concert or made a poor or uninteresting recording; this new set does nothing to contradict it.
The recordings here were all made in studios in 1960, save for the Prokofiev Sonata 7, from 1967. All of it finds Argerich at her most impetuously brilliant, seeming to speak from the notes she plays—a description that may sound unnecessarily poetic, but give it a listen.
Mozart's final sonata, chock full of counterpoint here taken quickly, is wonderfully jolly-jaunty, the stately, fanfare-like first subject nicely contrasted with the elegant second. The teenaged Argerich bounces delightfully on the keys, buoyant in the outer movements and straightforward, even about the dissonances, in the gentlemanly middle movement. A delight. Beethoven's Sonata 7, also taken at quite a clip (only Richter is quicker), finds the Presto propelled and gripping but never frantic, the runs impeccable. The angst-ridden second movement is an object lesson in holding back, the opening moody. Argerich's ability to play at so many different levels of pianissimo is simply staggering. The Menuetto charms, its mood swings and marvelous trills fascinating anew. She finds humor in the final Rondo's peek-a-boo call and response, and her agility, once it takes off, is never show-offy.
Disc 2 leaves the Classical era behind—with a bang. If you don't know Prokofiev's brief Toccata, its explosive, caustic power will knock you down; it's so challenging that the composer himself acknowledged that he couldn't play it. Ravel's notoriously difficult triumvirate of tone poems, Gaspard de la Nuit, is played faster than most but loses none of the intensity. It begins in Argerich's hands with watery lightness in Ondine, the titular sea creature splashing on and below the surface. Le gibet (The Gallows), with its trance-like, underlying bell unceasingly tolling in B-flat, and brief melodies in blocks of chords, is played here in less than five minutes without losing any of its hypnotic spell. Part 3, Scarbo (the name of a malevolent imp), is a wild ride with alternating pianissimo and explosive sections—the aural equivalent of a horror movie in which a child is being terrified by noises and shadows, late at night, in his room. Come for the mania, stay for the impeccable technique—the fast, low, repeated notes that haunt.
Prokofiev's berserk, six-minute-long Sonata 3 is like sky-diving or mountain climbing—it's practically a dare, and here it's attacked with such power and force that it terrifies. The composer indicates eight tempo changes, and Argerich moves from one to the next organically, conquering the work's tempestuousness as well as its lyricism. Ravel's three-movement Sonatine brings formality and sensuousness, with playing alternately delicate and fiery. The Modéré is light—music you can see through—and filled with ideas, the Movement de menuet a complicated illusion of calm before the bizarre storm of the final movement, Animé, which is wildly difficult, with built-in, unexpected rhythmic hitches.
The program ends with Prokofiev's Sonata 7. Looking at it from back to front, Argerich plays the final movement, Precipitato, so wickedly, so dangerously fast, so accurately, that it's like being in a wind tunnel. The gigantic staccato alone will leave you breathless. The middle movement can be wonderfully lyrical, but there's trouble lurking everywhere, and it's caught here in spades. It's actually a continuation, from another angle, of the first movement, marked Allegro inquieto—a nervous, impactful, harmonically upsetting seven minutes. Composed in 1942, this is the middle of Prokofiev's so-called "War Sonatas," and probably the angriest.
How can one do without this collection? The occasionally flat sound of the Mozart and Ravel's Sonatine can be easily overlooked. You'll miss nothing. Say hello to young Martha.—Robert Levine