RMAF 2016: Would this Stairway Lead to Heaven?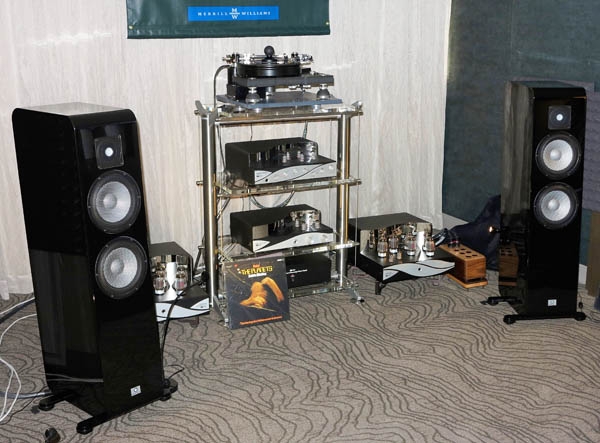 That my Saturday at RMAF began one flight up, on floor 6, would be of no significance save for one fact: the ascent revealed a handsome Zesto Audio/Marten/WyWires system that included the premiere showing of Zesto Audio's Andros Téssera tube phono stage ($12,000). This was one of those happy, expectation-fulfilling rooms where recordings actually sounded like music. I loved the timbres on a movement from Holst's perpetually rotating
The Planets
, albeit highs were a little zingy at high volume. A Nat King Cole record featured gorgeous mids. There was a bit of booming in one narrow range on top, for reasons undoubtedly room-related, but the presentation was so musical and beautiful as to encourage me to ignore the minor problems.
George and Carolyn Counnas told me that they found the room extremely dry, and had to remove a bunch of their usual absorption to achieve such beautiful sound. It helps that they had, in the chain and in addition to Zesto's Leto 1.5 tube preamp ($7500) and Eros 300 Class A monoblocks ($19,900/pair), a pair of Marten Django L loudspeakers ($9,000/pair), a Stillpoints ESS42-26-5 rack ($10,000), and a Merrill Williams Audio REAL 101.2 turntable ($7200) with two Tri-Planar U2 classic 10" tonearms ($7200/each), respectively outfitted with Benz Micro Gullwing SLR MC ($3600) and Ortofon Cadenza Mono MC ($1280) cartridges. WyWires Diamond and Platinum Series cabling held it all together, with a WyWires Daedalus Platinum Power Broker AC distributor ($2995) helping to transform current into music. Visiting this room brightened my day.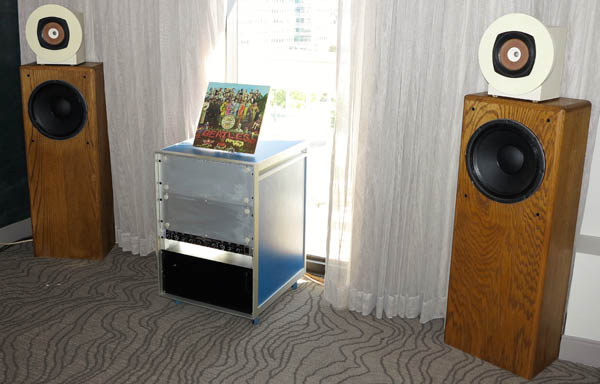 Dave Fisher's start-up, db Sound, which sells direct via the web, greeted me with the Beatles in stereo. We're talking about playing the Beatles for someone who believed, in the pivotal summer of 1967, that the world was made of tangerine trees and marmalade skies. The sound was kinda bright, although free of the distortion that had a field day through the crappy littlespeakers of the portable phonograph we listened to that summer long, long ago. Then again, when I was stoned out of my tree listening to the Beatles, all the distortion in the world couldn't sully my experience. Was this a classic case of flying higher than the High End?
Gear shift. Back to the present.
A recording of Ashkenazy playing Beethoven's Piano Concerto 5 under Solti sounded quite lovely. The piano had a nice ring in the treble range—I could hear the micro-tonalities—and there was lots of color. Doing the honors was db Sound's high-efficiency DB3 radiating flat cone coaxial speaker ($2000/pair), whose design is claimed to increase off-axis response, and whose 16mm compression driver with stepped horn is coaxially mounted to the 168mm driver. The speaker's range is 168Hz–32kHz, and it's claimed sensitivity 99dB. Also heard: Empire 598 turntable with Ortofon XS cartridge, handmade tube phono amp, and LM 875 power amp.
Another first-time exhibitor and web seller, Atrevit Acoustic of Fort Lauderdale introduced its new fully active, three-way Reference 1 loudspeaker (approx. $25,000/pair). With a brewery/conga aesthetic likely to get a rise from the spouse/partner acceptance factor (S/PAF) in all of us, the Reference 1 uses Altec-based drivers, and claims a frequency response of 27Hz–20kHz. "I call it a loaded open baffled design because there is some pressure on woofer drivers," either Jose Melendez or Greg Hatch of Atrevit said of a design that uses pure silver point-to-point wiring.
Atrevit used a La Scala DAC MKIII driven off a laptop to play me a bit of "Hall of the Mountain King" from Grieg's Peer Gynt Suite via iTunes. There wasn't much warmth in the presentation, nor much grace in the tweeter range.
As one of the few headphone amplifier companies to exhibit both in CanJam and the Tower, Woo Audio seemed intent on reinforcing their audiophile credentials. Not that they had to struggle to do so. Listening to a bit of a DSD file of the second version of Gilbert Kaplan's take on Mahler's Symphony 2, the single-ended class-A Woo Audio WA-234 Mono ($16,000/pair)—which is claimed to be "the world's first mono-block headphone and speaker amplifier"—took advantage of a Mytek Brooklyn DAC ($1995, and reviewed by Jim Austin in the November issue of Stereophile) and Abyss AB-1266 headphones ($5500) to produce exceptionally smooth albeit slightly dry sound. Given the noise in the room, concentrated listening was a challenge, but what I could hear sounded quite lovely and seductive.
In the photo, company president Jack Woo is shown next to the WA234 Mono's plug-in keys. Woo makes tube-rolling easy, with different keys for different tubes, and other keys for adjusting the amp's output and headphone impedance-matching.
Esoteric's brand new F-05 integrated amplifier ($10,000) had but 30 hours of break-in when I arrived at the company's room. And it should be noted that the Canton Reference 3K speakers ($15,600/pair) in use were an unfamiliar entity to Esoteric's Scott Sefton. Since they include midrange and tweeter adjustments on the backs of their cabinets, perhaps a notch up on the tweeter was responsible for the bright edge I heard at the top of baritone Hermann Prey's voice as he sang, at fairly low volume, "Largo al factotum" from an Esoteric SACD transfer of a recording of Rossini's Il barbiere di Siviglia. The midrange, however, was simply gorgeous, and, happily, far more prominent than in previous experiences listening to Esoteric gear through Cabasse loudspeakers.
Soundstage depth was also notable and compelling on a Jack Vad-engineered SACD of a San Francisco Symphony recording of Mason Bates compositions. Also in use were the Esoteric K-05X SACD player ($8000) and recently released N-05 network audio player ($6500), the latter emitting a little buzz on top.
I've got to hand it to the folks at Evoke Speakers for naming what they had dubbed their "prodigy in the making" Eddie. I've also got to offer the Chutzpah Award of the Day to a company whose only means of contact seems to be a website form to which they promise to reply within two business days.
Eddie lists for $3495/pair, and has a "true flat ribbon" tweeter, a "Strat F1 planar" midrange, and 7" RM7 woofer. Frequency response is 32Hz–30kHz, ±3dB, and sensitivity is claimed as 89dB. Our friend Eddie was paired with Wolf Audio Systems' Alpha 2 Red Wolf server ($8000) and Echo 8 CD station ripper/server ($3600), a borrowed Ayre Codex (after the intended Veracity Audio Chrysalis DAC—£5690 pounds base price—was lost in transit), Linear Tube Audio's MZ2-S ($1845) and upgraded ZOTL40 ($5800) headphone amps/preamps, Audience cabling and power conditioning, and a Box Furniture rack.
A DSD file of a track from Beck's Sea Change displayed a really nice midrange. I also heard an operatic track by Jonas Kaufmann which disappointed with its small image and dryness. The Evoke boys told me they used a bunch of cheapo room treatment—$32 for a pack of eight (not shown)—that enabled their room interactions to go "from bad to okay."