Cans, You Dig It?
The graphic above was created with data provided to me by the CTA (Consumer Technology Association). I understand that this data cannot possibly account for
every single
pair of headphones sold in any given year, but I believe that this is the most accurate account of data currently available to us.
As we can see from these graphics, compared to turntables, headphones account for a much larger part of the consumer tech industry.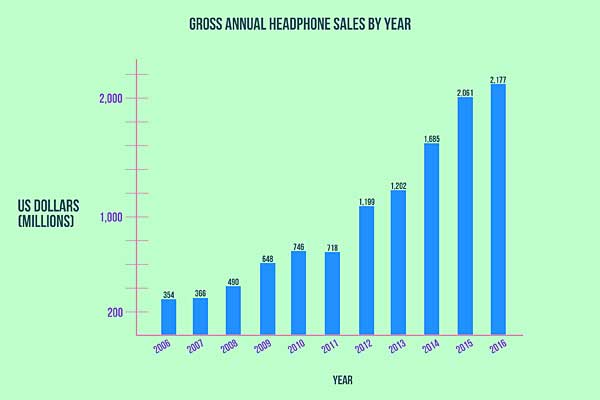 This is to be expected for a number of reasons. Here are the obvious ones:
• Size. They're small and portable, making them less of a commitment.
• Affordability. There are more affordable headphones than turntables, making them more accessible at earlier ages.
• Purpose. Different headphones serve different purposes. We need headphones for airplanes, exercise, every-day street wear, this genre, that genre, and so on. Because of the size and affordability factors, we are able to own multiple headphones for multiple purposes.
• Trends. Trendy headphone wearing hipsters and their trendy headphone-wearing advertisements.
• Apple, Beats, and Bose.
Affordability is the key factor. Let's take a look at the year 2015, for example: There were 9705% more pairs of headphones sold than turntables, but only 1590% more ($1939 million) was made in gross annual sales revenue.
Headphones always seem to cause a major ruckus in the audiophile world. They're often blamed for isolating the listening experience and separating the social aspect from the hobby. Personally, I've never been able to relate to this perspective because my initial introduction to the audiophile world was through headphones.
So while some may view this headphone data as a negative perpetuation of the isolated listening experience, I hope others choose to see this as a pool of potential audiophiles.