Listening #164: Luna Cables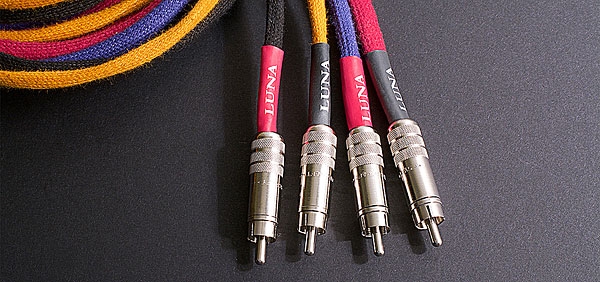 I should have seen this coming: Less than a year after the last time I railed against the darkness of cable reviewing—the indignity of crawling around behind my equipment rack, the tedium of comparing one wire to another, the frustration of trying to wring from the experience some fresh and hopefully entertaining observations, the horror of dealing with manufacturers whose hunger for good publicity borders on the vampiric—I have once again invited into my home a cable manufacturer and his wares.
I did so for the best possible reason: The manufacturer is someone I've known for five or so years, during which time I've learned that his audio sensibilities, his tastes in playback equipment, and his attitudes toward the industry in general and matters of value in particular, are all so close to mine that time spent listening to his cables promised to be time well spent. And I was right.
That person is Danny Labrecque, formerly a member of the sales staff at the Montreal retailer Coup de Foudre. Along with his business partner, Erik Fortier—also a CdF alum—Labrecque operates Luna Cables (footnote 1) from his home in southeastern Quebec. His four cable lines—in order of ascending cost, Orange, Mauve, Red, and Black, each named for the color of its fabric sheath—made their public debuts at this year's Montreal Salon Audio/Audio Fest (formerly Salon Son et Image), where they impressed me by not only contributing to an excellent-sounding system of only moderate expense, but also by simply looking right: no silly logos, no elephant-dick diameters, no ridiculously massive or complex connectors, and lots of cotton, in some very nice colors.
And by the standards of high-end audio, some of Luna's cables can be considered affordable. For example, the company's entry-level interconnect, the Orange, costs $600 Canadian for a 1m pair ($478 US in spring 2016), while a 2m Orange power cord goes for $900 CAD) ($717 US): not chump change, but those prices aren't unreasonable for handmade cables—assuming, of course, that they work . . .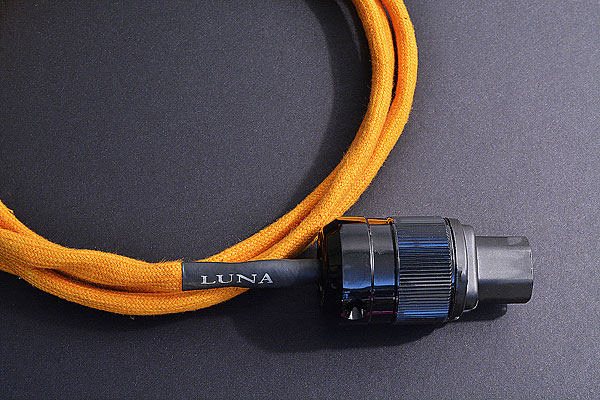 Vintage Advantage
Danny Labrecque explained to me that he's long been interested in cable design, beginning with his first job in retail some 14 years ago, when he occasionally made and sold to his customers his own interconnects and speaker cables. Throughout that time, he says, "I had a number of ideas, but I didn't know how to make them workable. Then, about a year ago, I had a breakthrough." As it turns out, that breakthrough was made possible in part by time spent listening to a number of different vintage audio-frequency cables.
One of Labrecque's long-standing design goals has been to make a cable that conducts music signals without conducting high-frequency noise. This led him to embrace as his conductor of choice tinned copper—ie, stranded copper wiring in which each strand is coated with tin (footnote 2). Throughout the 20th century, electrical cables made of tinned copper were hugely popular for their ability to resist oxidation, the ravages of which require the user to regularly replace them—something of a bother when the user is a public utility and the cables are hundreds of miles long and installed underground or underwater. But as time went on and as audio-signal cables were required to conduct AC of ever-higher frequency, tinned copper fell out of favor. Because tin is nearly seven times as resistive as copper—it ranks an unimpressive 15th among conductive metals, just one notch above bronze—and because metal wires behave in accordance with the skin effect, whereby the highest frequencies travel nearest the conductor's surface, tinned copper is seen by some as insufficient for the demands of, say, digital video.
Is tinned copper sufficient for analog audio? Danny Labrecque thinks so: "It [exhibits] a slight limiting of bandwidth, but tinning keeps it quieter and, I think, cleaner." He also suggests that tinning reduces interference between strands, without the difficulties involved in manufacturing and, especially, terminating varnished wires. In this regard, one might regard tinned copper as Litz Jr.
Also key to the Luna designs is the avoidance of plastic dielectrics in favor of natural materials, particularly cotton. (In the Luna cables I've used, the only polymers I've detected are the thermoplastics for the Wattgate plugs on the AC cords and a few short bits of heatshrink tubing.) As Labrecque explains, "I noticed that, for the first 150 years or so of manufacturing cables, it was done the same way, until the discoveries of various plastics allowed the industry to branch out—but not necessarily make things better." Old-fashioned hand-building is also the order of the day, with Labrecque doing everything from hand-winding his more complex designs and hand-soldering all connectors (he uses what he calls "a fairly classic" lead-content solder, with lead-free stuff for EU markets) to hand-dyeing all the outer sleeves himself.
A quick breakdown of the Luna lines:
Luna Orange: For the interconnects, speaker cables, and AC cords in the Orange line, conductors are multistrand tinned copper of new manufacture. All interconnects are shielded, and all are terminated with Switchcraft RCA plugs. Power cords incorporate a tinned-copper shielding—this is usually connected to ground at both ends, though it can be lifted at the component end at the customer's request—and Wattgate plugs. Except in those cases where the customer insists on spades, speaker-cable connectors are gold-plated banana plugs, which, like the Wattgates, are cryogenically treated.
Luna Mauve: Beginning with the Mauve series, all Luna interconnects are made using new-old stock (NOS) tinned-copper conductors made in the US in the 1940s. Luna says they've purchased a considerable amount of this wire, which is of slightly larger gauge than the conductors used in the Orange line and which, according to Danny Labrecque, sounds remarkably good. These interconnects are all shielded, with the shield lifted at the "destination" end, and thus are directional. The speaker cables use new-production wire, with more conductors than in the Orange cables, wound with a different geometry. The Mauve AC cords, which also use more conductors, are presently Luna's top power cables. Sample prices include $1200 CAD for a 1m interconnect pair and $1500 CAD/2m power cord.
Luna Red: Luna Red interconnects are built the same way as the Mauves, but use a rarer, more expensive conductor of NOS tinned copper. According to Labrecque, Red speaker cables—presently Luna's top speaker cable—are "scaled-up in comparison to the Mauves" and thus are more difficult to build. Red interconnects cost $2400 CAD/1m pair, Red speaker cables $4200 CAD/3m pair.
Luna Black: Luna Black interconnects have some conductors in common with Luna Red interconnects, and add a number of finer conductors in a different, more complex design. According to Labrecque, Black is all about having the most quiet cable possible. Luna Black interconnects are $4800 CAD/1m pair terminated with RCA plugs; XLRs cost slightly more.
The Coolest Month
Danny Labrecque drove down from Quebec on the nicest day of an April that otherwise staggered drunkenly between sun and snow. He brought with him a selection of Luna cables: two pairs of Red interconnects (one 0.5m, one 1m), one pair of Mauve speaker cables (3m), four Orange AC cords (all 2m), and one Mauve AC cord (2.5m)—just enough to get an idea of how the Lunas would perform in my system, but not so exhaustive a selection that I'd be forced to listen to the same song multiple times as we worked our way up through the ranks. I took this as proof that God exists, and that He wants me to be happy.
We began by using the two Red interconnect pairs to replace the 1m Shindo Laboratory interconnect ($1495) that I use between my Hommage T2 step-up transformer and my Shindo Masseto preamp, and the 0.5m Shindo interconnect between the Hommage and my EMT 997 tonearm. We listened to a few selections—including "Bad Fog of Loneliness," from Neil Young's Live at Massey Hall 1971 (2 LPs, Reprise 43328-1)— through the Shindos, then listened again through the Lunas. Although the differences were very subtle, I was encouraged by what I heard with the Reds in place: The Lunas gave up nothing to the Shindos, maintaining the same overall tonal balance while reproducing instrumental and vocal sounds with a slightly greater sense of detail, and with a similarly subtle improvement in the suggestion of substance and heft.
Leaving the Red interconnects in place, we moved a half-link down the audio chain and replaced my Shindo Masseto preamp's stock power cord with one of the Luna Orange cords. The Masseto, like all Shindo electronics, is designed not to be grounded to an AC receptacle, and Danny Labrecque—who also sells Shindo gear through his and Erik Fortier's consulting firm, Phonographe—accommodated this by supplying Luna cords in which the ground connection had been lifted at the component end. I heard modest improvements with the Orange cord in place: In particular, the soundfield seemed a little cleaner, making it easier to pick out such details as picks on guitar strings. Though the change was slight, it was astonishing in one sense: This was the first time I'd heard a non-stock AC cord improve the sound of any Shindo component.
---
Footnote 1: Luna Cables Austin, Quebec, Canada. Tel: (514) 266-8810. Web:
www.lunacables.com
Footnote 2: In electronics, tinning can also refer to the practice of stripping a relatively small amount of insulation from a copper wire and coating with solder only the exposed portion of the conductor.