Steve Earle Remastered for LP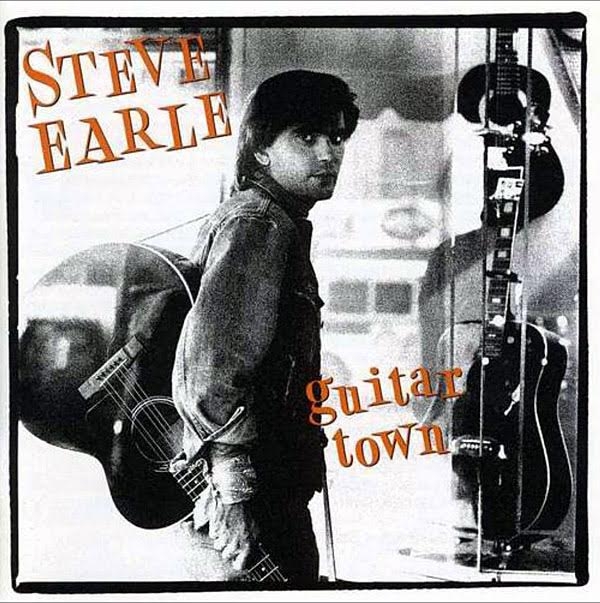 A lot of performers have their moment in the sun, but in March 1986, when Steve Earle's debut
Guitar Town
came out, its impact altered the direction of country music forever. The so-called New Traditionalist movement was the return of the outlaw movement, only this time with more rock'n'roll injected, along with a focus on songwriting born of Earle's healthy respect for and friendship with far left-of-Music-Row songwriters/performers like Townes Van Zandt, Steve Young, and Guy Clark—all of whom are now sadly deceased.
While much of the material on Guitar Town remains among Earle's finest songs—"Someday," "My Old Friend The Blues," "Fearless Heart"—that album and the subsequent followups, Exit O (1987), Copperhead Road (1988), and The Hard Way (1990), are also classic examples of early digital recording. All prominently display the DDD SPARs code on the jewel boxes. Because the first two records were mixed to ½" analog tape, the original LPs sound marginally better than the then newfangled CDs. But even the LPs are, to indulge in the obvious adjectives used to describe that sound, bright, brittle and very thin-sounding. Like a lot of records made in Nashville in the mid-1980s, Guitar Town was recorded using the Mitsubishi X-800, 32 track, reel-to-reel digital audio tape machine.
"I didn't hear the LPs, I heard the original CDs and I didn't have to listen very long, 'cause I knew. I'm like oh, okay," says Robert Vosgien, the sound engineer whose just remastered the early Earle catalog for re-release on LP. "What happens is you hear it now and you go, 'God, how did we think that sounded good?'"
Vosgien's new masters have a fuller, rounder sound, many of the bright edges have been softened.
"All four were typical '80s. Not much low bass or mid bass, lots of midrange, lots of top. That thin '80s thing. So what I do with mastering is I try to expand the frequency response of what I'm working on."
Yet even with today's much more sophisticated and responsive mastering software, not all traces of those Ya-hoo excesses can be reversed.
"Exit O had that '80s snare drum, that time stamped '80s snare drum. It was what the competition was sounding like. A&R folks were hiring engineers to . . . 'Oh man. we gotta get that snare sound.' Look at Born in the USA. That snare drum, Holy Mackerel! It was a massive record. And then in England, I'm a fan of XTC, and Hugh Padgham and Steve Lillywhite, those XTC records. I think like 1980, the Black Sea record done at the Townhouse Studios (in West London), that was the birth of the huge English drum sound. Right after that Phil Collins did his first solo record, which again that was another one where everyone went, 'Man, we gotta get that drum sound what the heck are they doing?' And then there was the Power Station album, their famous drum sound."
Vosgien explains that he remastered the first two albums at 192k and the second two at 96k.
"The first two Steve Earle records were mixed to ½" analog tape. Hard Way and Copperhead Road were recorded on a Mitsubishi X-86. I got 96k flat transfers from Iron Mountain on those because we don't have an X-86 any more.
"The X86 wasn't so bad. It had a sound. It was really punchy, the bottom was really tight, you didn't have that head bump like a ½" head stack. And then you would master it, run it through your analog chain, to kind of, not warm it up . . . but . . . it would sound pretty good. Not as good as half-inch 30ips (inches per second) or I think actually my favorite format is quarter-inch 30."
However they were recorded, the new LPs are the best sounding examples of these seminal records yet released. Vosgein and I laughed about what is now ancient history given the way many records of popular music are made today.
"The high and midrange thing is long gone, bass is today's thing. A lot of the stuff today, there's way too much for bottom for me, it's out of balance."