Day Two at T.H.E. Show: Can the Glories Continue?
Only one question followed me to the 14th floor of Hotel Irvine: Will floor 2's unprecedented number of good-sounding rooms be repeated on other floors during T.H.E. Show Newport? With drums rolling and tension mounting, I entered one of the hotel's dismayingly slow-to-arrive elevators to emerge on the show's top floor. There sang the room shared by the Audio Salon of Santa Monica and Nordost. Immediately, I knew that unless the Goddess of Setup had been in a very foul mood, the sound would be stellar.
Indeed it was. Dean Martin sounded gorgeous on LP, with voice and accompaniment displaying noticeably more body than in the AAudio Imports room that had played the same track. The midrange was to die for. Natural warmth and delicacy, as opposed to electronically hyped colorations, were a hallmark of this room.
When an attendee requested a track from Rodrigo y Gabriella, Michael Taylor of Nordost, who was conducting convincing cable comparisons at periodic intervals, obliged. "The edge on guitar is just right," I wrote in my notes. "Color and warmth for days, and surprising weight and depth." When Taylor subsequently conducted his demo by comparing the sound of Blue Heaven, Tyr, Heimdall, and Valhalla interconnects, he made the salient point, "Better cables take away less." As the comparison made clear, the higher the level of Nordost cabling, the more information that was captured by the recording engineer and massaged by the mastering engineer actually reached our ears.
Heard, in one of the finest sounding rooms at T.H.E. Show: Wilson Audio Sasha 2 loudspeakers ($33,950/pair), two Dan D'Agostino Master Systems Progression mono amplifiers (review to come—$36,000/pair) plus Dan D'Agostino Momentum preamp ($35,000) and phono stage ($28,000); dCS Rossini CD transport/DAC (review to come—$28,500) and dCS Rossini Clock ($7,500); Brinkmann Balance turntable ($22,000) with SAT pickup arm ($32,000), Lyra Atlas cartridge ($12,000), and Minus K Vibration isolation base for the Brinkmann ($4,000); Stromtank Independent Power System ($30,000); two Nordost QX4 ($2,700 each), Nordost v.2 QB8 power distribution bar ($1,800), a complete set of Nordost Valhalla 2 cabling, and two each of Nordost QK1 ($250 each) and QV2 ($350 each) noise suppressors.
Many aspects of the Acoustic Zen/Aurender/Ypsilon system from High End Zone of New Mexico were exemplary. On my 24/192 file of Mason Bates' "Alternative Energy," found on the recent SF Symphony SACD Mason Bates: Works for Orchestra, I actually heard greater depth than on my reference system. (Note to self: More work on said system is in order.) I wanted for a bit more liquidity, but the control, top end, and excitement of the presentation were exemplary. Equally exemplary is that, as with the new dCS Rossini, the Aurender W20 Reference music server ($17,600) can play files directly from a USB stick with no apparent loss of fidelity.
I had hoped to get through an entire show without a single note of Rimsky-Korsakov's infernal "Dance of the Tumblers"—Sasha Matson tells me he heard it no less than six times, so I consider myself lucky to have escaped with but one tumbler tussle—but here it was, intruding into my fragile consciousness. Although I found the top end a little flat, toned down, and dry, image weight was superb. Given that the Aurender sounded so good with my Mason Bates file, perhaps the quality of the file itself was suboptimal. With praises for one of the most attractive setups of the show, I also applaud Acoustic Zen Maestro loudspeakers ($43,000/pair); the aforementioned Aurender; Ypsilon Electronic's Aelius Mk II push-pull hybrid monoblocks ($40,000/pair), DAC 100 tubed DAC ($29,000), and PST 100 Mk II combo valve & transformer preamp ($37,000); Golden Ear Digital curating service, which I believe supplied the files ($500-$1500); Tandem Statement Series rack ($18,150); Verastarr Grand Illusion cabling plus their Nemesis Reference power strip ($3499) and Carbon cable elevators set ($300); and Acoustic Sciences IsoThermal ($599) and Standard ($542) tube traps.
"This prototype Cobra integrated amp, whose chassis will change before final production, is the most un-AN thing I've ever seen Audio Note UK introduce," AN's soon-departing rep, David Cope, declared of the new integrated ($3500) at the start of the demo. "It's a 25 Watt-per-channel push-pull, and we've never done push-pull. It's an EL34 integrated amp with remote volume control and built-in USB DAC—again, something we don't do."
But there it was. Also brand new, the TT Three ($8000), a three-motor, three-point suspended turntable. Together with AN's Arm Three ($2000), IQ3 MM cartridge ($975), R Zero phono stage ($1750), and AN K/SPe two-way loudspeakers ($3950/pair) with stands ($640/pair), the system displayed excellent depth, lovely timbres, nice warmth, and a special delicacy and intimacy on the quieter passages of Sarah Jarosz's "Build Me Up from Bones." Frank Sinatra's voice sounded gorgeous.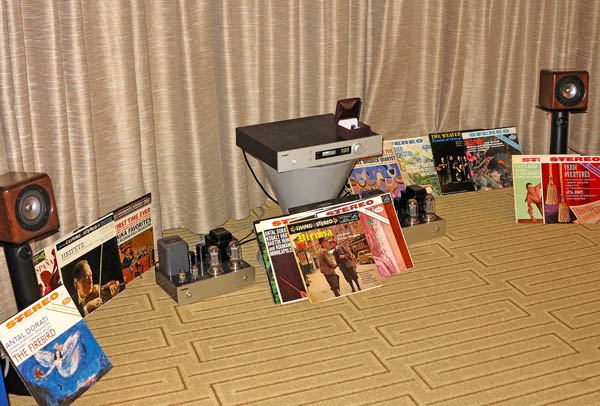 From a large assortment of prized RCA Victor Living Stereo, Mercury Living Presence, and other classic LPs that were inherited from the collection of the late Harry Pearson, founder of The Absolute Sound, Harry's friend, Dr. Kubo of Kubotek Corporation, derived 24/192 files to demonstrate the diminutive Haniwa HSP1C04 and HDCA01 "Full range cube speakers and digital control amplifier" ($12,000) plus HAMP "Low range tube monaural power amplifier" ($6000/pair). I believe the Haniwa HEQA02 "Precision Vinyl Data Pick-Up System" and HCTR01 mk-II "ultra lower inductance cartridge" ($5000 each) were used in the transfer to digital. Played back on PC via USB, using "ordinary wire," a file of Strauss waltzes sounded less wiry than I've come to expect from this company. I wonder how their equipment would sound if they actually used good cabling, including power cables, as well as power treatment.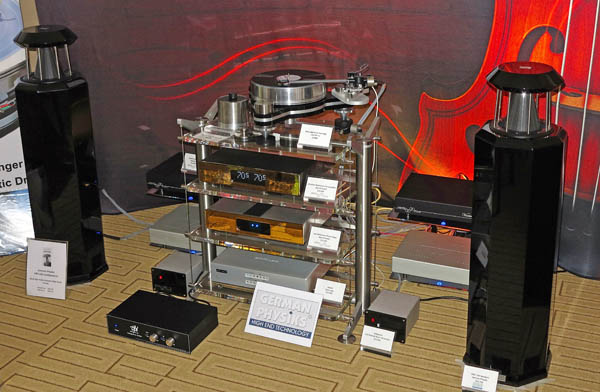 For the first time in my memory, Merrill Audio, which has often displayed with Sadurni Acoustics horn loudspeakers, paired instead with German Physiks. Seated nearfield, as recommended, I admired the generous airiness and transparency on a Respighi track from a Reference Recordings LP.
At the same time, I noticed that the sound was both a mite glassy and curiously lacking in bottom end content. Indeed, on a piano version of Mussorgsky's Pictures at an Exhibition, performed by a far less than stellar pianist, the sound was too tinkly, and undertones MIA. It was as though the foundation of every note was missing. Very strange, and not at all in keeping with what I've heard from these speakers and electronics on prior occasions. Heard: German Physiks HRS-130 loudspeakers ($22,750); Merrill Audio Veritas monoblocks ($12,000/pair) and the world-premiere Merrill Audio Christine Reference preamplifier ($12,400), along with Merrill's Jens Reference phono stage ($15,449) and ANAP cabling ($1149 each); EMM Labs DAC2X ($15,500); VPI Avenger Signature turntable ($21,000) with VAS Nova Signature cartridge ($3000); Equi-core balanced power-cord conditioner ($799); Stillpoints ESS Rack 34-26-4 ($10,350); and GIK Tri-Corner bass traps ($150).
The PTE Phoenix SG Active loudspeakers ($9500/pair) have as one of their selling points the assertion that most music we listen to is mastered on active loudspeakers. Claiming "one of the flattest frequency responses of any speaker, price no object," they have three different settings for bass, a tweeter that is adjustable between +2/-2 in half-dB steps, and an electronic crossover. "You can get more bottom out of self-powered speakers, and they will generally play louder, with louder transients, before distorting," said designer Jim Rush.
The Phoenix SGs paired up with a 28-year old Philips CD player used as a transport and an Antelope Audio Zodiac Gold DAC with Voltikus external power supply ($4650), Touraj Moghaddam's Vertere MG-1 turntable with SG-1 tonearm ($12,950) and Soundsmith Hyperion cartridge ($7500), PTE MMMC phono preamp ($1595), T + A 1230R preamp, WyWires cabling, and a Billy Bags # 5505 rack ($1385). The sound, on Janis Ian's "Come into my Solitude," was anything but shy or apologetic. Seemingly best suited for rock (based on a short audition in a hotel room, which means maybe not), they were more aggressive than most speakers I'm accustomed to listening to. A file of The Rite of Spring produced less than perfect control of excessive bass, and lots of speed. A track from old Marta Gomez CD was less than totally clear in the lower regions. Setup or bass-setting issues…?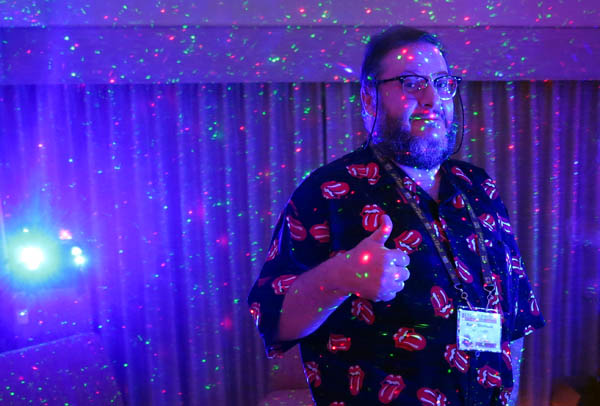 And now let us end this blog on a high of sorts, with a diaphanous view of Anton, aka Rusty Trombone, aka who knows what, giving the thumbs up in his famed NFS room. Whether anyone ever focuses on the music in the NFS room is a matter of conjecture. But depending upon how much free spirits they consume, concerns about crappy highs, booming bass, and MIA overtones go the way of the whirring lights. Anton has been known to set up camp in two adjacent rooms at one or more shows every year, offering a safe haven of sorts from the encroaching madness of audiophiles on the hunt and tire kickers in iPhone in excelsis mode. Long Live Anton and the NFS room!