Honoring Richard Beers at T.H.E. Show
On the first night of the show, a standing-room-only assemblage of friends, associates, and supporters gathered in a huge, tented outdoor pavilion to bid adieu to Richard Lawrence Beers (July 26, 1949–January 26, 2016), co-founder of The Home Entertainment Show. Richard died from a combination of aggressive cancer and strokes that seem to have been triggered, at least in part, by the equally aggressive treatment used to address his disease.
The celebration of Richard's life was officiated with clarity and grace by Richard's longtime friend and associate, Interim Show President Maurice Jung. Maurice's words enabled us all to reflect on how many people in our industry were touched by a man who, as Maurice noted, often put service to others above service to self.
Richard initially worked in the movie-theatre industry as a projectionist until he was drafted into the US Army, in 1968. After serving in Heidelberg, Germany, he headed home to Detroit to work as a TV news film editor, reporter, weekend anchor, and very-early-Sunday-morning talk show host. A move to California in 1980 saw him shift from script-writing to bartending, and then to serving as moderator/host for TV Preview. In 1991, after a good decade of working on the show in various cities, he made the big move to Las Vegas. There, he eventually bought the rights to The Home Entertainment Show and made it the focus of his working life.
Over the years, Richard developed a close circle of dear friends. These included Beverley Harber, who became his companion, Phil Misiak, and Vickie Robinson. All three moved with Richard to Anaheim in 1980, and continue to count him as a friend. Cesar Vallarta and Chris Robinson, the latter being Richard's godson, also joined that circle.
Richard had a special way of reaching out to and welcoming many people, whether it was with words of counsel or simply a winning smile and a sprinkling of barbed wit. As one especially tearful, longtime industry member told me at the end of the formal presentation, Richard reached out to him at a time when he was really in a bad way, and gave him the crucial support he needed to help him find the way home. He wasn't a simple man, but he was most certainly a very dear one.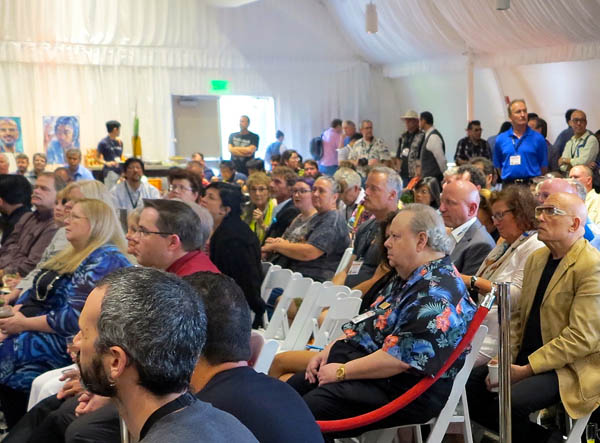 It was Beverley Harber who made the decision to continue T.H.E. Show after Richard's unexpected death, because continuing the effort that he had poured his heart and soul into was what Richard would have wanted. She then allowed Maurice Jung to take over as show President. Both Beverley and Richard's attorney, Jessica Peterson, were too filled with emotion to attend the gathering.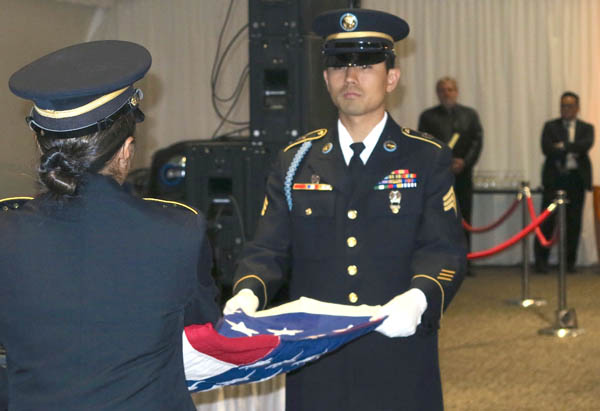 At a deeply moving closing ceremony performed by two members of the California Honor Guard—SPC Priscilla Rodriguez and SGT Joshua Paik—former US Army member Richard Beers was saluted for his service to our country. At the end of the heart-touching ceremony, the folded American flag that would have draped his coffin, had he not been cremated, was unfolded, folded again, and then presented to his tearful godson, Chris. Chris told me after the evening concluded, "Richard may have been my godfather, but he treated me like a father would."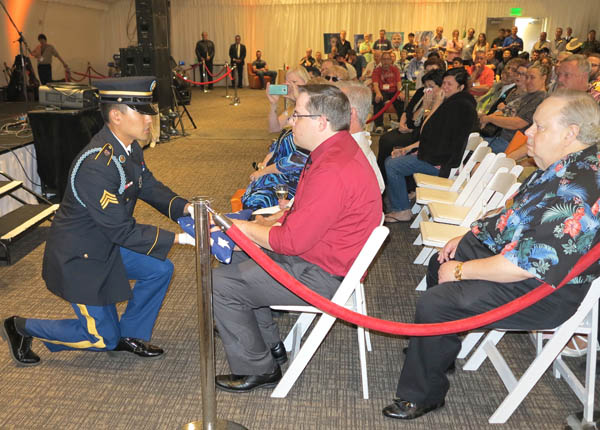 For many in the audience, the presentation of the flag became the moment in which tears that had formerly been held back poured forth. The officers who officiated, who conduct up to five such honor ceremonies a day, were extraordinary in the manner in which they melded honor and ceremony with compassion. They were greatly appreciated by all.
At ceremony's end, as people reminisced, they also lined up for generous helpings of drink and pasta. I regret that I was unable to stick around to take photos of the entertainment that followed, which was intended as a celebration of Richard's love of music and the audiophile community. Heartfelt thanks to Mike Garson, Lyn Stanley, the Yesterday Beatles Tribute Band, and all who attended and were moved to show their respect and love for Richard Lawrence Beers.