Recording of June 2016: Emily's D+Evolution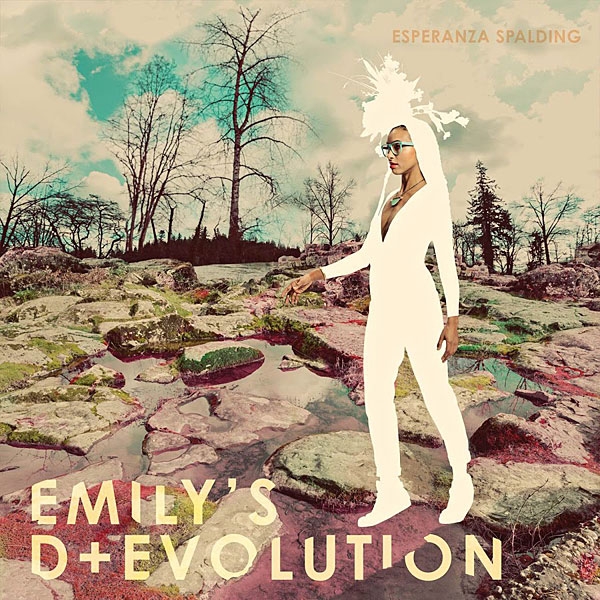 Esperanza Spalding: Emily's D+Evolution
Concord 7238281 (LP, 24/96 FLAC from PonoMusic). 2016. Esperanza Spalding, Tony Visconti, prods.; Kyle Hoffman, Tim Price, engs.; Martin Cooke, Kyle McAulay, Erin Tonkon, asst. engs.; Paul Blakemore, mastering; Rich Costey, mix. Mario Borgatta, mix assist. DDA? TT: 43:41
Performance ****½
Sonics ****½
It may have started back in 2011, when the crowd at the Grammy Awards let out a collective "Who?" as Esperanza Spalding was named Best New Artist, an award almost everyone had thought would go straight to Justin Bieber. Spalding was the first jazz artist ever to win that award.
The resulting notoriety took the jazz bassist and singer, who'd lived almost entirely in the rather insular world of jazz, by surprise. A child prodigy who played violin at five, and soon after learned oboe and clarinet, Spalding sings in Portuguese, Spanish, and English, and became one of the youngest teachers in the history of her alma mater, Boston's prestigious Berklee College of Music. A native of Portland, Oregon, in 2012 she released Radio Music Society, which featured a Wayne Shorter cover. A year later she appeared on records by Janelle Mon†e and Bruno Mars. This triple threat—composer, singer, bassist—then retreated a bit from the public eye for two years to focus on creating this new record, which she coproduced with Tony Visconti.
In the ten years since her first album, Junjo, Spalding has grown into a player and songwriter who does not want her music to be confined to any single definition. Instead of becoming the great young hope of jazz, she's clearly focused on cutting her own trail. For her latest, Emily's D+Evolution, which drew early comparisons to Monáe and even Prince, she's created an alter ego based on her middle name. In a recent interview on Lennyletter.com, she explained to Brittany Spanos the reason for assuming the role of someone other than Esperanza.
"The main inspiration for the album was the emergence of Emily, of course. To get into another spirit space while writing and creating has been a really incredible experience. Since nobody knows her, I felt really uninhibited to go for things musically and lyrically and vocally. Then I tried to capture the essence of what I understood this character or this being wanted to be expressed through me. If you were an actor preparing for a role, I think you would be able to observe and speak out examples of the kinds of quality that you knew were part of a character you were playing. You'd really want to allow that character to feel comfortable in its skin, almost like a skin you're making for it. . . .
"It definitely did feel like if I'm the mountain and Emily's the lava. She was trying to tell me sometimes lava is necessary and good and it needs to erupt and it needs to do what it does. Sometimes it might burn something away, or the next year it might be nourishment for seeds. Or it might become the island of Hawaii or Iceland.
"That's also part of the motto, I would say, of Emily. That's part of what she comes to say: 'It is okay to explore this.' Creativity is a magic ingredient you can find to harness whatever it is that's bursting out of you. You can't push that back inside. The energy is there. Creativity is the tool that we all are endowed with. It's like a muscle that you can practice. That lava has to come out. The question is what do you do with it?"
While Emily may be Spalding's creative vessel for Emily's D+Evolution, a more tangible presence is the influence of Joni Mitchell. In a tune like "Unconditional Love," her vocal phrasing is unmistakably reminiscent of Mitchell's, including her offhand way with a line-ending trill. Spalding's singing has never been better or more experimental. In "Ebony and Ivy," she sings gorgeously alone in a lower range before soaring through, away, and in unison with Corey King and Nadia Washington. The vocal arrangements make this a record to savor over time—the more you listen, the more nuances you hear, and Spalding's scatting has become very creative and rhythmically flawless.
In the album's opener and first single, "Good Lava," guitarist Mathew Stevens and drummer Justin Tyson lay down a funky groove over which Spalding's voice flutters in and out and around the patterns set up by background singers King and Emily Elbert. In "Funk the Fear," her bass playing gets down and very funky, and assumes equal prominence with her singing—which, in this fusion number, with Stevens taking the lead, is almost exclusively in a high range. Another prominent echo in these Spalding originals, and the only cover on the record—Anthony Newley's "I Want It Now"—is the big, brash, declamatory singing style of the Broadway stage. Visconti's sense of making big recordings enhances this, and gives the entire project a wonderful sense of space, particularly on the superquiet, 200gm LP.
It was inevitable that being only a jazz player was too limiting for Spalding's multifaceted talents. Emily's D+Evolution is the sound of Spalding reveling in her artistic freedom while still building on what has come before in her singular career. As an outward sign of these new freedoms, Spalding, who's always had an eye for chic style, has also assumed a new look for Emily. Once famed for her large Afro, she now sports tight braids, oversize glasses, and yellow lipstick. In a recent interview at Pitchfork.com, she told journalist Alex Frank about the new visuals:
"If my face looked like this granite tabletop, I would still write and sing and play the same way, and it would be fucking hard to get people to pay attention to me. It irks my soul from two sides: One, people I know who are fucking ingenious performers, writers, poets, or philosophers can't get a gig or a manager because they don't look great or have the right body or whatever. And on the other side—actually it doesn't bother me as much as the first—but I know I'm invisible because I'm just a shell that's seen as 'a pretty person that does something.' That'll change in like 20 years, because I'm a woman, so I'm just milking it while I'm still considered young and pretty. It's weird sometimes to have people not see me or see what I do."—Robert Baird