David Binney: On Bowie and Not Being an Audiophile but Subscribing to Stereophile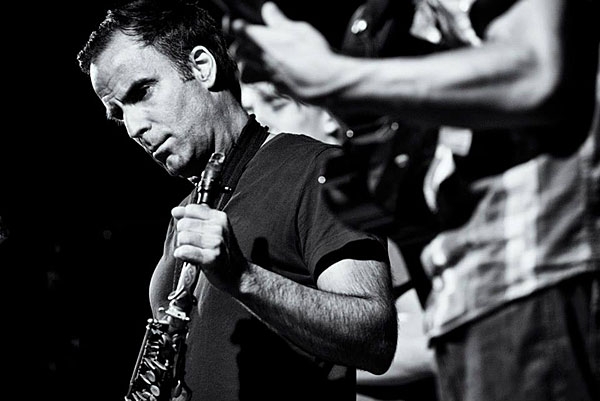 "Are you an audiophile?" I find myself yelling into my semi-functional smart phone, sitting in my dimly lit cubicle in
Stereophile
's New York office.
On the other end of the line is my close friend and long-time mentor, David Binney. We're FaceTiming in slow, fragmented motions as he eats his dinner in a lively restaurant before a gig in central Belgrade.
"No, definitely not." He says quite matter-of-factly. "I subscribe to Stereophile but I don't consider myself an audiophile. I wish I was, but it's too expensive. I obviously love great sound, but as a musician, if I just hear the music clearly enough, I'm fine. I care way more about the music than how it sounds coming out of speakers. If I could afford it, I'd have an amazing set up. But I can't. So I don't."
I found this fascinating. Binney is a phenomenal saxophonist, composer, and producer. He's an incredibly sought-after musician credited on over 250 albums, with more than 20 as a bandleader alone. The vast roster of musicians he's played with includes Jim Hall, Wayne Krantz, Chris Potter, Brian Blade, Antonio Sanchez, the Gil Evans Orchestra, the Maria Schneider Orchestra, and countless others. One of his earlier albums, The Luxury of Guessing (1995), was even released on the audiophile AudioQuest record label.
But he's not an audiophile. He's just a subscriber to Stereophile who appreciates quality music and makes quality music.
"Why do you subscribe to Stereophile?" Not that I typically question anyone's motivations to subscribe to Stereophile. I'm just intrigued by the dichotomy.
"Because at some point I want to buy a nice system and I like reading about audio equipment once in a while. I also like the music reviews (Thomas Conrad, etc.)" A perfectly reasonable response. Though, as a caring friend, I do make a mental note to force him to read Stereophile more frequently in the future.
My interest is piqued: "What do you use to listen to music?"
"It's basic. I'm not even sure!" He laughs shyly, "Tannoy monitor speakers I think? I'm a producer so sound is very, very important to me. I really know those speakers. I use them for mixing too because I'm so familiar with them. I also use Sennheiser HD 600 headphones. I love those. They're the flattest headphones I have ever found. There's no emphasis so I feel like I'm really hearing the true sound."
My interest is piqued even further. He's produced all of his own albums (some are even released on his own record label) and Donny McCaslin's last seven albums. Yes, the saxophonist from Bowie's Blackstar.
Since Blackstar is so powerful, I can't help but ask, "Can you tell me about your involvement in David Bowie's last album?" I had heard rumors here and there about Binney being involved somehow but never exactly knew how. He's been a long-time influential force behind-the-scenes for many musicians and always seems to have played a part in major transitions.
"It seems that very few people know that I put that band together. I envisioned Donny doing electronic records a few years ago, so I got that band together and we went in that direction. Bowie heard it, flipped out, and wanted that sound for his record. That's how Blackstar happened. Somehow I get cut out of all the 'back stories' about that record. But trust me, that wouldn't have happened without me. So I'm pretty proud of that."
"What are you listening to right now?"
"Frightened Rabbit - Painting of a Panic Attack
Thomas Ades - Violin Concerto
Edu Lobo - Mela Noite
Glen Hansard - Rhythm and Response
Oliver Lake - Heavy Spirits
Prince - 1999"
"When is your next album coming out?"
"I just recorded a new album of my music with my regular group (Jacob Sacks, Eivind Opsvik, Dan Weiss), also known as the '55 Bar Group' because we have a twice-monthly gig at the 55 Bar. It'll be out in September on Criss Cross Jazz, and it's my favorite record to date. It was recorded at Systems Two in Brooklyn which is where I've recorded most of my records. The engineer was Max Ross and it was mixed by Dave Darlington."
So: A maker, listener, and lover of music. A self-diagnosed non-audiophile who subscribes to Stereophile. A historic influence who brought together the Bowie Blackstar band.
Even though David doesn't consider himself to be an audiophile, I still think he is - to some degree. Even though I marvel at the audiophile dichotomy that is David Binney, even though I use terms like "audiophile" and "non-audiophile", I think it's really a lot more fluid than that. Aren't all music lovers audiophiles in a way?