Dear Non-Audiophile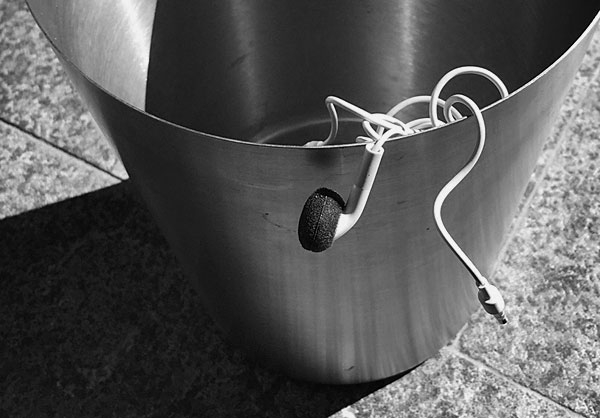 It's me, Jana. I know you're probably not reading this because you most likely don't spend your down time on Stereophile.com, but I feel compelled to write to you nevertheless on the off chance that you might. If I've managed to catch your attention so far, please don't go away.
I know it can be difficult to understand why this hobby exists and why we do what we do, but let me try to explain it to you, for it was not so long ago that I was you. Even though I began studying music at the age of four, and later even proceeded to attend a conservatory in New York, my love for music had no connection with audio quality and definition. I was gluttonous with my musical consumption and shamelessly cycled through countless pairs of $10 drugstore in-ears. (Yeah, I'm talking 7-Eleven.) On top of that, the files were heavily compressed and courtesy of Limewire and early Piratebay. This happened all through my childhood up until I turned 19. I sometimes blame it on the fact that I was born and raised in Hawaii, where high-end audio wasn't as popular as elsewhere, but the truth is, it was there but I just never cared enough to look.
I still consider myself a newborn audiophile, but a lot has changed since the days of JVC Marshmallow Buds. My ears can now drink and appreciate the musical equivalent of a Bruichladdich Octomore (10 year), when they used to be content with chugging shots of Fireball. I would never dare to pretend to be at the level of JA, the Yoda of my life, whose ears can intelligently sip on a 55-year Macallan. But right now, I'm content with where I am and where I'm headed.
Let me start by telling you that audiophiles are some of the most beautiful souls in the entire universe. They can be incredibly complicated and socially awkward; I'll give you that. But to me, nothing is more attractive than a person who not only loves music, but also cares deeply about the manner in which it is produced and reproduced. To care at a level like that is, in essence, to be respectful to the musicians, the listeners, and the music itself. That's all an audiophile really is.
Now, there's also the gear. The gear is wicked cool. I'm talking cool like Paul Newman's ability to consume 50 hard-boiled eggs in Cool Hand Luke cool. Like the feeling of successfully reciting every line of Lord of the Rings (extended version) cool.
Anyways. Gear comes in all different colors, shapes, specs, and sizes. If you haven't found a component functionally or aesthetically pleasing yet, not to worry—your dream component is out there somewhere. For me, nothing makes my heart beat faster than sleek black chassis, brushed metal, hot glowing tubes, solid handmade beauties, practicable works of art. (Shindo, you know I'm talking about you.)
Oh my god, I could go on forever about my gear crushes. But non-audiophile: please remember that, even though it can sometimes seem like we audiophiles care about the gear more than the music, that's not true. We sometimes get distracted, but we always find our way back.
Then there's this whole audiophile culture phenomenon of reviews. Reading/writing reviews and discussing all facets of high-end audio is how we bond with each other, other than listening to music, of course. I personally have a sick addiction to reading reviews. (Art Dudley and John Darkø, I'm talking about you.) If I couldn't justify it by working at Stereophile, it would be depressingly unhealthy. But non-audiophile: even if you come across the occasional dry review, the amusingly childish forum post, or the unfavorable naysaying comment, do not let it dissuade you. We are fiercely passionate music lovers at heart, who are all fighting for the same thing.
Love, Jana
PS: It was probably not a wise decision to write to non-audiophiles on an audiophile site. So if you, reader, are an audiophile who somehow happened upon this letter, I apologize for telling you things you already know. I sometimes get carried away in the details and forget why I'm here. (Don't we all?) Perhaps I wrote this subconsciously to remind myself of why I originally fell in love with high-end audio, and why I keep falling in love with it every second of every damn day.