Herb's Final Rooms
Brian Walsh and Essential Audio of Barrington, IL put on a highly enjoyable demonstration. There was something eccentric but wonderful happening with each song. The equipment mix was eccentric and wonderful, too: What is not to like about the Kuzma Stabi S turntable ($2156 and perhaps the best bargain in contemporary hifi), the Kuzma Stogi Ref 313 CE VTA tonearm ($4640), and Kuzma CAR-30 moving-coil cartridge. The digital source components were equally impressive: Aurender N100H music player/streamer ($2699), and the Resonessence Labs Veritas DAC which was premiering at Axpona ($2850). CDs were handled by the Abbingdon Music Research CD-777 CD player ($4995). These excellent sources fed the (always eccentric and wonderful to see) Atma-Sphere UV-1 preamplifier with low output MC section ($2900) and M-60 Mk.III.2 OTL amplifiers with copper foil V-cap option ($7700/pr).
All of the above drove the just released—premiering at Axpona—AudioKinesis Bienville Suite loudspeaker system ($12,000). Contributing to all of this eccentric wonderfulness was Clarity Cables Vortex power chords ($750/each), power distributors ($1200/each). Interconnects, USB cables, and speaker cables were also by Clarity Cables. Teo Audio provided the equipment rack ($7500) and "various" interconnects.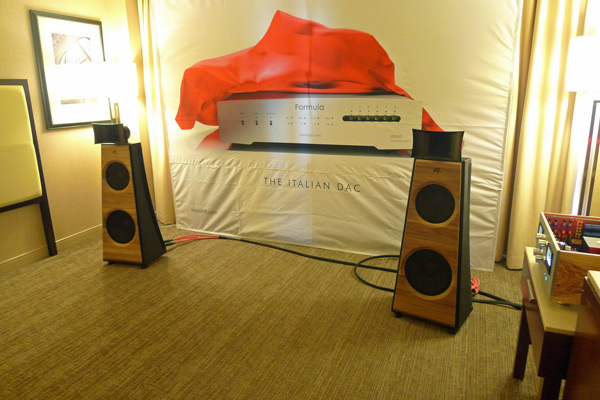 When I entered the Aqua Acoustic Quality room I spotted two elegant loudspeakers (the open-baffle, Italian-made Diesis Audio Aura, $20,000/pair) with sexy horns perched on top. I also couldn't help but notice the large banner with a box labeled "Formula" with a mysterious bright red-orange cloth perched on top. Hmmm? What does this cloth mean? What does it cover? And, then, there were the words, "The Italian DAC." Ohhh! It is an unveiling!
The music playing was American and it sounded very nice, but I noticed that every component in the room was made in Italy. Then I spied my friend Mark Sossa of Well Pleased Audio Vida. I felt like I was back at the Milan Audio Show. I complimented Mark on these new lines of sexy products and he asked me, "So Herb, what do you want to hear?" I replied with a smile, "Opera, of course!"
Mark said they had no opera. I laughed. "Are you sure this stuff is made in Italy?"
In lieu of . . . they played Sony Classical's "Baroque Duet," with Kathleen Battle and Wynton Marsalis (Americans) and John Nelson conducting the orchestra of St. Luke's. It sounded glorious and very smoothly presented. It appeared the Angstrom Audio Lab Stella Integrated ($16,000; class-A, 100Wpc, push-pull "circlotron" EL34 tubes) was doing its class-A best. So must have the Formula DAC ($13,800), and the La Diva CD player ($8500). But no opera?
I get a kind of reverent feeling when I hear or see the words "Audio Union." According to their website, "Audio Union is the creative brain trust of internationally recognized subject matter experts . . . " Which include (among others) tonearm designer Frank Schroeder and turntable engineer Mark Dohmann. The AU is indeed a brain trust of ". . . respected engineers, research scientists and international manufacturers dedicated to restoring the true meaning of High Fidelity"—are you ready?
Before I could sit, I had to get close and admire the new Helix 1 Turntable ($37,500) designed by Mark Dohmann, the new "budget" Schroeder CG ceramic-bearing tonearm ($4000) and the stunning Thrax electronics: the Dionysos tube line level amp (($19,500), the Orpheus LCR phono stage ($19,500), the Maximinus DAC ($31,200), and Teres 250W hybrid mono power amplifiers ($28,900/pair). Thrax also created the Lyra loudspeakers ($19,500/pair). All cabling was EnKlein "David" (total price $40,000).
The Audio Union room was big, and long, and deep—and so was the sound. What I noticed most was the precision of musical textures, the gentleness of tone, and the extreme depth and lawyering of the soundstage. I am not sure about the "true meaning," but the music playing was genuinely well done.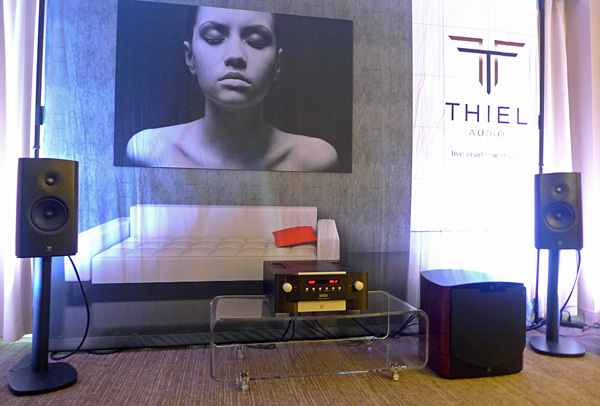 Thiel Audio was showcasing two models: The TT1 floorstanding ($6000/pair) and the excellent-sounding TM3 Monitors ($4000/pair), plus a Smartsub 1.12 at $5300. Like many Axpona rooms, Thiel was driving their loudspeakers with a Mark Levinson No.585 integrated amplifier ($12,000).
He doesn't know it, but I have been a fan of Frank Van Alstine (Audio by Van Alstine) since the 1970s. Back then, I bought his ST70 replacement circuit board for my Dynaco Stereo 70. I have been following his copious developments ever since. Mr. Van Alstine is a man with a singular vision that is dedicated to making high-end sound at low-end prices. What's not to admire.
At AXPONA, Frank teamed up with Salk Signature Sound and his (world premiere) FET Valve CF vacuum-tube preamplifier ($1899) plus (world premiere) DVA850 hybrid monoblocks amplifiers ($7398/pair) drove the Salk Signature SoundScape 8 speakers ($8995/pair) with more than a little authority. Music was sourced via a Salk StreamPlayer Generation II ($1495) and a prototype AVA DAC ($TBA). On static display was another AVA world premiere, the Transcendence 10RB vacuum-tube preamplifier ($899).
What's trending in loudspeakers—especially in Europe? The answer to that question is: active, wireless, powerful, easy to install, shiny and perfectly finished extruded aluminum cabinets, beautiful in a way that will suit any décor, and traditional in shape so that they remain discrete. The Goldmund Logos Tower ($20,000/pair) is all of those things—except I doubt think the polished brass tops are so discrete.
The Logos Tower is a wireless loudspeaker that functions with the Goldmund dongle directly from your computer or with any Goldmund processor and wireless transmitter. The Logos wins my prize for the most handsome and charming loudspeaker at Axpona.
The sound in the exaSound Audio Design room was solid in a way I found surprising and remarkably relaxing in its naturalness. I think my silly subjective brain must have thought, Oh my . . . how can all those "small" components make such big sound?
Then I noticed the Parasound Halo P7 (7.1 channel) preamplifier ($2000) driving the Parasound Halo A51 power amplifier ($4500) which in turn drove (I assume) three panels of Magnepan 1.7i loudspeakers. Question answered. But what about those little boxes? I am sure the heart of this music making began with the brand-new, first-time-playing-anywhere, exaSound Playpoint asynchronous bit-perfect streamer (S1999) and the e28 Mk. II FX DAC ($3849). Music in this room did a nice thing with my mind—I could have lingered and listened much longer.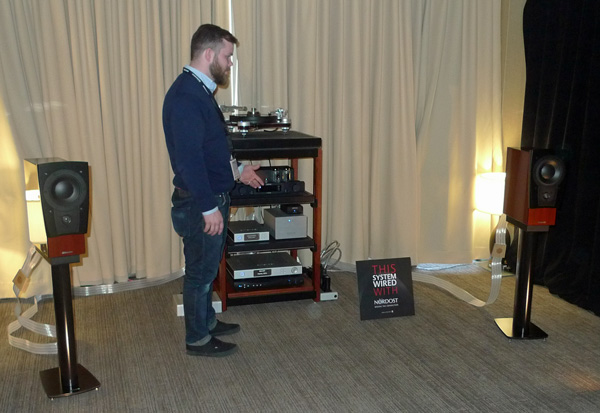 I savor every opportunity to experience a new (to me) Dynaudio loudspeaker. I reviewed the Excite X14s a few issues back and am presently preparing a full report on the new (to everybody) Excite X18s. The Hanson AV room was using the extremely cool-looking Dynaudio Confidence Platinum loudspeakers ($8750/pair).
The Critical Mass Sotto Voce equipment rack was topped by a Clearaudio Innovation Basic Wood turntable w. TT-5 tonearm ($9000), a Clearaudio Satisfy carbon-fiber tonearm ($1600), with Clearaudio, DaVinci ($5500), and Essence ($1500) moving-coil cartridges. Power for the Dynaudios was provided by an Octave V80SE integrated amplifier ($11,250). All cabling was by Nordost.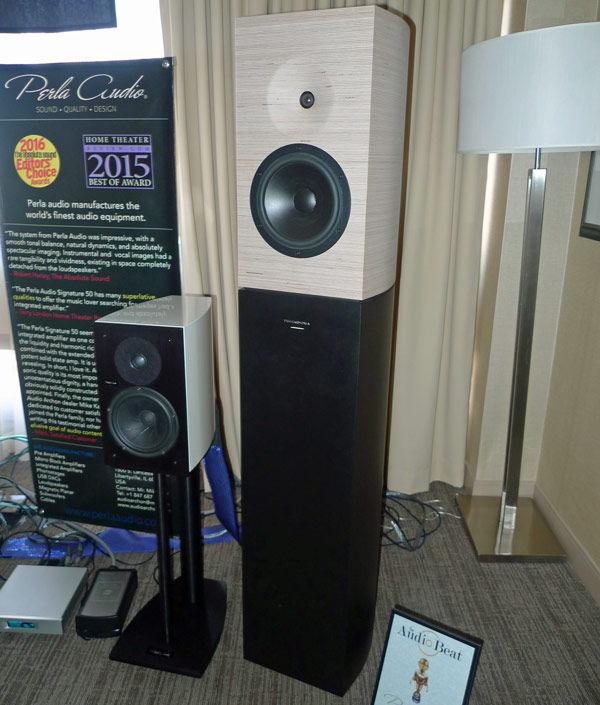 Audio Archon was showcasing the US premiere of Amadeus Audio's Philharmonia loudspeaker ($40,000/pair) designed by Michel Deluc, and Paris Symphony Hall architect: Jean Nouvel. The Philharmonia is a very tall active (700W x 2) transducer with an onboard "studio grade" DAC and DSD. It was being driven a Lumin network music player ($5900). AC was conditioned by an Sbooster Linear Power Supply ($370).