AXPONA: Jason's Journey Continues
The AudioEngine team at AXPONA—from left to right: Brett Bargenquast, Morgan Day, Gavin Fish (also of LH Labs), and Patrick Carr—were really happy with their flagship HD6 self-powered loudspeakers ($750/pair). These handsome little babies integrate aptX Bluetooth and Toslink optical to play 24/96 files. They also stream Tidal, Spotify, Pandora, and YouTube wirelessly via smartphone, tablet, or good old fashioned computer. Optical yields the highest-resolution sound. You can even connect your TV or turntable. As always, those who purchase directly from AudioEngine online get a 30-day audition.
The premiere of an Analogueworks TT One-Twelve turntable ($3795) with Ortofon TA-210 tonearm ($1994) and Ortofon Cadenza Black cartridge ($2729) in the High Fidelity Services room highlighted a system that also included Audia Flight FL Two integrated amp ($5495), FL Phono phono preamp ($6295) and CD One M CD player ($7695); Verity Audio Leonore loudspeakers in oiled walnut ($18,145); Unity/Ortofon, Vibex, and Vibex/Unity cabling; and Custom Design Definitive rack ($1595). The sound on Reference Recordings' Il Trittico had a bit of a gun-metal coloration that I associate with some solid-state equipment, and that clearly appeals to others more than to me—it's what makes life so interesting, folks—but the system had no trouble whatsoever playing at high volume with ease. What it did not do, on a track of baritone Matthias Goerne singing a song by Schubert, was fully convey the warm body of voice and piano.
High Fidelity Services' second room headlined Neat Acoustics Motive SX2 loudspeakers ($2395/pair), which, if I've got my facts straight, were inspired by the BBC LS3/5A model and offer a lot of placement flexibility. This pair staged quite well, and excelled with both The Rolling Stones' "Love in Vain" and a very different recording of Piazzolla's Oblivion on Yarlung Records' CD, Antonio Lysy at the Broad. Yes, there was some booming on the bottom—this was a hotel, after all—but the overall presentation sounded beautiful and listenable on both tracks.
Contributing equally to the system's success: Audia Flight FL Three S integrated amp with phono output ($3995) and Audia Flight FL CD Three CD player ($2895), Analogueworks TT Zero turntable with Jelco SA-750DB tonearm ($1995 total) and Ortofon 2M Black cartridge ($2729), Unity/Ortofon signal cables ($1450) and Vibex/Unity power cables ($2630), Vibex One 7R power distributor ($995), and Hi-Fi Racks Podium XL ($1150).
I expect that a lot of converts were won over by the Vinnie Rossi ultra-configurable, do everything but wash your dishes, Stereophile Class A Recommended Component LIO with new LIO directly heated linestage ($10,470 as shown, including multi-format DAC, phonostage, and 25Wpc MOSFET amplifier). I certainly was when I heard it paired with Harbeth M40.2 Reference loudspeakers (starting at $14,795/pair), Acoustic Signature Thunder turntable ($10,995) with Acoustic Signature 12" TA-5000 tonearm ($6495), and Dynavector Te Katora Rua cartridge ($3000), and Tellurium Q Silver Diamond speaker cables ($7495) and Black Diamond interconnects ($1795). The sound was smooth and warm on some throwaway pop, and simply great on a 24/48 file of Harnoncourt conducting Schubert. In fact, the sound was so beautiful and smooth, with such a warm midrange, that even some loud talking in the room could not obscure how wonderful it was.
Auditioning a very different track from Joelle Gere confirmed that the system's beautiful midrange was not in the least over-exaggerated, and that the top was non-fatiguing, if a tad polite. The session ended with Phoebe Wilder's "Weather Coming." I've heard a lot of digital rain sound like broken glass, but this 24/96 downpour actually sounded like the H2O that brings forth life rather than reigns havoc on all it touches. No wonder Herb Reichert enthused over the Vinnie Rossi LIO. Thanks for the beautiful experience, Vinnie and Walter Swanborn of Fidelis A/V.
NAD put up a valiant fight against the bass infiltrating the room from the much larger suite next door. That they triumphed was due in no small part to the MQA decoding firmware on the Bluesound Node 2 network audio player ($499), which played files from a USB thumb drive. Thanks also go to NAD's Masters Series M12 preamplifier/DAC ($3499) and NAD Masters Series M22 amplifier ($2999), all connected to PSB Imagine T3 towers ($7499/pair) by AudioQuest cabling. Every note I heard in this room abounded in color and liquidity. Believe me, this was decidedly not the case with any number of other systems I encountered. Even when systems are colorful, that doesn't necessarily mean that the colors are accurate. Here, they felt spot on.
Thanks as well to MQA, which contributed to the laudably low noise floor, the system could play very soft passages with no loss of color or fidelity. The soprano on Arneson's Magnificat did sound a bit edgy—hey, big-voiced opera singers are one of the hardest tests of components, and the server costs $499, not $4999—but the sound on Ray Charles and Milt Jackson's "How Long Blues" was excellent. I look forward to my next encounter with this equipment.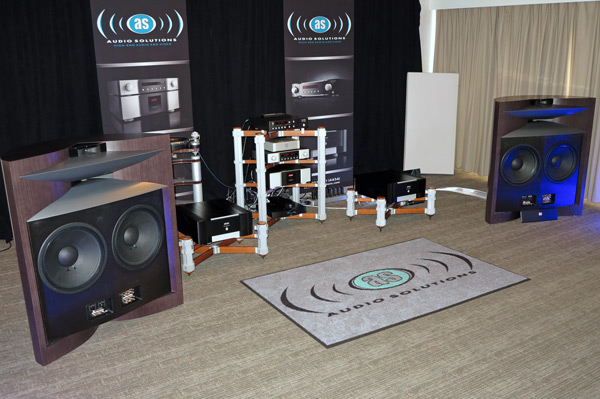 Audio Solutions of Indy went all out with a huge room whose dimensions seem to have convinced people they could chat away at full volume at the far end and around the corner without impinging upon the music. Wrong. But given that the system paired JBL DD67000 Everest loudspeakers in zebrawood ($75,000/pair) with Mark Levinson No.52 reference stereo preamp ($30,000) and Mark Levinson No.536 mono block amplifiers ($30,000/pair), as well as the highly rated Lumin A-1 music server ($7400) and deservedly praised Nordost Odin 2 cabling, I did my best to listen through the din.
After surviving some exceedingly mechanical stuff that's better suited to the dance floor than a sit-down listening experience, and that seems to have encouraged folks to talk louder, I heard a beautiful, mostly smooth cello that was graced with extra warmth but a bit of lingering dryness and bright edge higher in the range. The Levinson gear, to my ears, retains a certain solid-state, gun-metal coloration that, as acknowledged above, really appeals to many. Given that there was a lot that was very right with this exciting system, I wish I could have transcended the background noise to linger longer. But there's only so long one can attempt to push the river before psychiatric intervention is in order.
Impeccably dressed, as if for a GQ shoot, true gentleman and bona-fide music lover Philip O'Hanlon of On A Higher Note joined Josh Bizar of Music Direct/Mobile Fidelity (MoFi) to present an extremely musical system. To quote directly from my notes: "Lots of midrange . . . the trumpet is gorgeous . . . the smoothness of the characteristically Vandersteen midrange is wonderful . . . lovely blend . . . nails the tinkly-ness of the piano very well."
The notes are important, because they refer, first of all, to the sound of a test pressing of Santana's "Black Magic Woman" from Abraxas. The recording, and others of multiple genres, will be part of the forthcoming 45rpm, extremely Limited Edition UltraDisc, which will be made with a new UltraDisc One-Step 1 plating process. There with be no mother or stamper. Instead, records will be pressed directly from the master lacquer. Ordinarily, 500–700 pressings are made before it is necessary to mold a fresh stamper. Using this new method, pressings in the UD-1S series will be extremely limited to the amount that can be pressed before the lacquers give out. Also heard were the third movement of the Reference Recordings' release of Saint-Saëns' overplayed "Organ Symphony," and Roy Gaines' equally classic "Stormy Monday," which sounded way better than on YouTube.
The system: VPI Avenger turntable ($21,000) with Koetsu Blue Lace Onyx Platinum cartridge ($15,000), Luxman EQ-500 phono stage ($7500), BAT VK-53SE preamp ($15,000) and BAT VK-255SE amp ($6500), MyTek Manhattan DAC ($5,000—not auditioned), Esoteric K-05 SACD/CD Player ($8,000–ditto), Vandersteen Treo CT speakers ($8000/pair), Shunyata Triton power conditioner ($6,000) and Sigma power cables, and AudioQuest interconnects and speaker cable.
It may have been impossible, time-wise, to stick around long enough to hear music in Draper Screens' darkened, McIntosh-headlined A/V room, but McIntosh surely made an indelible impression in Audio Video Interiors of Chicago's big room across the hall.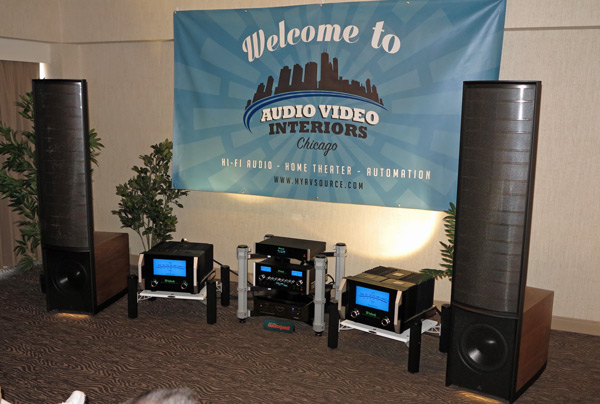 The place was packed, and I mean packed.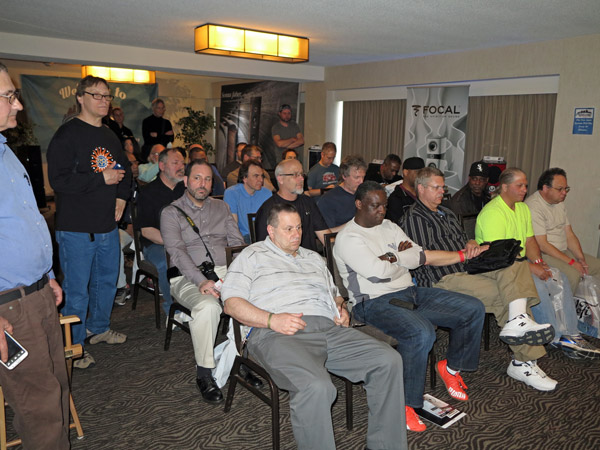 This combo of MartinLogan Renaissance ESL 15a speakers ($24,995/pair), a McIntosh MB100 media bridge ($6000), McIntosh C52 stereo preamp ($7000), McIntosh MC1.2KW amplifiers ($24,0000/pair), AudioQuest Niagara 7000 power conditioner, ($7995) and AudioQuest cabling, was intended to dispel some myths about tube equipment and electrostats not being able to rock the joint with deep, deep, gonad-shaking bass. Woe to anyone who was beneath or above the hotel's Rosemont 2 suite, because the total sonic assault was more than I was equipped to handle after blogging rooms for something like five hours. The volume was formidable, and the deep, grinding, well controlled bass a viable alternative to using a vibrator for extra-musical stimulation.
Hmmm . . . Is that why some reviewers are prone to call some loudspeakers and components "sexy?"
When I was a teenager, I used to try to drive my mother out of the house by playing LPs of Little Richard at top volume on our custom-designed (by Mom) Bozak/Garrard/I can't remember what stereo system. ("Look dear, now it's on the left speaker, and now it's on the right speaker. Isn't stereo wonderful!") Mommy Dearest was lucky I had not yet encountered McIntosh and MartinLogan. Then again, MartinLogan wasn't around in 1957, when Little Richard released his first album and I pushed all my mother's racist buttons by daring to dance the Philly with the maid.
Directly across the hall, in Rosemont 1, Saturday Audio Exchange paired Monitor Audio Platinum II loudspeakers ($29,000/pair) with SimAudio Moon electronic and AudioQuest cabling. Despite noticeable bass booming on bottom on a recording of a jazz trio, the system captured the solidity and size of the presentation quite well. For a change of pace, I pulled out John Atkinson's superb recording of male vocal ensemble Cantus' While You Are Alive, but loud talking from the rear made listening impossible. More successful was a recording of pianist Murray Perahia playing Handel. While I found the sound a little dry, and lacking in natural piano ring and overtones—the system shortchanged the joy of Perahia's rendition of this delectable music—the sheer scale and weight of the Monitors' imaging was quite impressive.
The SimAudio Moon stack included their 870A amplifier ($22,000), 740P preamp ($9500), 820S PSU ($8000), 180 MiND streamer ($1000), and DAC/transport ($9000). The second Monitor Audio system in the room, with Platinum PL300II loudspeakers ($14,500/pair), Cyrus electronics, and AudioQuest cabling was not playing during my visit.
To give me a head start on all that was left to cover, I bounded up the stairs to Floor 4. I have raved on previous occasions about Audio Alchemy gear, which has been shown with both Wilson Audio Sabrinas ($15,999/pair) and little Elac monitors that, if I remember correctly, cost $400/pair. This time, Audio Alchemy's Peter Madnick dove somewhere between those two, and chose Endeavor E3mk2 loudspeakers ($8000/pair). Completing the chain, we heard the Audio Alchemy DMP-1 digital media player with ROON option ($1795), Audio Alchemy DDP-1 DAC/preamp ($1995), Audio Alchemy PS-5 power supply ($595)—which you can be sure wouldn't have been used if it didn't significantly improve sound—and Audio Alchemy DPA-1 mono power amplifiers ($3990/pair). All this made music via Master Built MB Ultra interconnects ($18,000 total) and MB Signature speaker cables ($12,000/pair). To readers who still treat that totally arbitrary, fashioned out of a combination of thin air and chutzpah-masquerading-as-common sense, "Cables should comprise no more than 10% of your system cost," rule as golden, please note that Peter Madnick seems to think otherwise.
For the first time in my listening experience, I thought the sound of an Audio Alchemy chain a little dry. How much that may have had to do with the room treatment, I do not know. It may have also had to do with the fact that there was no power treatment other than a humungously long stock heavy-duty extension cord connected to a less noisy outlet in the bathroom. Regardly, Patricia Barber's classic "Ode to Billy Joe" mostly sounded great, with neutral timbres, image solidity, and a laudably speedy depiction of percussion.
I ended Day 2 with Nola-Studio Grand Reference Gold loudspeakers ($19,800/pair) connected to Playback Designs' IPS-3 integrated amp/DSD DAC ($13,000), Syrah 4xDSD server ($6500), Merlot DAC ($6500), and Pinot ADC ($7000). How much of that seemingly redundant gear was in use—I certainly didn't have time to hear the Studer-ReVox PR99 tape recorder/player and ReVox B791 turntable with Sonus Blue-Gold cartridge and Moon 310LP phono preamp ($1900)—I do not know. But I sure recognized the all-important Nordost Odin 2 cabling that Nola's Carl Marchisotto loves, and that didn't make it onto the equipment list.
Sitting in the back row to give the speakers enough space to image properly, I felt it did an excellent job conveying the panoply of colors on Nico Muhly's Control. If you haven't read my review of this piece and the other two new works on Reference Recordings Fresh! latest release, Dawn to Dust, I urge you to do so, because you're missing something if you don't give them a serious listen. The system conveyed the music's remarkable atmosphere, color, and transitions from high to low very well. The top was a bit toned down—it lacked the last bit of glow and sparkle I had hoped to hear—and the bottom octave was sketchy, but the midrange was excellent. All in all, Nola and Playback Designs provided a supremely musical way to bid the listening portion of the day adieu.