AXPONA's Solid Start
Even before 10am had rolled around on opening day, eager audiophiles were obtaining badges in the lobby of the Westin O'Hare. It looked like a very promising start.
Steve Davis, who founded AXPONA in Jacksonville, FL eight years ago, was just finishing up Friday morning's press briefing while people were already lining up in the lobby. Among other things, he led us on a tour of the new Manufacturer's Showcase, in which 26 manufacturers and distributors set up passive displays of premiering and recently released products. Even in this, its first year, the showcase ran short of space: with so many companies now choosing to unveil products at consumer shows such as AXPONA rather than at CES, the Manufacturer's Showcase could not accommodate them all.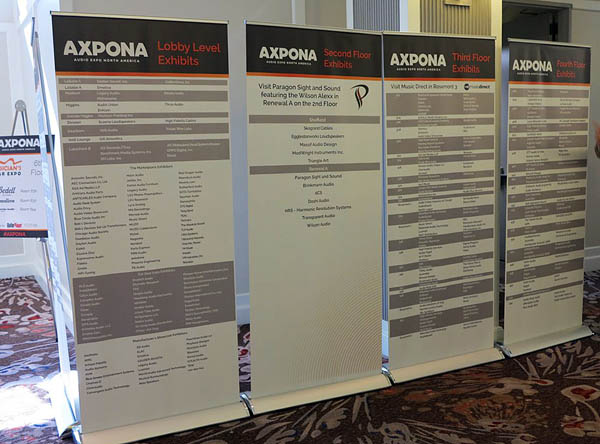 Want an idea of how many rooms there were at AXPONA? Last year, I was able to fit the signage for all of AXPONA's active displays into one photograph…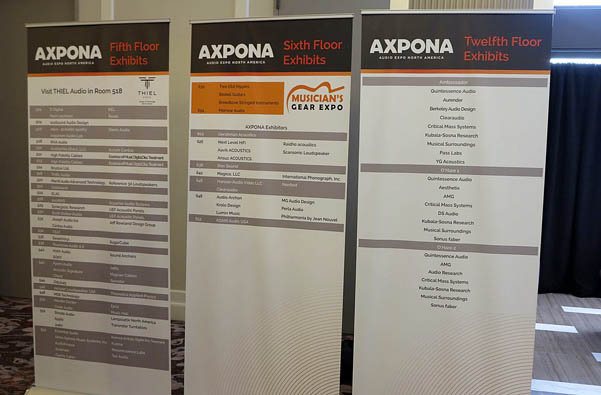 This year, not even two photos were sufficient: there was yet one more sign to the left of the first, facing the escalators down to the Lower Level showrooms.
Jeremy Bryan of MBL North America never, ever thinks small. This year, he went for the gold by setting up MBL's top-of the-line Reference 101 X-treme two-tower loudspeaker system. The system's base price of $558,200—including MBL's Reference CD transport, Reference D/A converter, Reference preamplifier, and four mbl 9011 power amplifiers—demands that smitten audiophiles also go for the gold if they want to bring it home. Note that this price does not include: the preamp's many add-on options; the hardly insubstantial bundle of cabling (in this case, Wireworld Eclipse Series 7 cable, which is also used within the 101 X-treme); and a UHA Phase 12 UPS ¼", 15ips tape machine ($20,000 for the playback only model). Add in tax, and you're talking the price of a cozy house in a borderline neighborhood in the East Bay across from San Francisco.
The sound? Seated in the sweet spot, the sound was really warm and beautiful, and the spatial effects and air on Eighth Blackbird's new Michael Bishop-engineered CD, Hand Eye, were wondrous. Listening to the extremely seductive presentation felt like cuddling up in bed with a soft teddy bear or lamb and dreaming of a land where trees transformed into ice cream cones. While not everyone will be won over by the system's warm coloration, those who succumb will find themselves transported to an alternate universe, the likes of which was duplicated by no other system I encountered on the first day of AXPONA. Wow!
The world premiere Salk Song 3 (tentative name) 3-way speaker system ($2895/pair), with a claimed sensitivity of 89 dB, had maybe two hours of break-in on it, but it still sounded amazingly impressive for the price. Paired with the world premiere of the Wells Audio Majestic integrated amplifier ($3499), world premiere of the Salk StreamPlayer Generation II Mini ($1195), a Lampizator Amber PCM/DSD DAC ($2200), and an assortment of Danacables ($3780), this $12,374 package ($9899 at AXPONA) was my Best Buy system for Day 1 of the show. The sound was extremely clear, smooth, and lovely. Not only was it closer to neutral than many systems I encountered on day 1, but it was also amazingly communicative.
Naim Audio's far more expensive system—think the Naim Audio Statement NAC S1 preamplifier ($90,000) and Statement NAP s1 mono amplifier x 2 ($90,000 each), as well as Dynaudio's Evidence Platinum loudspeakers ($82,000/pair), for starters—was fighting against a glass-covered wall to the right of the speakers. Nonetheless, cymbals on jazz recordings sounded quite natural, and Kurt Elling's voice was very clear, albeit a bit warm. The system sailed through an LP that included Bartok's Miraculous Mandarin Suite, producing very clear sound on extremely complex passages without once breaking into a sweat. Even more convincing was a far better recording, of Falla's Three Cornered Hat, where the system excelled in surrounding its absolutely clear, perfectly reproduced orchestral forces with a gratifying amount of air.
Also heard, or at least available to hear: Naim NDS network player ($13,000), UnitiServe SSD hard disk player/ripper/server ($4600), 555 PS power supply for NDS ($11,500), and Lumina cabling ($4200 total).