AXPONA: Herb's First Day
At every audio show I visit, there's always more live action, more vivo, more hormones, and surely less gray hair in those large rooms where people exhibit headphones, sell new and pre-owned LPs and CDs, and put on static displays of products that are just coming on the market. AXPONA was no exception, with their lobby-level Ear Gear Expo, Manufacturer's Showcase—which was stocked with excellent food and beverages for the show's opening party—and Marketplace.
Because the energy is so strong, I always feel drawn to these rooms, and once there, I lose time, spend money, and feel young again. (And before leaving New York, I stuffed my wallet with $20s—just to buy black and silver discs.)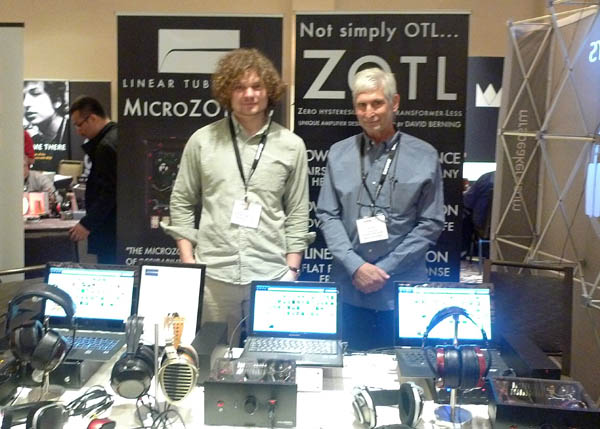 The first place I stopped in the Ear Gear Expo room was the Linear Tube Audio display table. I've reviewed for Stereophile's June issue their new David Berning-designed microZOTL2.0 ($1100), and it excelled as a push-pull, 1Wpc integrated amplifier for driving very efficient loudspeakers; it was also astounding as a standalone line-level preamplifier—and wow, dang, was it extraordinary as a headphone amplifier. I'm working on a follow-up describing the effects of Linear Tube Audio's new optional microZOTL linear power supply ($595). I visited LTA to meet and greet and find out when their new ZOTL10 10Wpc EL84 tube amplifier ($2400) would be hitting the streets. "Soon," they said. Not soon enough for me—I can't wait. This brand new company seems totally dedicated to providing super-high-quality sound at very low prices.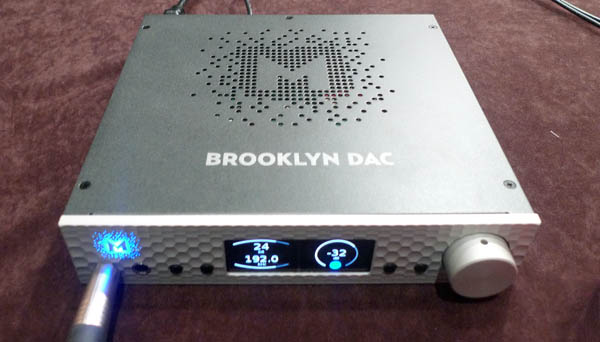 I am quickly becoming a major fan of these new blended (I call them fusion) components that combine a world-class headphone amp (oftentimes balanced) with a high-class DAC, some line-level amplification, and maybe a phono stage or even a loudspeaker output. Mytek's new Brooklyn DAC-headphone amplifier ($2000) is just such a component—and more. It's a USB DAC with an MQA decoder, a DAC capable of 384kHz PCM and DSD256, line and MM/MC phono preamplifier stages, and a "reference quality" headphone amplifier. It even has a recording function! On top of all this, the Brooklyn is made on India Street, in Greenpoint, Brooklyn, New York, just blocks from the church where David Chesky makes his famous recordings.
I listened for a long time to the Brooklyn, and not only do find MQA to be an important new gateway to the artistic content of the songs I love—Bob Dylan's "Don't Think Twice, It's All Right" was a revelation—but the ease and order of the MQA's presentation made it easier than ever for me to understand why Zimmy is the Bard, and I am his disciple! I'm hoping to review this fascinating new product soon: stay tuned.
Speaking of vibe, I always get excited when I encounter what is obviously a made-in-heaven amp-speaker combination, and right out of the gate, that's what I encountered in the Magico room. The lighting was heavenly, the atmosphere was superb, and the sound of Chick Corea on piano provided by a Jonathan Horwich-recorded (International Phonograph, Inc.) 30ips, reel-to-reel tape made the handsome Magico S5 MKIIs ($38,000/pair, or $42,750/pair in high gloss M-Coat white, as shown) sound as divine as I imagine any loudspeaker could sound.
This was surely my best-ever experience with Magico loudspeakers and their diamond-deposited beryllium tweeters, which today were behaving like perfect angels. Besides the purity of the analog source, I believe the stunningly beautiful Convergent Audio Technology (CAT) JL3 Reference Triode Monoblocks ($120,000/pair) were letting the S5s show everybody their full capabilities: nine octaves of jaw-dropping high-end sound! A killer amp-speaker combo!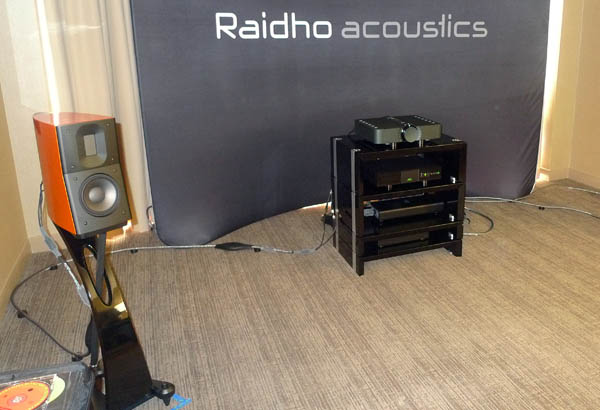 My experience with Raidho loudspeakers is limited but each of my listening sessions has made me think, Wow: clean, clear, neutral, very well-articulated bass, flat frequency response—but where do I search for the soul? Today I heard a Christy Moore CD (Live at the Point) via the Raidho D-1.1 speakers ($29,750/pair) driven the Aavik U300 Integrated amplifier with DAC and Phono ($30,000) and Naim CDX2 transport ($7500). The Raidho house sound was evident, but so was some unsuppressed soulfulness!
Gershman Acoustics chose Axpona 2016 to introduce their new Inspiration 3-way loudspeaker ($5900/pair). It was powered by a Lamm Industries preamp and monoblock amplifiers, and an Oracle CD player. The sound was easy, open, and super-enjoyable.
Ilies Sound demonstrated their fascinating modular speaker systems, combining wall- or floor-mountable panels—each with a tweeter and a small full-range driver mounted on a narrow soundboard—with a pair of squat woofer boxes, for frequencies below 200Hz. The whole handsome combo ($4500/pair, including two panels and two woofer enclosures) was enjoyable to the ears and easy on the eyes.