All:
PLEASE SEE LATEST POST FOR UDATES AT END OF THIS THREAD....
I will be reviewing the Creek Ruby DAC as soon as it gets delivered...could take a week or so (hopefully arriving by June 26th at the latest)...It is an internal circuit board that fits Creek Evolution series Integrated Amplifiers.
It is not only a DAC based on a 192/24 Wolfson, but also a digital tuner module which elegantly feeds into the DAC...an excellent engineering task. The only thing its missing that I like to see in DACs are XLR connectors....... .....wait! I don't *need* connectors. cool! And, the documentation states it is in fact a balanced signal feed to the pre-amp section of my Creek. Pretty good so far....my only skepticism is actually the price... at $599 it's a little cheap actually. I hope it's at least as good as the PS Audio NuWave.. I can Audiogon it and reduce my clutter!
If my Electrical Engineering knowledge is correct, the DAC will tap into the analogue circuitry already present in the pre-amp and amp sections of the Creek... so it's sort of possible to keep price down as roughly half the electronics are already present in the Creek Integrated.
Anyone have experience with this DAC?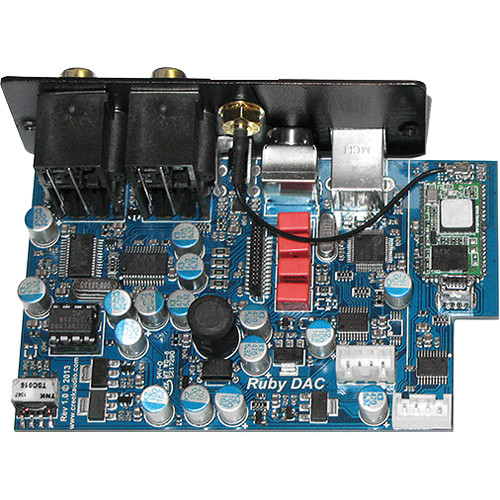 And here it is as installed in a Creek Integrated..alot of ports crammed into a tiny space; including FM and bluetooth Antennae! The twin optical inputs are barely visible above the digital coax inputs..there is no more real estate left in the back of this slimline amp!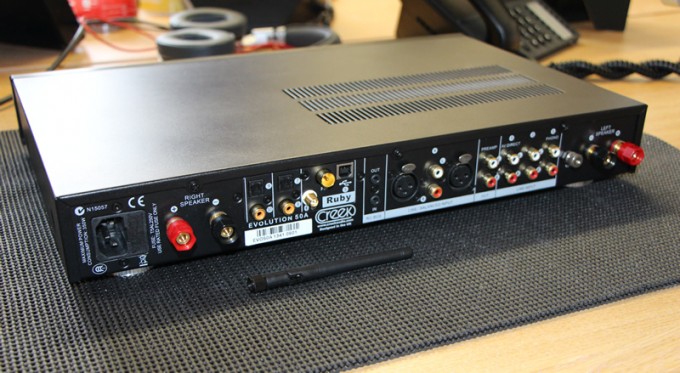 Here are the tech specs from the Creek site; pretty impressive:
DIGITAL INPUTS 2 x TOSLINK Optical, 24 Bit 192 kHz
2 x SPDIF Co-Ax, 24 Bit 192 kHz
USB Class 1 audio 24 Bit 96 kHz max
Bluetooth, based on CSR Bluecore technology
No additional software drivers are needed.
DAC TYPE One Wolfson WM8742 capable of 24 bit 192 kHz.
SNR > 125dB (A weighted stereo at 48 kHz)
THD < 0.001% at 48 kHz sample rate
FM TUNER PERFORMANCE:
FM FREQUENCY RANGE 76 – 108 MHz, dependent on region.
Region selectable via Menu
NUMBER OF PRE-SET STATIONS 100
FM SENSITIVITY -3.5 dBuV
FREQUENCY RESPONSE 30 Hz- 16 kHz -1dB
THD < 0.05%
STEREO SEPARATION > 40dB
SIGNAL TO NOISE > 70dB (Full limiting) Stereo
Best Regards,
Ron
ps. The stereo separation doesn't seem all that great, but keep in mind it is for FM STEREO; not an amplifier...so that is actually pretty typical.