To Save a Soul Like Mine: the Blind Willie Johnson Project
He is easily among the most accomplished and influential slide-guitar players ever to put a ring of glass or metal around his finger. In 1977, on the golden record carried by the space probe
Voyager
, alongside the first movement of Beethoven's Symphony 5 and recordings of "footsteps, heartbeat, and laughter," his greatest song, "Dark Was the Night, Cold Was the Ground" went off to represent humanity to the stars.
His terrestrial legacy remains hidden in plain sight: Led Zeppelin, Eric Clapton, and Bob Dylan have all done versions of his songs, which themselves are versions of even older gospel tunes. Strangest of all, in an age teeming with aspiring documentary filmmakers and social-media busybodies, his story is still mostly untold. Other than blues nuts and those few musicians with a reverence for music history, such as Jack White, few people know his name, let alone his music. Books, magazine articles—even the much-praised PBS series The Blues, produced by Martin Scorsese—couldn't find the truth of such mundane matters as where he was born, what killed him, or where his body is buried.
Now, along comes a tribute record that encourages listeners to find Blind Willie Johnson through his music, not the unknowable facts. God Don't Never Change: The Songs of Blind Willie Johnson is the brainchild of one Jeffrey Gaskill, a longtime concert promoter and music marketer in the northeast US. With a roster of artists that includes Rickie Lee Jones, the Blind Boys of Alabama, Lucinda Williams, and Tom Waits, the recording is a multi-year project that has undoubtedly taken thousands of e-mails and phone calls, prolonged negotiations, and patience beyond imagination—which surely means Gaskill is possessed or, at the very least, a blues zealot.
Yet when I meet him in a bar in Brooklyn, where he lives when he's not in western Massachusetts, where he grew up, Gaskill is neither wild-eyed nor a resident of dreamland. He tells me that the album will be released "sometime in 2015," and was funded by $125,000 raised in 32 days in fall 2013 via a Kickstarter campaign in donations that ranged from $10 to $5000. The tunes were recorded all over the US and sent as digital files to Gaskill. It will eventually be available as MP3, FLAC, and Apple Lossless downloads, as well as on CD and 180gm LPs. Gaskill, devouring a ham sandwich as we talk, is understandably a little numb to the process. Clearly wary of the press and experienced at holding his cards close to his vest, he projects the reticence that such undertakings may need to succeed.
"It will be interesting to see what I think after it's done," he admits. "[In the future,] I might look for things that are a little easier to execute. But it is important to me. I don't know . . . it's my life's work. I'll leave something behind. You gotta serve somebody, and I got the songs of Blind Willie Johnson."
Robert Johnson's fame rests on 29 songs. The other Johnson recorded 30, some of which—"Nobody's Fault But Mine" (covered by Led Zeppelin), "Motherless Children" (Eric Clapton), and "Jesus Make Up My Dying Bed" (the basis for Dylan's "In My Time of Dying")—have entered the rock canon.
In a rambling, semi-intelligible video testimonial for the project at Blindwilliejohnson.com, the North Mississippi All-Stars' Luther Dickinson, who contributed a version of "Bye and Bye I'm Goin' to See the King," says that his family, headed by his late father, the great keyboard player Jim Dickinson, have had a close relationship with Blind Willie since his father and Ry Cooder used "Dark Was the Night, Cold Was the Ground" in the soundtrack of the Wim Wenders film Paris, Texas. The younger Dickinson goes on to say that it was really guitarist Corey Harris who turned him on to the song, which he plays on God Don't Never Change. "That one song is a whole other universe," he says.
Fortunately more coherent in their video update, Derek Trucks and his wife, Susan Tedeschi, obviously put some thought into their cover of "Keep Your Lamp Trimmed and Burning." "There is something so honest about his recordings that I didn't really want to overthink it," Trucks says, sitting on a couch with Tedeschi. "I've listened to them enough over the years—it wasn't like I had to jump in and totally learn it. It's a high bar, when you're talking about Blind Willie and you're picking up an acoustic guitar and playing slide. You don't want to totally cop it, but you want to get it right."
"When I heard it, it's so haunting," Tedeschi says, "and it really struck a note with me. I thought, 'Wow, I could really relate to that,' with Derek's slide playing and my singing, and how we sometimes go off of each other."
"That gospel influence that was our biggest connection in the beginning," says Trucks, smiling and pointing to his wife. "Just the fact that she was wearing out Mahalia Jackson records and things like that was high on my list of the things that got me.
"I think the one thing a lot of people miss with Blind Willie is how amazing the songs were, the lyrics, and how important the approach was. With a lot of other stuff, I don't know if I ever cared to listen to the lyrics. But with his stuff, it's the whole package. The moans in the right place, the slides in the right place, the feel of the room and within the song itself—you can tell none of it was thrown off. Everything was important."
"And they're almost secretive, like some of them they have hidden meanings," Tedeschi says. "Some of the lyrics are very traditional for the time, but also maybe were very personal to him and how he was raised."
According to his death certificate, Willie Johnson was born in Independence, Texas, on January 22, 1897, and spent most of his life around the central Texas town of Marlin. If the legends are to be believed, he was not the product of model parenting. When Johnson was five, his father and stepmother got into an argument and his stepmother threw lye—presumably at the father, or possibly at the child, in revenge for being beaten by the father. Either way, the lye landed in young Willie's eyes and blinded him. On Blindwilliejohnson.com, in an article from the Waco Tribune Herald, Austin-based guitar player Steve James said, "Central Texas was a cradle of the blues. The Brazos and Trinity basins are as important as the Mississippi Delta in the development of the blues."
Around 1926, Johnson married a woman from Marlin, Willie B. Harris, who appears to be the female voice on some of his recordings, and possibly was the mother of at least one of his children. Later, he may or may not have married another woman, Angeline, who, after his death, claimed to be his wife. Between 1927 and 1930 he recorded 30 tracks for Columbia Records in sessions in New Orleans, Dallas, and Atlanta. Despite his rough voice, the records became best-sellers (15,000 copies) in the "race music" category.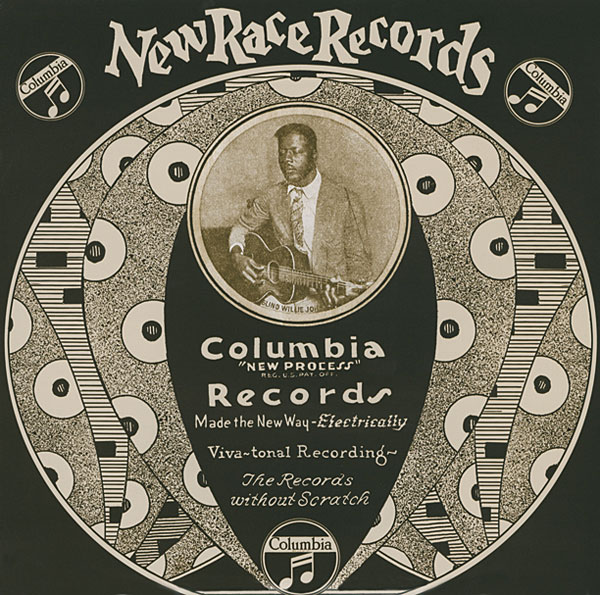 In the fall of 1945, at the presumed age of 48, while living in Beaumont, Texas, in the ruins of his house, which had partially burned down, Johnson contracted malaria or pneumonia and died. According to various sources, and in an echo of the Bessie Smith legend, he was taken to a local hospital that refused to treat him because he was black, or unable to pay, or blind—or perhaps all three, or none of the above. Maybe he was never taken to a hospital at all. His death certificate lists, as contributing factors, "syphilis and blindness."
When it comes to tribute albums, Gaskill has been here before. He produced Gotta Serve Somebody: The Gospel Songs of Bob Dylan, released by Columbia in 2003. He started out in music in the 1980s, promoting shows by the likes of Bonnie Raitt, Hot Tuna, and Nanci Griffith in an old vaudeville theater in Great Barrington, Massachusetts. Under the banner of his company, Burning Rose Productions, he went on to do shows in larger Northeastern venues, before moving on to work at Central Park Summerstage and Entertainment Marketing Communications Inc. EMCI pioneered some of the first sponsorship deals in music, pairing the Rolling Stones and Jovan, Elton John and Citibank, and Michael Jackson and Pepsi. Gotta Serve Somebody, which Gaskill funded independently, focused on songs from Dylan's overtly religious period, from 1979 to 1981, featured several new tracks Dylan cut with Mavis Staples, and was nominated for two Grammys. But by the time Gaskill had decided on his next project, a tribute to an obscure slide-guitar evangelist, things in the music business had changed.
"I made the rounds with a lot of labels, and there was all kinds of interest," he says through bites of ham sandwich. "There was lots of interest, but nobody could follow through on it. 'What a great project. Oh man, I really want to do it, but we just can't do it.' I did not foresee the implosion of the industry. Trying to do a project like this during that time period was just not feasible, hence the Kickstarter.
"I guess I'd been watching crowdfunding since its inception and wondering if that was a viable option. A part of the process of making this record was floating the idea out there to the artists who were interested in doing the project and ultimately saying, 'Hey, would you be willing to do this as a crowdfunded campaign?' In the time it took to do that, crowdfunding became more mainstream."
One of the first requirements was a trip to Marlin. "There's a lot of attention that's focused on Beaumont, because that's where he was when he died," Gaskill says. "But for all intents and purposes he grew up in the Marlin area, and he spent the majority of his life and his recording period in that area. Johnson's wife, Willie B. Harris, died in 1979. And his daughter, Sam Fay Kelly, died a few years ago. His house in Marlin had fallen into ill repair and was sitting there rotting. It was a relic worth saving, and there were some efforts in Marlin to save the house that failed, but somewhere along the line I came up with the idea [that] what could you do with that wood was make cigar-box guitars."
Assisted by a woman in Marlin, Gaskill obtained pieces of wood from the house and had them made into cigar-box guitars—Johnson's first instrument. Gaskill admits that the idea is not entirely original—he'd heard of a guitar made from the wood of a cabin Muddy Waters had once lived in—but it did make for nice premiums to give to large donors. "It was cruddy, old, dirty, nasty wood that, when put through a mill, became, like, beautiful Southern pine, and ten cigar-box guitars were made out of it by a company in Connecticut called String Tinkers."
Gaskill calmly denies that, as happens in many tribute projects, there was very little horse trading or problems in choosing repertoire. "I get really attached to the thought of an artist doing a specific song. It's a pretty long process and a lot of listening. I guess I try and get into the artist's head, and if this would be something they'd be interested in. Look for something in their music over their career. Or it could be a comment in an interview, something that says they're the person for this song. I like to think I'm able to give artists an opportunity to do something exciting and creative for them that they wouldn't ordinarily get to do."
What must have been exciting, at least to my fanboy imagination, was getting Tom Waits to cut "John the Revelator" and "Soul of a Man." Gaskill shrugs. "It was a few years of e-mails. It was kind of like communicating with J.D. Salinger, on some level. I talked to his wife [Kathleen Brennan] a couple times on the phone, and they were excited about it. And he's a big Blind Willie Johnson fan. This was something he really wanted to do, obviously. This was something he had a need to do, I would guess, but I have not had a conversation with him directly."
For some of the artists, recording Johnson's songs seems to have been a revelatory experience. In her video clip on blindwilliejohnson.com, Rickie Lee Jones, who sings "Dark Was the Night, Cold Was the Ground," is eloquent. "I said to the recording engineer, 'I shouldn't be doing the blues,' and he said, 'That's all you do.' Though informed, you drift away. The heart and soul, I guess, of the idea of the blues is that it's everyman's cry, right? And so I found, like, a hymnal, and I looked up some old lyrics to 'Dark Was the Night,' and when they say that's the most poignant moment in all life, when Christ says, 'Please take this cup from me,' when he's human—'But if not, alright, I'm content to drink it then.' I guess there's hardly a day I don't feel that way: Please take this bitter cup—but if not, I'll do what you ask, I'm yours. So I understood that very well. From my experience, to be given carte blanche to take that recording and go where . . . I think I'll be singing that song in my shows. It's part of me now."
Despite the cool faáade, it's very much a part of Gaskill as well. Intrigued by his dispassionate demeanor, while understanding that God Don't Never Change is not gonna sell a million copies and make him rich, I ask, directly, why he's doing this.
"Well, because he's so great to begin with. Because he's undiscovered and needs to be discovered. And because it was a very similar project to Gotta Serve Somebody. Blind Willie Johnson's body of work is really similar to Dylan's body of work. I see a real kinship between the two. I see Willie Johnson's 30 recordings and Bob Dylan's gospel period as both lasting bodies of work with a similar worldview. Willie Johnson was a seminal artist who created a new sound by marrying blues with gospel. Bob Dylan's gospel period married rock with gospel. Gotta Serve Somebody: The Gospel Songs of Bob Dylan returned Dylan's songs to their roots with black gospel interpretations, while God Don't Never Change: The Songs of Blind Willie Johnson is, for the most part, the inverse, with interpretations by contemporary white artists that have evolved from the same musical tradition.
"[Projects like this,] It's not for the faint of heart. It's verging on insanity. It's more patience than anything. There are a lot of demands on artists of this stature. Trying to get them in the studio—a lot of sitting back, waiting for that opportunity, waiting for the moment to be right. You don't just want somebody to go in and do the song. The artist has to think about it and digest the song.
"It's a work of art. It's not a commercial endeavor. But I think that it's something that people will respond to, the way they respond to all good music. People need to be aware of the roots. I mean, he's incredibly seminal. And his message is, too. Just a very basic, big message." Gaskill smiles—perhaps at his own persistence.
And the message is?
"It's nobody's fault but mine."