Music in the Round #74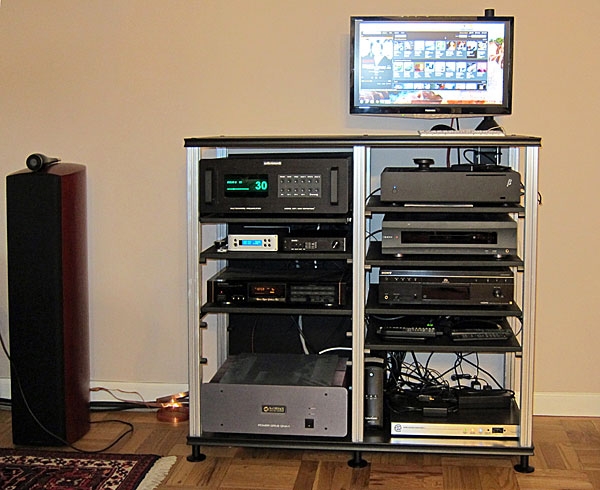 It has been a disrupted spring. Late last year, my wife and I committed ourselves to a long-needed renovation of our main living space: an apartment in Manhattan. Articles, books, and TV shows have illuminated the trials and triumphs of home renovation, but as far as I know, none has included a redo of the listening room of an obsessive audiophile, let alone one who is also an audio writer facing copy deadlines.
I'm more than a little lazy, and I had long-delayed much-needed system updates because of all the dreaded effort and disruption. But slowly I began to realize that this was an opportunity to make some long-planned changes in my system without losing the use of it for any longer than the renovation itself would require. I won't go into all the difficulties associated with plastering, painting, refinishing the floor, dealing with workers and contractors, and shopping for furniture. (As I write, the new couches have yet to arrive.) Instead, I'll focus on my list of audio to-dos: updating the AC wiring, replacing the equipment rack and main-channel cables, and shipping off essential components to be updated.
AC power
A separate AC line at the front of my listening room has always been dedicated to the front-channel power amps and subwoofer. The only change needed there was to replace the outlets with Hubbell hospital-grade receptacles. At the back of the room, however, the only power outlet was on a line that I'd thought was shared with two lamp fixtures—but testing revealed that this line is actually shared with the kitchen microwave and a plasma TV in the study, at the other end of the apartment. It was a no-brainer to take this opportunity to add two dedicated 20-amp lines, securely grounded to the building's 1/2" ground rod and fitted with Hubbells. I hoped that this would have a major impact on the sound, and sure enough: Hiss is now almost undetectable, and hum is nonexistent, even when I place an ear next to a speaker. I'm also confident that my system is now isolated from noise created by heavy-duty appliances.
Equipment rack
I'd always hated my equipment rack. When I began writing for Stereophile, in 1996, I replaced a tidy, traditional Target Audio rack with a stack of four double-wide Classic modules from Lovan USA. This gave me the eight component spaces I needed, but I was always unhappy about the crudeness of the Lovans and the flimsiness of their shelves, prompting my ongoing efforts to reinforce and damp them. Replacements had long been overdue, and now that the impending renovation was already dictating the Lovans' disassembly . . .
I set out to find a more accommodating rack to provide a firm but adaptable foundation for all of my components. (Back in the day, who anticipated needing servers and DACs?) Not only that, the new rack would have to look good and not overwhelm the room, which also serves as our living room. Audiophile-grade equipment racks rightly emphasize rigidity, but they're often bulky and not easy to move or reconfigure. After weeks of browsing, online and in stores, I decided on a Synergy system from Salamander Designs. For some years, I've had a tall, narrow Synergy rack in our weekend place, in Connecticut, and it continues to meet my needs there because it allows me to easily reconfigure its shelves whenever I get new equipment in for review.
I used the Design Your Own tool at Salamander's website to design a twin-width S40 Core Module rack, in black finish with aluminum posts ($999), which I customized with two pull-out shelves ($89 each) and six Salamander Robot Feet ($24.75 each), which add 3" to the height. The finished product measures 44.5" wide by 44" high, with spaces for 10+ standard-size components on 9 shelves, not counting the top shelf. I was a bit concerned about rigidity, since my tall, narrow Synergy rack in Connecticut, comprising a 39"-high Extension atop a 21"-high Base Module, is no better than okay in that regard.
I even anticipated adding to the new rack a set of steel cross-braces, but ended up not needing them: With its six substantial pillars of extruded aluminum supporting a lower, wider shape than that of the older Synergy rack, and its six big leveling feet sitting firmly on the reinforced-concrete floor, the new S40 Core Module rack is impressively stiff and rigid. Its fixed top and bottom shelves, and the adjustable ones in between, are deader and heavier than in my older Synergy rack, and the two pull-out shelves make it easier to access connectors. Online I found a clamp-on monitor mount for the LCD screen, which helps keep the top surface clear. As you can see from my photo, it looks good, holds everything, and can accommodate visiting review samples.
Cables
I've often said that I'm not a cable fanatic. I never obsess about alternatives to the cables I'm already using. I need cables only to be well made, and well designed for the task.
But this was the time for change. My new rack is several feet farther away from the power amps and speakers than was the old, and my old interconnects were already at their limits. Moreover, after decades of using only spade-terminated speaker cables snugged up with a trusty binding-post wrench from AudioQuest, I wanted the convenience of banana plugs for swapping out amps and speakers.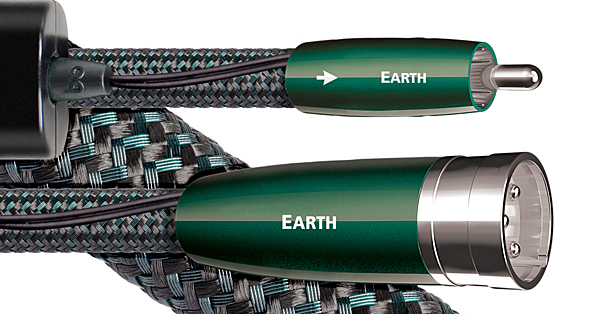 I called on Stereophile's former assistant editor, Stephen Mejias, now at AudioQuest, to ask for his suggestions for replacements for AQ's Mont Blanc speaker cables (biwired) and Cheetah interconnects (XLR), which I'd been using for years. At first he offered to loan me several of AQ's top cables to compare, but I didn't want to make this a big project. How about something more modest, with reasonable flexibility? (I hate wrestling with stiff cables.) After a few e-mail exchanges, Stephen arrived laden with three Oak speaker cables with SureGrip BFA/banana connectors ($3040 for an 8' stereo pair; a third cable adds another $1520) and three Earth balanced interconnects fitted with XLRs ($4075 for a 10m stereo pair, plus $2037.50 for the extra single), to swap for what I'd been using. The prices are pretty stiff for a guy who's not particularly interested in cables, but you can't do without cables, and these seemed commensurate with the value of the rest of the system.
AudioQuest's Oak speaker cables are configured for biwiring, with conductors arranged in a complex, double counter-spiral geometry, and insulation to which AQ's 72V (battery-powered) dielectric bias system (DBS) is applied. The split-tube banana contacts, of silver-plated beryllium-copper, fit so tightly into the amp and speaker terminals that I can just barely insert or remove them by hand. The Earth interconnects have conductors of solid perfect-surface copper in individual tubes of fluorinated ethylene propylene (FEP), arranged in a triple-balanced geometry; as with the speaker cables, a 72V DBS system is applied to the insulation. The connectors are plugs of high-purity red copper with hanging-silver plating (in which each part is clipped to a hanger and dipped in a silver bath).