Recording of September 2015: The Thompson Fields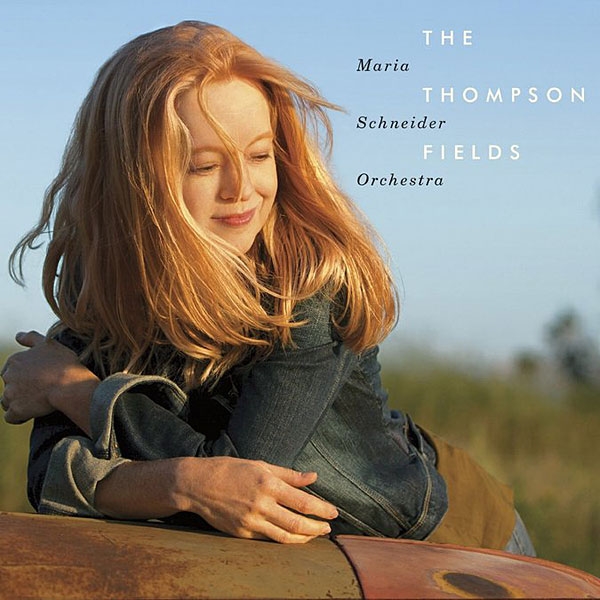 Maria Schneider Orchestra: The Thompson Fields
Maria Schneider, composer, arranger, conductor; 18-piece orchestra
ArtistShare AS0137 (CD). 2015. Maria Schneider, Ryan Truesdell, prods.; Brian Montgomery, eng. DDD. TT: 77:25
Performance *****
Sonics ****
The world's leading figure in orchestral jazz has not released a jazz recording in eight years. In her liner notes, Maria Schneider says, "This album was funded by my ArtistShare fan base. Making a recording like this is becoming increasingly difficult and would now be impossible without the generous support of my many participants."
Today, big jazz bands rarely tour. Some are stable entities, but on a part-time basis. Most, like Schneider's, come together for projects, then go their separate ways. Yet against all odds, large-ensemble jazz survives because no other format offers its range of expression and its power.
Schneider worked with Gil Evans toward the end of his life, as copyist and collaborator. She is his direct artistic descendant. Like Evans, she uses orchestral colors and dynamics to devise dramatic narratives. To say that her work is the feminine version of Evans is too simple. Her touch is lighter and sometimes more whimsical, but her capacity for grandeur is just as credible. Her music is more intimate, more explicitly autobiographical.
She has said, "The foundation of my life is deeply embedded in the landscape." Her new album, The Thompson Fields, is a 77-minute tone poem to the land where she grew up, in southwestern Minnesota: its ever-changing light, its starkness, its spectacular skies, its extremes of weather. For Schneider, sensory perception and emotional memory are inextricable.
Its intermittent performance and recording schedule notwithstanding, Schneider's band has a 20-year history and a specific identity. It contains many of the best ensemble players in New York. Some, like trumpeters Greg Gisbert and Tony Kadleck, trombonists Keith O'Quinn and George Flynn, and bassist Jay Anderson, have been with Schneider from the beginning. The solo firepower is formidable. Saxophonist Donny McCaslin, trombonist Marshall Gilkes, guitarist Lage Lund, and pianist Frank Kimbrough are world-class improvisers. Saxophonists Rich Perry, Steve Wilson, and Scott Robinson are revered sidemen who thrive in the creative environment of a Schneider orchestra.
Individually and collectively, they have never sounded more cohesive or more passionate. The opening track is "Walking by Flashlight." Robinson portrays its wisp of melody on an obscure, lovely instrument: alto clarinet. The full ensemble slowly comes into being and looms behind Robinson like a choir made of wind. The next piece, "The Monarch and the Milkweed," explores one of Schneider's recurrent themes: the interdependence of living things in the natural world. It is necessarily intricate, beginning in delicacy, then gathering force to sweep and soar. Gilkes and Gisbert take deep, searching solos. "Arbiters of Evolution" pursues a related topic, but more aggressively.
Birds have long been muses for Schneider. (One of her best compositions, "Cerulean Skies," from Sky Blue, is about the miraculous fulfillment of bird migration.) The "arbiters" here are birds of paradise. McCaslin and Robinson, on tenor and baritone saxophones respectively, break clear, circle, and return.
The title track refers to the Thompson farm, owned by friends of the Schneider family. The hardcover CD booklet contains radiant color images of its fields, rutted lanes, and silos—the vistas of Schneider's childhood. The foldout photographs are by Briene Lermitte, who is as crucial to this project as the band's principal soloists. The yearning melody of "The Thompson Fields" is like memory itself, on the margins of the mind, coalescing to completion. The simple motif returns again and again, in the varied voices of different sections of the orchestra. Kimbrough and Lund, inspired, are wild and free within that melody.
"Home," a song that touches the personal and universal human implications of that term, has a single solo, a long ascent toward release and acceptance. It is Perry's moment. He is not famous, but he is one of the great tenor saxophone artists in jazz. "A Potter's Song" is a eulogy for the late Laurie Frink, a trumpeter and flugelhornist who was an original member of Schneider's orchestra. The accordion solo, by Gary Versace, is one part sadness, two parts tribute, three parts celebration.
The sonic quality of this album, recorded at Avatar Studios, in New York, by Brian Montgomery, is balanced, objective, and natural.
Schneider's management of such technical elements as harmonic shading and thematic modulation is impeccable. Far more important is her gift for creating music identical with emotion. Only 54, she has lived long enough to look back on her life through time's fading light, and to have known change, including the passing of much that she loved. Music is her means of holding on to what would otherwise be lost. It is everyone's hope. If you are able to cry over a piece of music, The Thompson Fields will make you cry. It is available exclusively at MariaSchneider.com and ArtistShare.com.—Thomas Conrad