A Visit to the Magico Factory
Ever since 2013, when Alon Wolf's California-based Magico loudspeaker company consolidated its original 5000 sq. ft. Berkeley headquarters and 5000 sq. ft. San Jose warehouse into a single 20,000 ft. facility in Hayward, people have been telling me that I had to experience the company's "incredible" listening room. Ironically, it was only after I had relocated from the Bay Area to Port Townsend, WA, that the opportunity arose to take Alon Wolf up on his long-standing invitation to visit.
"It was a shame to leave Berkeley," Wolf told me at the start of the multi-hour tour. "But we couldn't find a suitable space. Already, we've almost outgrown this location. Part of our inventory is currently overflowing into what will become the Magico Museum one day."
Indeed, that Magico collection, in which discontinued models starting with the reputation-building Magico Mini (a monitor with a $32,000/pair price tag, right above) and the V3 that John Atkinson enthused about in May 2008 (center above) share space with shelves of award plaques and cover-story editions of audiophile magazines, is quite impressive. So is the fact that in just 10 years, Magico has achieved distribution in over 30 countries. The company has over 30 dealers in the US alone, and has 35 people working in the factory, plus two sales people traveling about.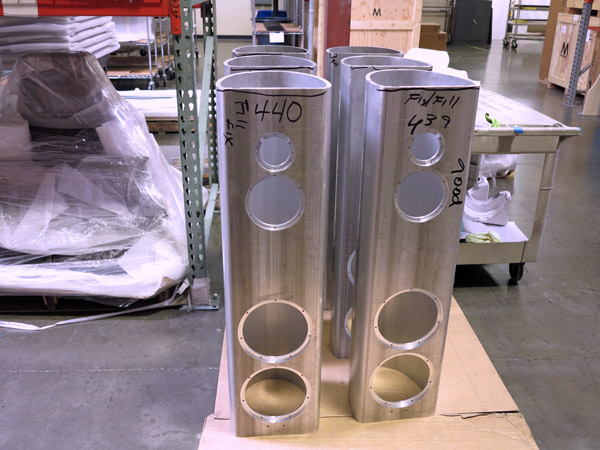 After seeing Magico's not-so-ancient history display, it was time to tour the facilities. Wolf was quick to point out that Magico is the only high-end speaker company in the U.S. to maintain quality control via an ultra-expensive Klippel Production Analyzer. [Many companies use Klippel analyzers in the design of their drive-units.—Ed.] He also noted that every part of a Magico loudspeaker is machined on site.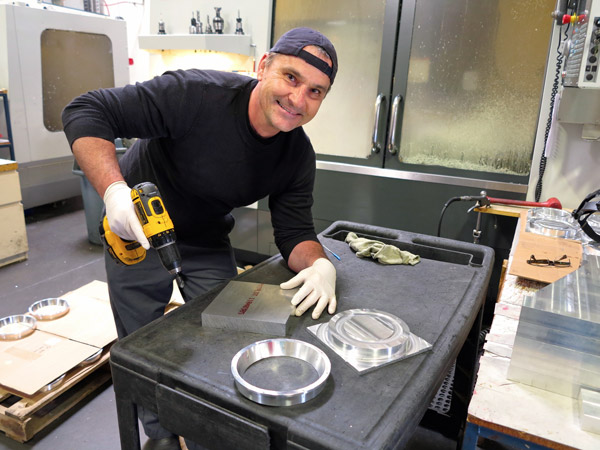 In the next spacious room, Frank Fafek, who was only too happy to pose (with his safety goggles removed for beauty's sake), was at work machining midrange ring adapters for Magico's limited edition M Project loudspeakers ($129,000/pair). Wolf noted that the ring adapters' conical shape prevents the formation of standing waves. He also explained that he had sold all 50 pairs of the M Project, sight unseen, within 30 days after it was announced. The new Magico Q7 Mk.II loudspeaker ($229,000/pair)—"our latest and greatest loudspeaker," enthused Wolf—uses the same diamond-coated beryllium tweeter as in the M Project.
After seeing a tray filled with M Project footers—not even Magico's speaker supports are off-the-shelf—and watching employee Rich Bush assemble an S3, it was time to explore Magico's vast, 33' x 22' x 13' listening room. The room, which cost a quarter-million dollars to build, boasts a noise level of 24dB. Its outside walls are 5"-thick Quiet Rock, and the inside walls are composed of two layers of sheet rock. The floor, as you might expect, floats independently of the outer shell.
"Most of the time, when you listen to a loudspeaker, you're listening to the room," Wolf said at the start of our exploration. "It's very easy to measure a speaker above 800Hz, regardless of the room it's in. Below that, it gets tricky. Hence, the environment in which you listen to and test your loudspeakers is crucial.
"There is no 'average' room. You always have the potential to alter the environment you're in, but you can never change an abnormality in a loudspeaker. If you design a loudspeaker to work in your living room, for example, it won't necessarily work well elsewhere. So I've taken the room out of the equation. In this room, you hear the bass from the speaker alone, not from the interaction of the speaker with the room. This helps us voice loudspeakers more accurately."
As I gazed with wonder at what is unquestionably one of the finest high-end listening "laboratories" to be found, and thought of the much smaller listening room I'm building concurrently in our two-car garage, I felt overcome with fear at the thought of the cost of the room treatment alone, which was manufactured by RPG. Good Lord, I prayed, please don't tell me that we're going to need all this room treatment, because we can't possibly afford it. Furniture, wall hangings, and all the magic that Synergistic Research's Ted Denney can possibly summon forth are going to have to do the trick. But I digress . . .
"This has been a big dream of mine for maybe 30 years," said Wolf before briefly listing the equipment in the room. While components are always in rotation, the component chain during our visit was similar to that used in Magico's room in the Mirage at CES 2015, and consisted of a pair of M Project loudspeakers that were breaking in prior to shipment, Soulution monoblock amplifiers, a Berkeley Alpha DAC, Baetis music server, and a combination of Vovox and MIT cabling. Racks were by Magico, with Magico's QPods providing further support.
Listening
As I listened to jazz cuts by Suzanne Abbuehl and Kurt Elling ("Am I a Poet?"), I marveled at the system's ability to highlight maximal differences between colors of voices and accompanying instruments. I also noted that, while the room treatment did not deaden the room entirely—you could hear a modicum of ambience around our speaking voices, which sounded quite natural in the space—the sound of reproduced music was a little dry and analytical for my taste.
When we switched from jazz to classical, I marveled at how much detail I could hear as mezzo-soprano Christa Ludwig sang Mahler's Lieder eines fahrendes Gesellen (Songs of a Wayfarer) with Sir Adrian Boult and the Philharmonia Orchestra. It was extremely easy to hear how well (or not so well) the sound of Ludwig's voice in its different ranges was suited to expressing the music's emotional core. Both her vocal greatness and limitations were conveyed in equal measure.
I wanted to try to understand how much of my experience of feeling that I was sitting outside the music and thinking about it more than losing myself in it had to do with Ludwig and Boult, rather than the system's presentation in this particular space. I was dying to compare Ludwig's performance to Janet Baker's famous rendition, which I've heard many times, but the classic performances by both Baker and Fischer-Dieskau weren't part of the collection.
Wolf then surprised me with the huge soundstage the system created on Aaron Copland's The Red Pony, and how well the hilarity of the music came through. I loved it.
Serious me then asked to hear a movement from a Mahler symphony. Wolf struggled with the search function in the Baetis software, trying multiple strategies for finding all of his Mahler collection. As I lamented the dearth of consistent metadata for classical music, and wondered why such a reportedly good server came up short in the search department, I kicked myself for not bringing along my two bags of USB sticks filled with familiar and much-loved music of multiple genres.
Finally we settled for a bit of Solti's 1966 version of Mahler Symphony 2. Not only were instrumental balances not to my taste, but what I conjecture were the shortcomings of multi-miked finagling in the control room also came through loud and clear. Picture me simultaneously dismayed by the engineering, and in awe at how clearly the system depicted the mangling of musical intent. In all fairness, since Solti could never have heard all of what the engineers were doing on the studio monitors of the period, maybe I was hearing exactly what he thought he wanted me to hear.
Whatever recording was played on this system, the sound was absolutely in control. The absence of audible distortion revealed myriad nuances that are all too frequently obscured by room reflections, cabinet resonances, crossover design shortcomings and the like. I wasn't always emotionally involved by what I heard—again, I kept longing for familiar music so I could fully grasp if my lack of involvement was due solely to the renditions I heard—but my wonder at what I did hear was constant.
Wolf might object to me talking about a sound signature, but I would characterize the system as conveying a somewhat cool, understated elegance that impressed by its essentials rather than splashy frills. How much of what I heard was due to the inherent sound of the speakers, and how much was colored by the server and amplifiers, I cannot say.
If I were a recording engineer, I would definitely hope for the opportunity to audition my recordings on Magico loudspeakers in Magico's purpose-dedicated listening room. It's no wonder that when Bay Area journalist Wilson Rothman penned his unbiased and very revealing Wall Street Journal story, "Hi-Res Audio Hijinx: Why Only Some Albums Truly Rock," he headed to Wolf's sound room, and auditioned his tracks on Magico Q7 Mk.II loudspeakers. During my time in the room, I felt as though everything the artists we listened to put into their performances, I could hear.