Listening #152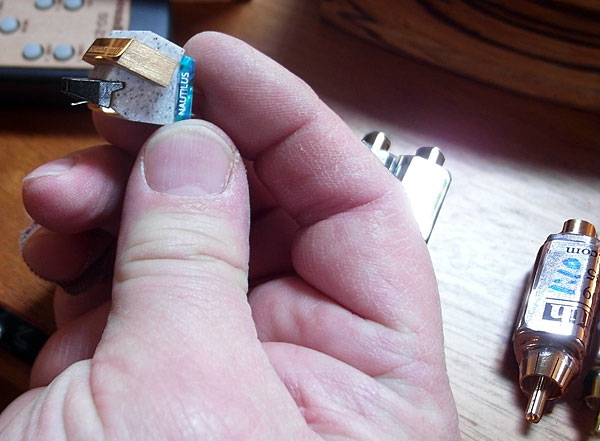 During our second trip to the UK, my wife and I drove from Heathrow Airport to Swindon, to visit an older couple we'd met on our first trip. We arrived around noon, and Vera and Ross made us a nice lunch, which we enjoyed while looking at scrapbooks filled with family photos and well-worn newspaper clippings. Vera asked where we intended to spend the night, and I said that our next stop was York.
Our friends were horrified. "That's hours from here: You can't do it in just one afternoon!" (Our UK road atlas suggested we could make the drive in about four hours; it took slightly longer, only because I felt compelled to stop along the way to photograph a magpie, as I'd never before seen one.) We assured our hosts that, as Americans, we were used to driving hundreds of miles in a day, even for routine trips. Nevertheless, Vera and Ross insisted on packing a meal—cucumber sandwiches with salad cream, some nice cookies with jam filling, a container of orange soft drink—and extracting from us a promise that we would stop and rest along the way.
Vera and Ross, two of the sweetest people I've known, passed away long ago, but I think of them every time I set about driving any distance greater than 100 miles. I pack a meal, whether or not I think I'll want one—I almost always do—and I make sure to pause every few hours to rest my eyes and stretch my legs.
So it was on April 23, when I set the controls for the heart of Peekskill, New York, intent on visiting the headquarters of The Soundsmith (footnote 1): a manufacturer of electronics and loudspeakers that also happens to be one of only two makers of high-fidelity phono cartridges in all of North America (the other being Grado Labs, footnote 2). Soundsmith is owned and operated by Peter Ledermann, a self-taught engineer whose love affair with audio began when, at the age of three, he assembled a crystal-radio kit his father had given him. By the time he'd entered his teens, Ledermann was salvaging and repairing all manner of electronics—radios, tape decks, even television sets—but it was the acoustic phonograph for which he felt a special affinity: "I understood Edison's elegant invention at a tender age," he says. "It matched the impedance of the groove to the impedance of the air. I got it!"
After a few semesters of college in the late 1960s, Ledermann began his professional career in retail, doing repair work for Audio Experts, a shop in White Plains, New York. After that, he worked at RAM Audio in Danbury, Connecticut, alongside chief designer Richard Majestic—with whom he devised, among other things, a loudspeaker feedback system that used a transformer to derive an error signal. (I always perk up when I hear the word transformer.) Then, in 1976, Ledermann undertook his highest-profile audio job yet: director of engineering at Bozak, Inc. Once there, he was assigned to reengineer Bozak's entire line of loudspeakers and mixing decks—after which he designed a new miniature loudspeaker, the MB-80, by transforming Rudy Bozak's well-known 6" aluminum cone into a full-range driver.
In 1979, Bozak sold the company that bore his name, and Ledermann struck out on his own. He supported himself with repair work for a year, then began an 11-year stint at an IBM engineering think tank nestled away in the company's T.J. Watson Research Center, in Yorktown Heights, New York. Despite his lack of formal training in engineering, Ledermann says, he "became known in the company as someone who was resourceful and inventive. I paid my dues through intuition. I paid my dues by being as curious as I could be."
But Ledermann's interest in designing and making audio products never waned. Indeed, he says, he created Soundsmith all the way back in 1970—as an audio-industry "mentoring company"—and kept it going throughout his other professional engagements. Then, in 1990, Ledermann left IBM and began to devote all of his energies to Soundsmith.
The needle wags
Peekskill is a decent enough small city, and Soundsmith is located in a decent enough industrial park, bordered on one side by the Hudson River and by historic US Route 9—aka Broadway in both upper Manhattan and Saratoga Springs— on the other. While navigating the latter, I scarcely missed being involved in an accident between the Toyota Prius directly in front of me and a pickup truck whose driver seemed oblivious to the hazards of sudden lane changes in busy traffic circles. Good thing I was well rested.
Less harrowing was my elevator ride to the fourth floor of 8 John Walsh Boulevard, where Soundsmith occupies two adjacent spaces totaling some 8000 square feet. The door to the first and larger of those spaces opened onto a small reception area decorated with photographs, posters, awards, and a silent display of mint-condition vintage hi-fi gear. (MasterCard and Visa signs suggested that consumers are, indeed, welcome.) From there, Peter Ledermann led me to a large, well-lit room, where two of his 13 employees were engaged in the commercial activity for which Soundsmith is now well known: the manufacture of a line of phono cartridges, the vast majority being of the moving-iron (MI) persuasion.
On the subject of his transducer technology of choice, Ledermann is passionate and articulate. While acknowledging that there exist many good cartridges of the moving-coil (MC) and moving-magnet (MM) varieties—in the former, tiny bobbins of fine wire are stylus-shook within the flux fields of stationary magnets, while the latter employs stationary bobbins of wire, in whose face the needle wags one or two tiny magnets—Ledermann prefers the MI, in which magnets and coils stay put and the stylus coaxes into motion a very small piece of magnetically permeable metal, which displaces the flux lines of the former and induces signal in the latter. In person, as on his website, Ledermann points to numerous advantages of his third-stream technology, most pertaining to a single fact: In an MI cartridge, the moving mass tends to be lower than in other cartridge types. And, as Ledermann says, "I am an absolute believer that moving mass is the enemy of cartridge performance."
The moving element in Soundsmith's MI design is appropriately tiny, but that isn't its only claim to fame. Inspired by a design created in the 1960s by Bang & Olufsen—replacements for whose cartridges and styli are now manufactured, under license, by Soundsmith—Ledermann chose for his moving element a cross shape, and aligned it so that, when the cartridge is subject to the prescribed downforce and placed on a record, the cross hovers perfectly equidistant from four stationary coils and magnets. When stylus deflection moves one leg of the cross away from one set of magnetic flux lines, the position of the opposite leg of the cross is moved closer to its own electromagnetic sweet spot—and so the Soundsmith design avoids the dynamic compression that would occur if a single element were moved too far from the flux-line epicenter. It is, in a real sense, a push-pull cartridge.
Thus my amazement to see, in real life, how tiny are those crosses and coils, and how much painstaking care is required of the technicians who align and assemble them—and who anneal the magnetically permeable elements, and weld in place the thinner-than-hair wires, and perform all manner of other seemingly impossible tasks. Surely, the clinical lab at our local hospital has at its disposal fewer microscopes than does Soundsmith, where I counted at least eight in the cartridge-assembly area, and a couple more in Ledermann's office alone. All Soundsmith cartridges are made by hand, and most are the products of a few different technicians; the top-of-the-line models are built solely by Ledermann.
Pecos Pete
Distinctions among Soundsmith's various MI models fall into a few different categories. The company makes cartridges that produce low, medium, and high output voltages, with suspensions that exhibit low, medium, and high levels of compliance. Cantilever choices include aluminum alloy, telescoping aluminum alloy, boron, ruby, and specially treated cactus spine. (The last is no joke: Not long ago, Peter Ledermann discovered that, carefully trimmed to the right shape, the once-popular stylus material makes a superior cantilever that offers a virtually perfect combination of self-damping properties and stiffness.) Stylus shapes include titanium-bonded elliptical, nude elliptical, contact line, and optimized contact line. And, of course, the bodies of Soundsmith cartridges are made of different materials, including acrylic, composite (think: kitchen counters), and various species of wood.
Taking into account the options described above, as well as the company's unusual naming conventions, there would seem to be about 30 different Soundsmith cartridge models—a high enough number to impart to this perfectionist brand the slightest whiff of JC Whitney. The actual total is closer to 60, given that all of Soundsmith's MI models are also available as mono cartridges. The mono versions are still push-pull, still four-coil cartridges, but with coil arrangements that differ, electrically, from those of their stereo counterparts. Thus, by sheer numbers alone, Soundsmith is pretty much Mono Central. And it's no coincidence that Ledermann shares my enthusiasm for single-channel playback, hailing its comparative lack of phase distortion and consequent sonic wholeness and whomp.
Ledermann's enthusiasms also include a healthy sense of thrift: While it's true that no Soundsmith MI cartridge has a user-replaceable stylus—an unavoidable state of affairs, given the high level of skill required to align the teensy iron cross vis-Ö-vis the cartridge's similarly small signal coils—the company guarantees that every cartridge it sells can be retipped for 20% of its original price. Repeatedly.
---
Footnote 1: The Soundsmith, 8 John Walsh Boulevard, Suite 417, Peekskill, NY 10566. Tel: (800) 942-8009, (914) 739-2885. Fax: (914) 739-5204. Web:
www.sound-smith.com
Footnote 2: Shure Brothers phono cartridges are now made in Juarez, Mexico. Stanton Magnetics, now owned by the Gibson Guitar Corporation, of Nashville, Tennessee, recently ceased production of all cartridge models and all but one of their replacement styli.