The Fifth Element #91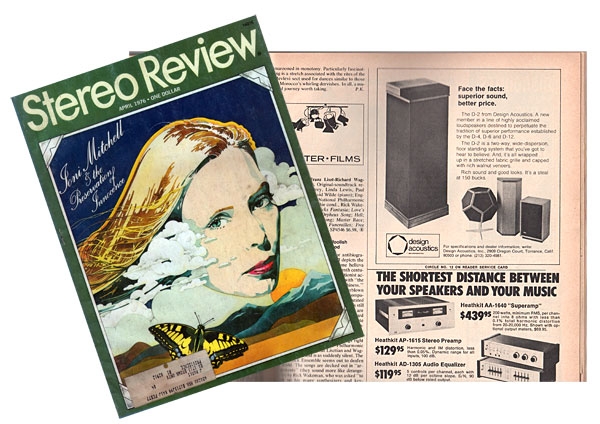 The business of high-end audio can fascinate me almost as much as does high-end audio itself. Designers and entrepreneurs such as Frank McIntosh, Avery Fisher, Saul Marantz,
Edgar Villchur
(AR),
David Hafler
(Dynaco), and
Henry Kloss
(AR, KLH, Advent, Advent Video, Cambridge Soundworks, Tivoli Audio) combined technical brilliance and varying levels of business skill with flairs for publicity and marketing. Many of their products became objects of desire, and some became household names in the post-WWII era. Of that list, only McIntosh and Marantz are still in business as high-end audio companies—the latter relatively affordable, the former exclusive.
Reading audio magazines of the 1950s through the 1970s—even lifestyle magazines of that era, such as Esquire and Playboy—refreshes one's memory of many companies whose stars shone only briefly. Just the other day, my friend Bob Saglio was expressing regret that he'd never picked up a pair of Design Acoustics' D-12 dodecahedral (12-sided polygon) loudspeakers, which were reviewed in the September 1973 issue of Stereo Review and often advertised in that magazine.
Channel Islands Audio E•200S
I was intrigued to learn that Dusty Vawter, designer and builder of Channel Islands Audio's products, had served as a customer-service person and technician for Audio Alchemy, whose star also shone but briefly in the 1990s. I think it not unfair to say that Audio Alchemy's was one of the most notable boom-and-bust stories of the digital-audio era. The boom was fueled by low prices, exceptional performance for the money, favorable reviews, and widespread word-of-mouth recommendations. I conjecture that the bust was caused by inadequate manufacturing-cost data and controls, and excessive discounting and promotional expenses.

I asked Vawter what he'd learned from his Audio Alchemy experience, and how it has shaped how he runs Channel Islands, aka CiAudio. He said that while his time at AA had taught him a lot about what made that company successful, he also learned what he would do differently in a company of his own. Vawter is not interested in growth for its own sake—he'd rather design and build things himself than manage others who perform those tasks. Vawter does employ a small number of production workers, and, like many audio companies, CiAudio has outside contractors to do such things as metalwork and finishing. Vawter's goals are to keep CiAudio, now in its 18th year, sustainably small—and fun.
The E•200S two-channel, 200Wpc power amplifier ($2500) is the latest in CiAudio's line of class-D digital switching amplifiers, which stretches back to 2004. Ten years ago, John Atkinson concluded, about another CiAudio amplifier: "The D-100 is a nice little amplifier that appears to offer the benefits of a switching output stage—small size, cool running—with none of the downside."
At 14" W by 2.75" H by 10" D and 8.5 lbs, the E•200S is of modest size and graceful proportions. Its case is of brushed aluminum with rounded corners and countersunk machine screws, all reminiscent of early Plinius gear—the look is restrained and competent, rather than opulent. The E•200S's front panel has a standby/on pushbutton surrounded by a blue light pipe; apart from that, only the model name and the CiAudio logo appear. The rear panel's fittings are of professional quality: a trigger jack, an IEC inlet for a three-pronged power-cord, insulated five-way speaker binding posts, and RCA and XLR input jacks with toggle switches to ground the antiphase legs when an unbalanced source is connected to the RCA jacks. CiAudio sells the E•200S with a 30-day money-back guarantee and a five-year warranty.
A strong selling point of the E•200S is that its output stages are Hypex modules designed by Bruno Putzeys. Hypex modules are generally regarded as the state of the art of OEM digital amplification, and it's encouraging to see them in a relatively affordable amplifier. The E•200S's input circuits are of Vawter's design, as are its dual-mono power supplies. His overall design goals for the E•200S are high efficiency, flat frequency response, low distortion, and very low output impedance, the better to control the speakers. Vawter strongly believes that an amplifier should be as tonally neutral as possible, and that the sound of the system should be determined by the speakers and their acoustical interactions with the room.
As received, my review sample of the E•200S sounded a little cool and stiff, so in addition to letting it warm up before listening sessions, for the first couple of weeks I regularly gave it enthusiastic thrashings with the "Full Glide Tone" track from Ayre Acoustics' Irrational, But Efficacious! System Enhancement Disc, Version 1.2, driving it from the variable outputs of a Bricasti M1 DAC and connected with Cardas Clear interconnects. The result was a warmer, more integrated sound.
This is a great little amplifier! It performed faultlessly, driving such "guilty pleasures" as "Canned Heat," from Jamiroquai's Synkronized (CD, Columbia CK 91252), to very loud volumes. (Yes, I've been known to play this track when my energy flags, when I need a little canned heat in my heels; footnote 1.) The E•200S had high resolution, authoritative bass control, and, yes, tonal neutrality in spades. It also projected a very large soundstage with a very quiet background.
After checking setup with the channel-ID and speaker-phase tracks on Test CD 2 (Stereophile STPH004-2), I played my usual first track: "Easy to Love," from Ella Fitzgerald's The Cole Porter Songbook, Volume Two (CD, Verve 821 990-2). It can tell me much even before the music begins, because different components can treat its 1956-vintage tape hiss quite differently. Driving Wilson Benesch's current entry-level speakers, the Square One v.2 ($5195/pair with integral stands), the E•200S delivered what I thought was just the right amount of tape hiss, with nothing amiss in the timbral character of the hiss. And Fitzgerald's singing was wonderful.
Joel Frederiksen and Ensemble Phoenix Munich's Requiem for a Pink Moon: An Elizabethan Tribute to Nick Drake (CD, Harmonia Mundi HMC 902111) was a feast of baroque plinkings and plunkings amid ruminations on and confrontations with life's existential questions. The sound was satisfyingly rich and full, and the impact of the hand percussion in track 2, "Requiem aeternam," was very vivid.
One of the first things I listened to through the fully warmed-up and broken-in E•200S was the CD layer of the SACD remastering by Mark Wilder of Miles Davis's Kind of Blue (Columbia/Legacy 64935). This is not my favorite jazz album, or even my favorite Davis album, but Bob Saglio, John Atkinson, and I are members of an exclusive club: those who have heard the unedited, three-channel, "backup" master tape that was recorded simultaneously with the "prime" master tape on a second deck. That experience has stayed with me. I'd intended to try just one or two tracks, but ended up listening to the entire album—an indication that the CiAudio passed one of my fundamental "gatekeeper" tests of whether or not a component can get out of the way and allow me to enjoy a musical experience. The E•200S's sound was coherent from bottom to top, and the music had a pulse that let it swing.
Nonetheless, I felt that Bill Evans's piano, especially in "Blue in Green," sounded closed-in, and lean to the point of dryness. However, in defense of the E•200S, the piano in Columbia's 30th Street Studio, in Manhattan, was perhaps not leading a pampered existence, and could have needed more than just a tuning. Which opens the field of questions: 1) Is this dry, closed-in piano sound what is actually on the recording, in which case a reproduction of it that is less dry and closed-in is euphonic? 2) Even if a different amplifier's sound might be euphonic in that way, don't consenting adults get to pick what we want to hear? I heard precisely the same sort of piano dryness in the title track of Joni Mitchell's Court and Spark (gold CD, Asylum/DCC GZS 1025)—and again, if not to quite the same extent, from a recent recording of Aaron Diehl playing "Bess, You Is My Woman Now" on a pristine Fazioli piano, from his The Bespoke Man's Narrative (CD, Mack Avenue MCD 1066).
---
Footnote 1: The song's title refers to the jellied-alcohol cooking fuel sold under the Sterno trade name. The fuel was invented by S. Sternau, who perhaps wisely avoided confusion over how to pronounce his German name. During the years of overlap of Prohibition and the Great Depression, destitute people would squeeze the alcohol from Sterno and drink it, despite the risk of blindness and death. That depth of desperation inspired the 1928 song "Canned Heat Blues," by Tommy Johnson, which in turn was the origin of the name of the 1960s blues-rock band Canned Heat.