More of Matson's Day 2
In the AudioQuest room I found my good friend and audio guru Joe Harley (Had to take a selfie of myself, left, and Joe—my original high-end guru—right.) Along with Garth Powell, brilliant current designer of recent AudioQuest hardware, I listened to another really fine system. Debuting at the show was the new AudioQuest Niagra 7000 Conditioner ($7000), which Joe Harley told me has changed his life. And when Joe tells me things about audio, I pay attention.
Amplification was a new Audio Research G-S75 integrated amp ($18,000), which follows the completist trend I am seeing in high-quality integrated amplifiers; it does DSD and also contains a headphone amp; it is powered by KT-160 tubes and puts out 75Wpc. The electronics were driving the truly excellent Vandersteen Treo CT floorstanders ($8000/pair). The CT designation in this Vandersteen model refers to its carbon tweeter. I wish I could have lingered longer in this room, and did not take detailed listening notes. I hope to return to it on the last day of THE Show.
Medium is the message. Economists like terms like "Upper middle-class." And so it is with high-quality audio gear these days, in terms of budgets. And in looking and listening to complete systems, rather than passive displays of single components, you are confronted with a wide variety of 'mix & match' situations. I kicked off a full-bore Day 2 at THE Show with a visit to the upper brackets of my "Medium" beat—where at some point it could segue' to a "Cost no object" description.
Case in point, the wonderful sound and music I heard in a room called "Turtle Rock A." Here was a system pairing the new VTL MB-185 Series III Balanced Signature amplifier ($17,500/pair), the VTL TL-6.5 Series II Signature line preamplifier ($15,000), the new Wilson Audio Sabrina speaker ($15,900/pair), with the dCS Vivaldi Digital Playback System ($34,999 for the DAC and $19,999 for the Upsampler). In my opinion, this is not an inexpensive system. But in today's high-end world, it is not the stratosphere. Wilson Audio's new Sabrina model is not at the top of their range, cost-wise, for example. Plus, trickle-down and up technology is at work; the bass driver in the Sabrina is also employed in Wilson's more costly Alexia model which I heard in another room.
This room was presented for me direct from the horses' mouths—by (left–right): John Quick, General Manager dCS America, Peter McGrath of Wilson Audio, designer Luke Manley presenting his own VTL gear, and retailer Brian Berdan, of Audio Element. It floored me! Warm, but with huge soundstages, impactful bass, and emotional ups and downs throughout the music—it really hooked me big-time. We first listened to some piano/string chamber music that Peter McGrath had himself recorded, and then I took the liberty of playing some of my own music.
This was a large room, and it served the speakers well, by allowing them to be pulled quite a way from the walls—the depth of the created soundstage was uncanny! We listened as well to a fine vocalist, Cecile Salvant from her LP Woman Child. The analog setup here was a Grand Prix Audio Monaco 1.5 turntable ($23,500), with a Tri-Planar Mk.VII U2 SE tonearm ($7500), and a Lyra Etna cartridge ($6995). Boy—did Cecile sound great, jazzy and bluesy as all get-out. I could have listened for the rest of the day.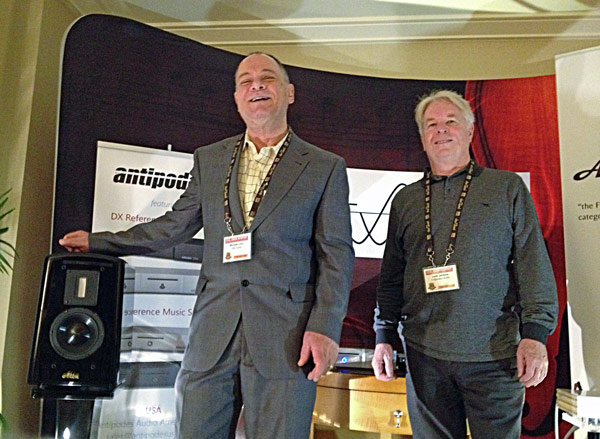 Getting in the elevator and going all the way up to the 14th floor, I discovered a really great pairing of Merrill and Alta Audio. Michael Levy introduced me to the Alta Audio Celesta FRM—2 loudspeaker ($13,000 without stands). These are a two-way transmission-line design, and in this medium-sized room the bass was fantastic—I was told extending down to 29Hz. Amplification was the Merrill Audio Thor monoblocks ($4,800/pair). I can see why they got their name—these put out a whopping 400W into 4 ohms, running with balanced circuits. Completing the gear picture was the Antipodes DX Music Server 1TB SSD ($6500). This kind of firepower succeeded in making Norah Jones sound sexy at 9:30 in the morning. Cabling was also from Merrill Audio. Good stuff!
I visited briefly with Pearl Evolution, who are an Italian loudspeaker company. The very Italian Silvano Cremonesi demonstrated for me his Mini Ballerina model ($7000/pair). This is part of the curvaceous Ballerina line, and is a three-way, rear-ported design. The Mini Ballerina was being driven by the sturdy McIntosh MA800 integrated amplifier, which is a solid-state design that puts out 300Wpc. (I wasn't provided with current list price on this one.) Part of the task here is to call it like one hears it, and in this case I could not connect to the sound in a positive way. Music sounded harsh and thumpy. Room issues perhaps? Choice of music? The sound of McIntosh I know well, so I doubt it was that. Take everything with a grain of salt when it comes to brief show reports.
It's a wireless world Virginia, and Questyle Audio Engineering is right on top of it. I spent some quality time with Questyle Vice President Bruce Ball (above). At least that's who I think he is—the nametag said "Dorian Gray." But Bruce wasn't joking when he demoed an all-wireless rig. Starting with the Questyle QP1R High Resolution Portable DAP ($899). This sweet little hand-held player supports everything—including DSD. On the receiving end was the Questyle T2 Wireless Transmitter ($99), then on to the R200 Wireless mono amplifier ($999 each). We are talking three little boxes here—two mono amps and a third smaller box for the transmitter part. Only wires involved here get it from the little monos (which put out 200W) to a pair of much larger B&W 800 Diamond loudspeakers ($24,000/pair). So here was a great example of reasonably priced, cutting-edge electronics, driving a more traditional set of not-inexpensive floorstanders. Net result—super fine and powerful sound!
Bruce Ball shared with me that their attractive and compact hardware is being assembled at the same plants where the Apple hardware gets done, and I could notice a family resemblance. But hey—you don't want "traditional" speakers? Not to worry—we walked into the next room where Questyle wireless electronics took the final step—out of your listening room and into your yard. I heard a pair of wooden planters making great sound. Madison Fielding has a whole line of high-end outdoor speakers—constructed to look like wood planter boxes, or stone. You can choose from different dispersion angles as well—depending on where your pool is! The pair I was listening to was from the Madison Fielding Lattice Wood Series ($5,999), and the plants were quite attractive, as was the sound. Grow your own!
Sharing a suite of three rooms were three companies—Purist Audio, Allnic, and Audio Prana. Purist Audio Design is a dealership based in Texas, and are bringing the high-end to the Houston area. I sat with Purist Audio CEO Jim Aud (above). Jim is from Texas, so the music was jake with me—including a dose of Willie Nelson singing "Don't Give Up" —my theme song now for the rest of THE Show! Most of the electronics were by Allnic and included the D5000 DHT DAC ($11,900), the L3000 Tube phono stage ($12,900), the L3000 Tube Line Stage ($11,900), and the A3000 Mk.2 monoblock amplifiers ($16,900/pair). The budget-busting element here, (at least in terms of "medium" budget components) was the truly excellent Saskia Reference 2 turntable ($53,000.) But hey—it's Houston! Loudspeakers were Boenicke Audio W8SE+ ($19,000/pair). The Allnic monoblocks use KT-150 tubes and put out from between 150 to 200 watts of class-A juice. The Swiss-made Boenicke speakers were fairly small 2-way floorstanders with a passive side woofer. A killer musical system, beautifully put together.
I really am enjoying THE Show in part for being able to see people I haven't seen in a long time, and some I've never seen before but feel I know—like Kevin Deal of Upscale Audio. Kevin installed himself in a two-room suite, in order to display some of the gear he carries in one, and for listening in the other room. Nice way to proceed—as then in one room people can converse, and then be quiet and listen in the other. As everyone knows, Kevin Deal is Mr. Tube, and Upscale Audio offers a whole range of other great hardware. For a while now Kevin has been raving about and distributing fine PrimaLuna amplifiers. And with good reason—they are a great example of "bang for the buck," and certainly fit into my beat for medium-budget components.
I heard a really fine system here that creatively mixed gear from several different price points. Analog source was the now-venerable VPI HRX Turntable (no list price given), with a new Kiseki Purple Heart cartridge ($3299). Phono stage was the excellent Manley Steelhead Special Edition, which Upscale Audio sells with upgraded NOS tubes (sorry—didn't get list price). The PrimaLuna DiaLogue Premium preamplifier ($3199), was paired with the PrimaLuna DiaLogue Premium HP power amplifier, which can be run as monoblocks or in stereo ($3899 each). These amps utilize 8 KT-150 tubes and put out, according to Kevin, exactly 192W. We heard this all come out very nicely—from a pair of Sonus Faber Amati Futura floorstanders ($36,000/pair). In his display room Kevin showed me the innards of the Prima Luna pieces, pointing out features that he explained greatly reduce the noise floor. I am confident this helped in part to create the great sound I heard. Terrific system, super gear!
As I said above—good to see old friends at THE Show. And in that category as well were Norm Ginsburg and Vinh Vu, principals of Gingko Audio. I first met them up in Montreal some years back when they were first offering their excellent isolation platforms. I am happy they have prospered and multiplied. Norm walked me through the elements of an excellent system they have going here. A lot of which they directly manufacture, or distribute.
Starting with the Salk Stream Player ($1495), and the Lampizator Lite 7 DAC ($5950)—which is DSD-capable, the Wells Audio Innamorata Signature amplifier ($15,000), via the impressive Danacable Ultra Summa speaker cables ($8900), reaching the exit with Salk Sound Exotica 3 floorstanders ($11,995/pair). I know for a fact that Gingko Audio has always had their eye very firmly on budget and value. So if you glance at this list you will see a mix that in my opinion really provides outstanding performance/quality/value elements. It's all about system building and synchronicity here—none of these separates operate in a vacuum.
The Salk loudspeaker is a very impressive multiple-driver piece of kit, throwing out a huge amount of full-range sound. Perhaps a bit too much for the room here, but given a proper space to work in, it delivers the goods, and then some—and all the upstream elements are playing their part as well. And please don't ignore what Gingko Audio started out doing and continues to do—offer truly effective isolation gear. And also handsome covers for turntable etc. I know, as Vinh Vu recently custom-made me a museum-quality cover for my VIP turntable. These guys are happening!