Abandon Folly, Not Hope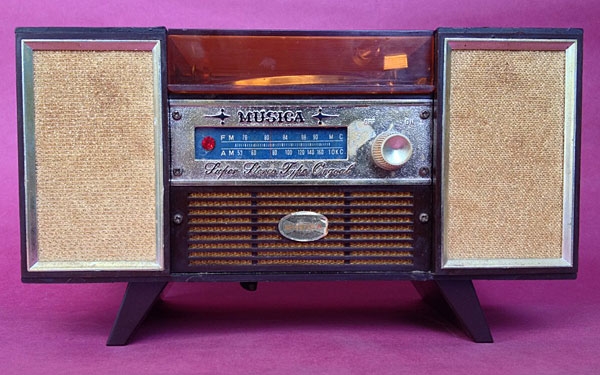 The day before I began writing this, John Atkinson posted on
Stereophile
's website a
chart from Nielsen Soundscan
showing the ski-jump–like path CD sales have been on since 2004. In 2004, total sales were 651 million units; in 2014, 141 million units. All that is lacking from that impactful visual to make the ski-jump analogy perfect is the little uptick at the end to launch the skier into free air. Those numbers look to me like a total decline in sales of 78%. Ouch.
My audio retailer friend Bob Saglio stopped by today. He had with him the first CD he'd bought in living memory: Shadows in the Night, Bob Dylan's tribute to Frank Sinatra and the Great American Songbook. As of early March, Amazon listed the album as No.2 in Rock and No.6 in Pop. Saglio also recounted a droll anecdote: Dylan's people contacted the editor of AARP: The Magazine, who at first ignored them, on the assumption that they didn't know that he'd left his former job at Rolling Stone magazine. No, Dylan wanted to give an exclusive interview to AARP, the largest-circulation print magazine in the world.
I've been expressing in these pages my concerns about the state and fate of the component-audio business since my first "As We See It," of March 2000: Let's Face the Music and Dance." Back then, I wrote: "Does high-end audio have a future? High-end audio most definitely does have a future. So do the Latin mass, chess, leather-bound books, and wooden boats. But the future will not be like the past, and I think we must face the fact that high-end audio's future, both for hardware and software, will be as a minority enthusiasm. We should plan and act accordingly."
The passage of time has only reinforced my conviction that, just like the titular rock band in the mockumentary This Is Spinal Tap, we must get used to the idea of having "a more selective audience."
Because most people "like to listen to music," it's tempting to assume that better audio equipment in the form of component audio, and of loudspeakers rather than earbuds, would enable most people to derive more pleasure from their listening. The problem is, very few people will enjoy the hedonic increment afforded by fine audio enough to want to pay for it. The number of people who will enjoy better sound well enough to be willing to make sacrifices in other areas of their lives is even smaller. It is extremely doubtful that the component-audio industry can do anything to change this situation—at least as far as "most people" are concerned.
From 1956 to 1986, most household and college-dorm rooms contained some form of component audio. However, conditions today make selling traditional audio components nearly impossible, except to a small minority. Today, that minority is audiophiles; but I believe there is no reason that, in the future, a larger minority could not be made up of music educators and professional and amateur singers and instrumentalists.
From 1956 to 1986, if you wanted to hear good playback of music, you had to buy a component-audio system. Today, the best sound system most people have ever owned is the stereo that came with their car. Most desktop computers come with speakers that are at least decent by historical standards, if only in terms of clarity and resolution (not dynamics or bass extension). Any home video system that can play a DVD soundtrack can also play a CD. Moreover, iPods and smartphones are completely adequate for most peoples' needs.
A further negative impact on the component-audio business is the excellent value proposition presented by the products made by Sonos. I think Sonos is successful because, for many people, music is only a background accompaniment to other activities, such as reading, cooking, cleaning, or socializing. When music is never played loud enough to stop a conversation, spending a sum of money on component audio that's 5, 10, or 20 times the cost of a room-filling Sonos one-box just doesn't make sense.
Meanwhile, the "component-audio" industry has steadily raised its prices, on the theory that that's where the money is. Loudspeakers costing more than $20,000/pair were extremely rare in 1982. Today, such speakers are common, and more than 40 speaker models are now available that go for more $100,000/pair, with a few others at just under that price.
However, unlike other trophy acquisitions—sports cars, watches, expensive wines, fine art—an ambitious music-only system claims a substantial amount of a home's living space. Furthermore, an ambitious audio system is worth one's investment only when one shuts up and does nothing but listen.
Chasing rich people because they are rich and not because they are music lovers is, in my view, pure folly. Actor Alec Baldwin is obsessed with the music of Gustav Mahler. However, I think that makes Baldwin the exception among famous actors, and not the rule. I think the high-end audio industry should try to identify the real music lovers (at all income levels), then offer them cost-effective systems they can afford. Otherwise, we are trapped in a game of "Last Man Standing."
Audio dealers—why not invite all local AARP members in to hear Dylan's Shadows in the Night on a great but not obscenely expensive system? It's yet another great recording and mixing job from engineer Al Schmitt—and it's available on vinyl.—John Marks