Audio Streams #4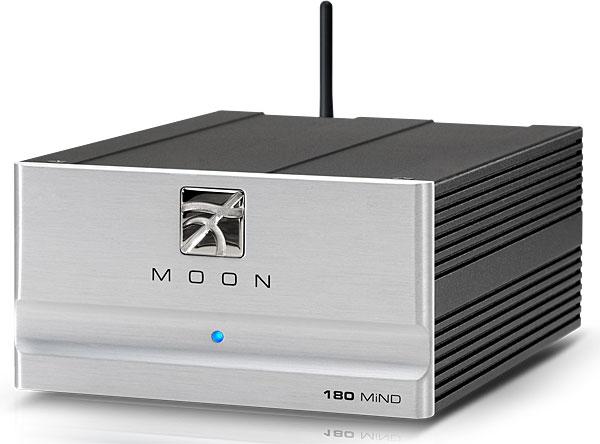 Everything these days has a computer inside it, but you wouldn't call a car a computer. Same goes for music streamers—what we at
AudioStream.com
also call network players. While a network player has a computer inside, I don't consider it a computer because it's designed to do just one thing: play music.
A network player connects to your home network via Ethernet or WiFi, searches for network-attached storage (NAS), looks for the Internet to connect to streaming services, and serves up all of this music through an app that typically resides on a smartphone or tablet. The theory goes that, being purpose built, a dedicated network player should sound better than a full-blown computer, the latter's multitasking abilities degrading its ability to get us to dance, literally or figuratively.
I know that Ethernet and hi-fi make an unlikely pairing in some people's audio ecosystems. I also know that the notion that what kind of Ethernet cable you use can affect your system's sound will rattle some folks' assumptions. However, my experience has shown that different Ethernet cables do sound different. I've found that AudioQuest's Ethernet cables—even their cheapest, the Pearl ($29/1.5m)—sound better than basic Belkin. I think it has something to do with system noise, but that's really just a guess.
I mention this because Ethernet is likely what you'll use to connect your storage device to your network player. Some souls on the cutting edge may choose to go wireless. That's right—WiFi, too, has entered the High End, and some products, such as the Devialet D-Premier D/A integrated amplifier, use WiFi with no apparent degradation of our beloved musical signals.
In this column I focus on two network players, each offering a different set of services but both designed to serve up music without the aid of a computer. But before we dive in, let's talk about network attached storage.
NAS
Storing a music library is step one of computer audio. While you can store your music on your computer, it's not recommended for many reasons, including sound quality. Basically, the more you ask your computer to do in addition to playing music, the worse your music will sound. So it's common practice to store your music on an external hard drive or network attached storage (NAS).
A NAS device connects directly to your router or network switch via Ethernet. As such, it's available to every computer or network player on that network—you can stream your music to multiple devices simultaneously from the same NAS. If you're interested in playing music in more than one room of your house, a NAS is the way to go.
NAS devices come in all shapes and sizes. I prefer Synology and QNAP NASes for their robust build quality and excellent apps, but there are many others on the market. You can buy a single- or a multi-bay NAS, depending on your storage needs. I prefer multi-bays because you can set them up in what's called a redundant array of independent disks (RAID)—a measure of protection in the event of a hard-drive failure. While a RAID is no substitute for a real backup to an external drive, the ever-falling price of data storage makes running a RAID a no-brainer.
As we'll soon see, if you want to get fancy and do something like stream DSD files from your NAS, your NAS must be able to do that. Thankfully, there are free apps, such as the DSD-capable MinimServer, that come preinstalled on Synology and QNAP NAS devices; all you have to do is activate them.
Of course, you can skip a NAS and set up your external hard drive as a network drive—but to play music, you'll have to have the computer it's attached to up and running, and the whole idea of getting a network player is to avoid that. I suggest that you consider a NAS device an essential part of your network-playing hi-fi system.
Simaudio MiND ($1300)
Simaudio's Moon intelligent Network Device (MiND) is UPnP/DLNA-compatible and offers Ethernet (100Base-TRJ45) and WiFi (IEEE802.11b/g/n) inputs. Universal Plug and Play (UPnP) and the Digital Living Network Alliance (DLNA) are basically initiatives to get different networking hardwares to talk to one another. Through the use of UPnP, a device like the MiND can automatically discover NAS devices—and it did just that as soon as I connected it to my network.
Looking at the MiND's backside, you'll notice that there are only digital outputs: the MiND has no digital-to-analog converter (DAC). These outputs are: AES/EBU, coax S/PDIF, and TosLink. All outputs are capable of supporting up to 24-bit/192kHz PCM data, as well as WAV, FLAC, AIFF, AAC, ALAC, MP3, WMA-9, and OGG Vorbis file formats. The MiND also supports gapless playback. In terms of streaming services, the MiND is currently capable of streaming from vTuner Radio. Additional streaming services may be added in the future.
The MiND also sports a SimLink In/Out, so that the MiND app can also control input selection, volume, and power on/off on a Simaudio preamplifier or integrated amplifier. There are also inlets for the WiFi antenna and DC (a wall-wart power supply is included).
The MiND's front panel is nearly empty except for the Simaudio logo, the model name, and a blue power LED. That's because all of the business of controlling the MiND is accomplished through the robust Simaudio app. I used my trusty iPad to run the app, but other iOS devices will work.
The Simaudio app is designed around the notion of playlists. Your music library can be browsed by Album, All Artists, All Tracks, Composer, Conductor, Orchestra, Untagged, and Folder View. These views vary depending on the NAS you connect to—or, more specifically, which NAS server software you use. For example, when I connected to my Western Digital NAS running Twonky, I was also presented with Genre and Playlists options.
To hear music, click on the album or track you'd like to play. If you click and hold your finger over your selection, you're presented with a number of options, including Top, Now, Next, and End. Top puts your selection at the top of the Playlist, Now plays it now, Next puts it after the current track, and End appends it to the end of the current Playlist. You can save Playlists by clicking on the Playlist icon and tapping Save, which brings up the keyboard so you can name and then save it. There's also an Edit option that lets you remove tracks from the current Playlist.
I prefer Album view and just clicking and playing, as opposed to making and saving Playlists, but that's just me. I also tend to listen to complete albums instead of individual tracks, another apparent generational quirk. Regardless, I found the Simaudio app a pleasure to use, and it handled my library of more than 1000 albums without a hitch.