Musical Fidelity V90-DAC D/A processor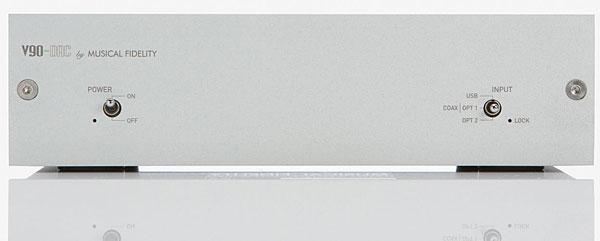 They can't
sound
very good—they're not big enough. As we all know, in hi-fi, big products mean big performance. Musical Fidelity's V90 series can't
be
any good. They don't cost enough. With your golden ears, you must pay through the nose.
The V90 components turn all this around. They are tiny. Inexpensive. Beautifully built.
Your friends will laugh when you turn on your DAC. Or phono preamp. Or Bluetooth receiver (the V90 series now includes the V90-BLU). But, of course, audiophiles must forgo the pleasures of Bluetooth. Too easy. Too simple. Too much free music from thousands of sources around the globe.
I've been enjoying the V models since Musical Fidelity's founder and CEO, Antony Michaelson, introduced them four years ago. The V-DAC II and V-CAN II headphone amplifier have been references.
So when Antony introduced the third generation of V components, he gave me a bell, as they say in London. Which would I like to review?
All of them.
From V to V90
The V series has taken a 90° turn—a V-Tilt, if you like. The V90s are the third wave of Antony's mini-marvels that does not include a V-Tilt. No point in telling you what a V-Tilt was, since the long-ago-promised product never materialized.
Instead of slim and deep, the V90 components are 6.6" (170mm) wide by 4" (102mm) deep. This allows more space for connectors, switches, and knobs, as appropriate. The height remains 1.8" (47mm), and each V90 model averages about 1.3 lbs (600gm), not counting the new wall-wart power supplies that no longer hog two electrical outlets. Inspired by Steve Jobs or the Beatles, Antony packages the V90s in attractive white boxes. Dealers can dangle them from display hooks near the cash register. Small-box retailers!
Made in Taiwan, the V90 components are designed in England, especially for Alistair, Clive, and Nigel—you know, for chaps whose wives dole out their allowances. Sneak them into the house. Hide them behind your proper gear or some liquor bottles.
Antony cautions customers not to open a V90's case: there are no "user-serviceable" parts inside, and "tampering" will invalidate the warranty. "If customers did open the boxes, they would see mostly air there," he told me. "We use surface-mounted components for better reliability and short signal paths." Something like that. My tape recorder is busted.
"Then why buy your more expensive stuff?" I asked.
The industry's trend is to bloat the size and boost the price, but Antony takes the opposite tack. Of course, he makes more expensive DACs, headphone amps, phono preamps, the like. The idea of the V90 series is to approach those models' performance at a fraction of the size and a mere slice of the price.
The Musical Fidelity V90-DAC replaces the venerable V-DAC II, a sample of which has been part of my living-room system for two years. The V-DAC II is a very fine DAC. If you own one, maybe you don't need to upgrade.
The V90-DAC uses Burr-Brown's 32-bit PCM1795 chip. A two-channel sample-rate converter supports word lengths up to 24 bits and upsamples at 192kHz. A Texas Instruments streaming controller handles up to 24-bit/96kHz asynchronous via USB. The V90-DAC has not joined "the DSD Movement."
"Well, that would mean a separate DAC and a higher price," Antony replied by phone. Of course, he's planning to offer a DSD-capable DAC, but it won't cost $299, like the V90-DAC. There's a price for joining any movement.
Meanwhile, over the holidays, my kids bestowed on me four boxes of classical recordings comprising a total of 237 "Red Book" CDs. $25 digital downloads? I'm busy for a while. The Artur Rubinstein box alone contains 142 CDs and a hardcover book; the kids grabbed it for $96. That's 68¢ a disc.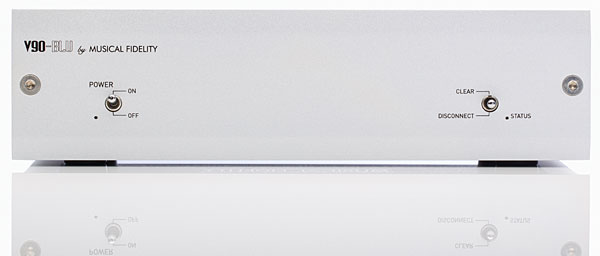 On the V90-DAC's rear panel are RCA analog outputs, a USB input, and three S/PDIF outputs: one coaxial and two optical TosLink. The coaxial input operates at sample rates up to 192kHz, the optical and USB up to 96kHz, all with 24-bit word length. If you have a Bluetooth receiver with digital output(s), you can bypass its "native" DAC and run the signal through the V90-DAC, as I did with Musical Fidelity's V90-BLU and Arcam's rBlink. I used Musical Fidelity's M1CDT transport for spinning silver devils.
My head is spinning. I haven't even opened the 23-CD Leon Fleisher box. Compared to the V-DAC II, the V90 DAC offers still greater low-level resolution, superior dynamics, and fatigue-free listening. It does space and place particularly well, and really shines with brass, where lesser DACs tend to turn dull. The Brass Ear would love it.