WRMAF 2014: John Atkinson Wraps Up His Wreport
When I entered the On A Higher Note room on the Marriott's mezzanine, Synergistic Research's Ted Denney was talking about the sonic benefits of his new Atmosphere ($1995, the vertical black tower between the equipment racks in the photograph). "RF pollution affects how we perceive sound," Ted said," explaining that that is why our systems unpredictably sound good or bad. The Atmosphere, he said, creates a binaural RF field that swamps external RF pollution, allowing our perception to operate correctly. It affects the listener,
not
the system. Synergistic offers modules for $495 each that, with an iPad app, allow the Atmosphere's effect to be adjusted to the listener's taste; I think Ted said there were 4096 possible combinations available, with each module offering four. "Yeah, right," I was thinking.
Ted played music on the Mola Mola/Eclipse/Luxman system with the Atmosphere turned on, to get listeners used to the sound, which was indeed excellent. He then turned off the Atmosphere and to my shock, given my skepticism about Ted's claims, the sound did indeed get worse, the soundstage shrinking and a hard edge appearing to midrange sounds. WTF!?!?! My world tilted a little.
Still in a state of shock—I knew what I had heard—I asked Ted for more detail. The Atmosphere is said to generate very-low-frequency radio wave at the Schumann Resonance Frequency and its harmonics. Schumann resonances occur because the space between the surface of the Earth and the conductive ionosphere acts as a closed waveguide and the fundamental frequency is around 7Hz. This did nothing to dispel my skepticism: an antenna that could efficiently propagate radio waves with such a low frequency would have to be small country-sized, not a slim tower. But something was going on here.
On a Higher Note is the US distributor for the Dutch company Mola Mola, for which the famed Bruno Putzeys, of Hypex class-D module fame, is the designer. I wondered if having Bruno (left) in the same room as Ted Denney would result in the equivalent of matter annihilating antimatter. All was well, however, as Bruno demonstrated how all the loading options and possible variations on the RIAA curve on the optional phono stage of the Mola Mola Makua preamplifier could be controlled with an Android app communicating with the preamp via Bluetooth. (The Makua costs $13,500 in basic line-level form, with the phono module adding $2500 and a DAC module $5000.) With a Soundsmith Hyperion cartridge mounted on a Luxman turntable, the rest of the system comprised a pair of Mola Mola monoblocks ($18,000/pair) driving the full-range Eclipse speakers with optional subwoofers that I had written about in my report from the 2014 CES, Bruno remotely changed loading and EQ with abandon while playing Allen Toussaint's The Bright Mississippi, and there were no switching transients at all, just tangible imaging and the expected changes in EQ and tonal balance.
Channel D's Rob and Claudia had thoughtfully pinned-up their playlist of 24/192 vinyl rips, made with the Pure Vinyl 4.0 app, and the Channel D SetaL phono preamp, to the door of their room. Inside, Joseph Pulsars were bring driven by a Hegel H20 amplifier, with source a Lynx HiLo D/A converter. This was the ninth year Channel D had exhibited at the Denver show. The sound of the rips, played on a Mac mini quad-core i7, with 16GB of memory, with RIAA equalization applied in the digital domain, was simply superb, even if Rob Robinson's taste in music is a little more "alternative" than my own.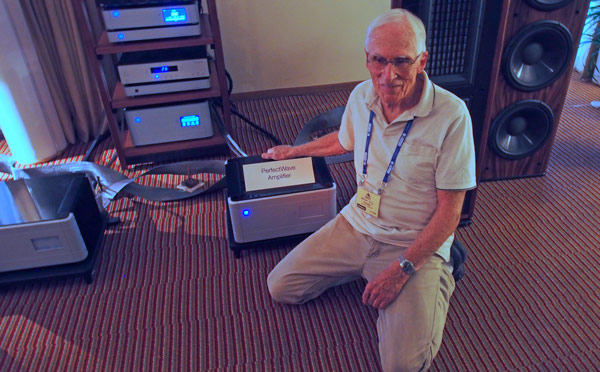 Herb Reichert already reported his experience listening to the NOS pair of Infinity IRS Betas in the PS Audio room, but for me it was a privilege to be able to chat in that room with the Beta's designer Arnie Nudell (top) and the designer of PS Audio's new PerfectWave amplifier, Bascom King, whose reviews for Audio magazine I used to devour. Both men are responsible for much that is best in high-end audio reproduction—we are in PS Audio's Paul McGowan's debt for bringing these audio legends to the RMAF.
But what I most wanted to hear from PS Audio was in the Colorado company's smaller room, where the new Sprout D/A integrated amplifier was driving a pair of GoldenEar Aon3 stand-mounted speakers. Paul son Scott McGowan had set this room up as if it were his living room—much of the furniture inside actually was from his living room, Paul told me—and the entire system, with turntable, cost less than $2000! The nicely proportioned Sprout, the result of a Kickstarter fundraising campaign, includes a phono stage, AptX Bluetooth, and a 24/192 asynchronous USB port, and will cost just $799. Paul described the Sprout as "a lifestyle product, one that can be plunked down, connected and enjoyed." A product like this may well the key to exposing true high-end audio sound quality to a new generation—Herb Reichert has received an sample from the first production run for a Stereophile review.
At the 2013 RMAF, Ayre Acoustics had dressed up their room on the Tower's 9th floor to resemble a used record store, so I wasn't sure what to expect at this year's show. "The Twenty Club?" What the heck?
All became clear when I entered the Twenty Club and sat at my table: the KX-R Twenty preamplifier was performing, using a vintage Shure Unidyne SM55 microphone, accompanied by a pair of MX-R Twenty monoblocks and a one-off pair of Vivid speakers. The "Twenty" refers to Ayre's 20th anniversary year and I was familiar with the KX-R Twenty preamplifier, having literally finished writing a rave review of it just two days before flying out the show. I hung out at the club for a while, listening to Neil Young accompanying himself on piano. The cocktail waitress never did arrive to take my order, however, so I had to move on. But not before deciding that I would ask Ayre for review samples of the MX-R Twenty!
"Are those Ionovac tweeters?" I asked Wavelength's Gordon Rankin, pointing to the horn-loaded ion drivers on top of the Vaughan speakers in his room. They were indeed Ionovacs, Vaughan having bought the entire remaining NOS stock of this legendary tweeter, and after rebuilding it, using it to reproduce signals above 3.5kHz. An Accuton driver is used down to 80Hz, with then a 10" subwoofer providing the low-end grunt. With the speakers driven by 8W Wavelength Napoleon monoblocks and for the source, a computer feeding the new DSD-capable Crimson DAC, there was indeed something quite magical about the quality of the high frequencies in this room. The cymbals and shaker on Lyle Lovett's "North Dakota" sounded extended, detailed, and smooth. Nice. Very nice.
I have already written about Ray Kimber bringing classical pianist Robert Silverman to the 2014 RMAF. Following Bob's Sunday-morning recital, I went into the other Kimber room at the Marriott to listen to the system Ray had put together using Sony SS-AR1 speakers ($27,000/pair) driven by the humongous EMM Labs MTRX 1.5kW monoblocks. I had recorded Bob Silverman performing the Schumann Symphonic Etudes in 2008 for release as a Stereophile CD, but that never happened. Instead, Bob released my recording, coupled with another engineer's recording of the Brahms Handel Variations, as an OrpheumMasters CD and listening to that CD on the Kimber/EMM/Sony system plunged me back into the glorious acoustic of Goshen College's Sauder Concert Hall in Indiana, where I had captured the perfomance. One of my best sounds of the 2014 RMAF and one day I must make the hi-rez masters available for download.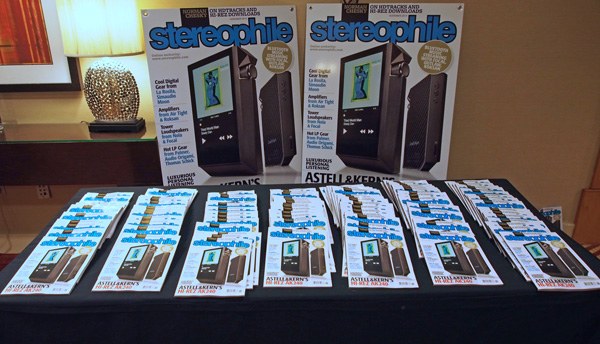 Because Stereophile's four writers at the show, Herb Reichert, Thomas J. Norton, Jason Victor Serinus, and myself, were busy listening to music—we love our jobs!—we couldn't spend much time at the Stereophile stand. My thanks, therefore, to Laura LoVecchio, who made sure that on the first two days of the show, the Stereophile stand was populated with the November issue, which was so hot off the press that it was mailed to Denver directly from the printer. Based on our experience at earlier shows, we had ordered what we thought would be sufficient stock for showgoers. But demand was so great that we ran out copies by Saturday evening!