RMAF 2014: Norton Day One
Perhaps the most over-the-top pieces of electronics at the RMAF, shown in static form only (if it's being demoed elsewhere at the show we haven't yet found it) are the Naim Statements. As seen here, the amplification system includes two monoblock amps weighing 220 lbs each, plus a preamp, the latter in the center. The amps are rated at 748W into 8 ohms, and 9000W (!) into 1 ohm. The amps are internally bridged, fully balanced designs.
The entire shebang (think of it as a giant integrated amp) weighs 600 lbs and will set you back a cool $250,000. Perhaps Naim can arrange for a mortgage. But the NAP S1 power amp and NAC S1 preamp may be bought separately if your budget is tight. To get an idea of how big they are, Naim's marketing director at Audio Plus Services (Naim's North American distributor) is standing in the background.
The inside guts of the Naim Statement amp are as complex as they appear to be here, and according to the company include custom made transistors.
We didn't find out who the Statement marketing director was until he got closer and showed us his naim.
I've always been anti-cable. Cables have generated more arguments than any other audio topic—as with arguments over analog vs. digital and tubes vs. solid state, they've broken up families. Yes, it's about time we had an anti-cable cable. New cable companies spring up regularly like mushrooms, so it's a treat to find a new cable company that's against cables!
The AntiCables appear to be very different from traditional cables. They're incredibly stiff and clearly use heavy, solid wire.
The Orbit Plus turntable shown here is from U-Turn Audio. It comes with arm and pre-installed cartridge, in one of four colors, for a startlingly low price of $179. It's sold Internet direct and is made here in the US. Various enhancements are available (including an acrylic platter to replace the stock MDF version), but these are unlikely to inflate the price north of $300.
The odd-looking device on the spindle is not included and comes from Hagerman Labs, not U-Turn. The $449 UFO3 rotates with the record, flashing its red and green lights. It can be used on any turntable, and while it seems a little light for a platter weight is a sure conversation starter. Just don't let it phone home.
The new Neo headphone amplifier from Simaudio offers four analog inputs and a range of analog outputs, including both fixed and variable, single-ended, line-level stereo pairs. It can also function as a line-level preamp, with 530 steps on its volume control—the same volume control found on Moon's far pricier preamp and integrated amp. You can order it with an optional 32-bit asynchronous DAC, supporting PCM up to 24/192kHz (on all digital inputs), 32/384kHz (USB only), and DSD64, 128, and 256 (USB input only). $3500 without the DAC, $4300 with it.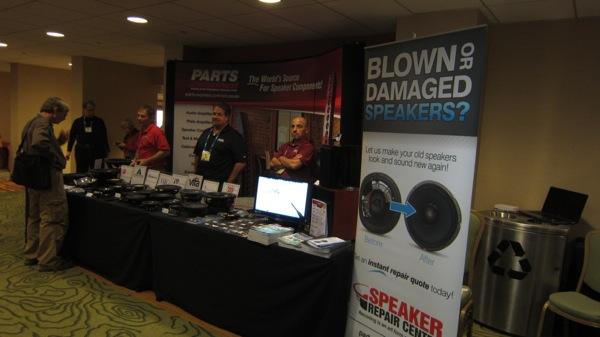 Building your own speakers is not for the faint of heart, and doing it right is far from straightforward. It can turn out to be either Nirvana or an expensive disaster. But there's a huge Internet presence of speaker DIY-builders for support, and for those obsessed with the hobby Parts Express is one of the major suppliers—one of two at the show (the other is Madisound).
But you'll have to build it. Shown here are two 18" Dayton Audio monsters from Parts Express to get you started. I can't say how these might compare to a commercial, finished 18" sub, but the UM18-22 Ultimax driver on the left is $259, and the RSS460HO-4 on the right is $250. But you'll need an amp, a suitable cabinet, a little know-how, and some woodworking skills (though Parts Express also sells knock-down sub cabinets as well).
Oppo showed us (but did not demonstrate) its new portable headphone amp and DAC. It's about the size of an iPhone (the smaller one!) and only a bit thicker. No price or availability date as yet; it's still in prototype form.
Nothing to do with an apocalypse here, but Elusive Disc is now distributing these headphone stands from Sieveking in one of several wood finishes to match your cans. They're a bit pricey at $180, but are on sale at the show for $90.