RMAF 2014: Serinus Goes with the Flow
Anyone who thinks the high-end is on its last legs need only have passed the registration table for Rocky Mountain Audio Fest 20 minutes before the show officially opened. The lobby was mobbed, with the line literally going out the front door of the Marriott Denver Tech Center. Nor were these folks just from Colorado. On my first trip up the Tower elevator, I confirmed that my fellow passengers were audiophile visitors—not industry people—from Oregon and New Jersey.
With Tyll Hertsens of our sister publication, InnerFidelity.com, attending RMAF to cover headphones and the like, we're leaving coverage to him. Nonetheless, after my morning workout in the hotel gym, I couldn't resist stopping by CanJam, the largest headphone exhibit at any US consumer audio show to date, to see who was setting up. Here's a shot of the quiet before the storm.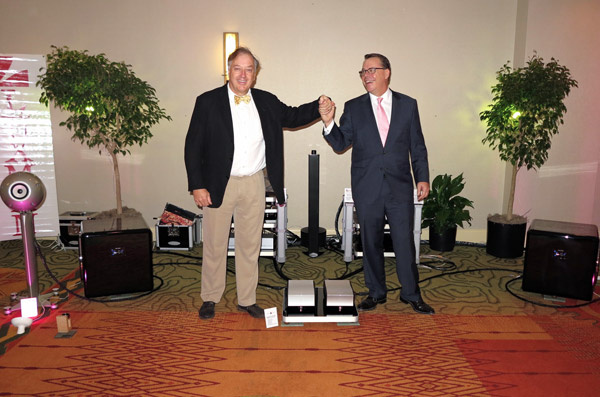 Things were all aflurry shortly before the show officially opened, when I entered the room shared by distributor extraordinaire Philip O'Hanlon of On A Higher Note and the amazing Ted Denney of Synergistic Research. In typical Murphy's Law fashion, one of the gentlemen's hard-drive contents had disappeared, and the other's was in disarray.
I loved the sound in the room shared by Johnny Wilson of Snake River Audio (cables) and Sonist Audio (loudspeakers), Kara Chaffee of deHavilland Electric Amplifier Company, and George Widman of George Warren Precision Sound (turntables). With an able assist from the wonderful Sound-Smith Hyperion phono cartridge, music sounded extremely smooth and musical, with a gorgeous midrange, through an equipment chain whose price led me to believe that it cost far more than it does. I didn't get all the prices, but the relatively new Sonist Audio Recital 2 bookshelf loudspeaker ($2295/pair), new handmade-in-Washington deHavilland Model 444 linestage preamp ($1695) and KE50A monoblock amps ($10,800/pair), George Warren handmade hardwood turntable ($4850) with Moerch DP8 arm, and Snake River pure gold/silver/copper cabling (with a special twisting technique that is said to create an 85% air dielectric) was one of the special treats on Day 1 of the show. Especially gratifying was an exceptionally airy presentation in which lovely tonalities and maximally saturated colors made me, once again, thankful for the gift of music.
The combination of the Antelope Audio Zodiac Gold Platinum DSD DAC with Voltikus power supply and Audiophile 10M Atomic Clock ($12,995 total), Sound Science Music Valut M7 PCM/DSD music server ($5695), KingSound Prince III electrostats ($9995/pair), Wireworld cabling, new Lyngdorf TDA1 2170 ($4995) used solely for its preamp and room correction features and CD-2 CD player ($2790), and Perreaux 350 power amp ($8000) was getting many things very right. On a variety of music, ranging from Willie Nelson's "Someone to Watch Over Me" to Reference Recordings' 176.4/24 Mozart and Murray Perahia's 16/44.1 Handel, transparency was excellent, and neutral tonalities quite nice. This being a show, however, it was impossible to identify the source of the slightly tinkly, glassy treble that added a smidge of hard edge.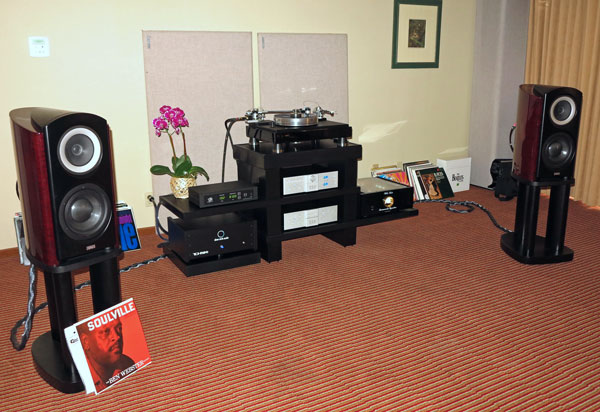 The lovely, warm midrange of Ben Webster's tenor sax set apart a room that included a VPI Industries Classic 4 turntable with Dynamic Sounds Associates Phono II and new Pre 1 linestage preamp, Silver Circle Audio Tchaik 6 power conditioner, DanaCable cabling, Wells Audio Innamorata Signature power amplifier, TAD CRI loudspeakers with ST1 stands, and Kanso Audio furniture. I'm not so certain, however, given the playback volume and small size of the room, that Webster would have wanted me to recoil every time he blew hard, or have been delighted with an overly chatty host.
Any audiophile who craves midrange warmth might have been tempted to dive head first into the room shared by Dynaudio and its distributed partner, T+A. The midrange-preponderant system that showcased the pairing of Dynaudio Confidence CD1 Platinum loudspeakers ($9400/pair) on Stand 6 stands ($600/pair) with a T+A chain ($66,000 total) that included the shipping in two weeks, almost finished T+A PDP 3000 HV CD-SACD player with fully independent PCM and DSD DACs ($20,000) was very seductive, albeit reticent in the treble department.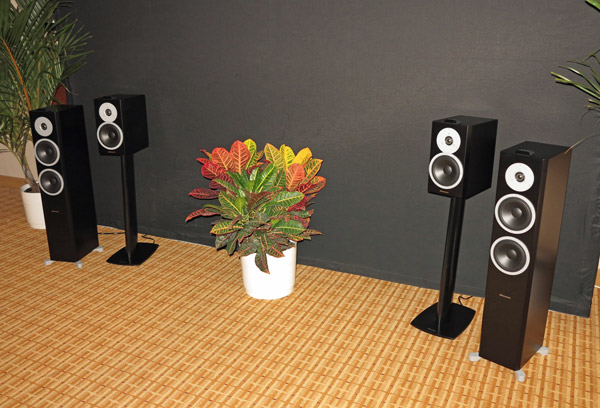 I was totally blown away by the sound of Dynaudio's new wireless Xeo 4 ($2600/pair) on Io Stand 3X ($350/pair) and Xeo 6 floorstander ($4300/pair). Listening to Amarra's DSD-to-PCM conversion of Bill Evans' Waltz for Debby, transmitted wirelessly over WiFi (not Bluetooth!) without compression via the USB out of a MacBook Air (used solely as a transport) into the USB input of the Xeo Hub Wireless Transmitter (included with the speakers), which sends the data wirelessly to the speaker.
The Xeo loudspeakers include a digital pre-amp, digital crossover, and PWM (pulse width modulation) digital power amp. Each driver has its own 50W amp, which means that the Xeo 4 outputs 100Wpc, and the Xeo 6 150Wpc. The PWM amps re-calculate digital data in a manner that allows the speaker system's woofers and tweeters to "see" digital signals like analog sinewaves. This translates into what Michael Manousselis of Dynaudio describes as "the least possible analog loss and also the least converting loss." Normal transmission range is up to 50 meters, but the Xeo Bridge ($175) will double transmission distance. The system, because that's what is all, is also multi-room and multi-zone capable.
Here's what I can tell you. The system not only dispenses with the need for an external DAC, amp, preamp, or cables, but it also sounds fantastic. I could not believe how neutral, clear, and satisfying this system sounded. It didn't sound like "wireless" anything; it sounded like music. Obviously you're not going to get a huge soundstage from smaller drivers, but what I heard in this first public demo of the Xeo 4 and Xeo 6 was, in its own way, Best of Show material.