Meridian Audio Prime D/A headphone amplifier
A reader recently asked if I preferred listening to loudspeakers or to headphones. There is no easy answer: Although I do most of my music listening through speakers, about 10% of that listening, for various reasons, takes place in the privacy of my headphones. I have also found that, since I purchased the Audeze LCD-X headphones following my review of them last March, I now tend to watch movies on my MacBook Pro, with the soundtrack reproduced by these headphones plugged into an
AudioQuest DragonFly
or whatever D/A headphone amplifier has been passing through my test lab. So when Meridian's PR person, Sue Toscano, asked me last Christmas if I'd be interested in reviewing the English company's new Prime D/A headphone amplifier ($2000) with its optional Prime Power Supply ($1295), it took me less than a New York minute to say "Yes."
Prime Numbers
Beautifully packaged, as it should be at its price, the Prime resembles a smaller version of one of Meridian's G-series components, with a dark center section on the front panel, a nicely profiled volume-control knob, and an elegant matte finish. The chassis, designed by Allen Boothroyd, is formed from interlocking aluminum extrusions with no visible fasteners. The front panel features two ¼" and one 3.5mm stereo headphone jacks, an On/Standby button, and two pushbuttons, each with a vertical array of three white LEDS above it. The left-hand button chooses among two analog inputs (one on a pair of gold-plated RCA jacks, the other on a 3.5mm socket) and the USB digital input. The second button switches among bypass and two settings of what Meridian calls Analogue Signal Processing, intended to compensate for the fact that, with typical stereo recordings, all sound sources are suspended on a line inside the listener's head and between the ears.
As well as the inputs, the rear panel has a pair of gold-plated RCA jacks offering a line-level output—this can be disabled with front-panel button pushes—and a 12V DC connector. A switch-mode wall-wart power supply is supplied, but Meridian also offers the linear Prime Power Supply, housed in a case that looks identical to the Prime's. This provides four dual-regulated, 12V-output mini-DIN sockets and a pass-through USB path. When the Prime is used with the Prime Power Supply, the host computer connects to a square USB Type B connector on the supply, with a short Type A Micro USB umbilical sending data to the Prime.
Inside, the Prime's circuitry is carried on a single, six-layer printed circuit board, said to be optimized for grounding and power-supply isolation. The volume control appears to be a high-quality Alps part with close channel matching, and is connected to the front-panel knob with a flexible shaft. The direct-coupled signal path is said to be short, and the active circuitry appears to be based on op-amp chips and an XMOS USB receiver chip, this powered from the USB bus to avoid injecting noise into the audio circuitry. The USB input operates in asynchronous mode—this works natively with Mac computers; a driver is supplied for Windows machines—and accepts 16- and 24-bit data with sample rates up to 192kHz, though not DSD data. Separate crystal oscillators are used for the 44.1 and 48kHz sample-rate families, and base-rate data are upsampled to allow Meridian's implementation of Peter Craven's "apodizing" filter to be used. The analog inputs are not digitized.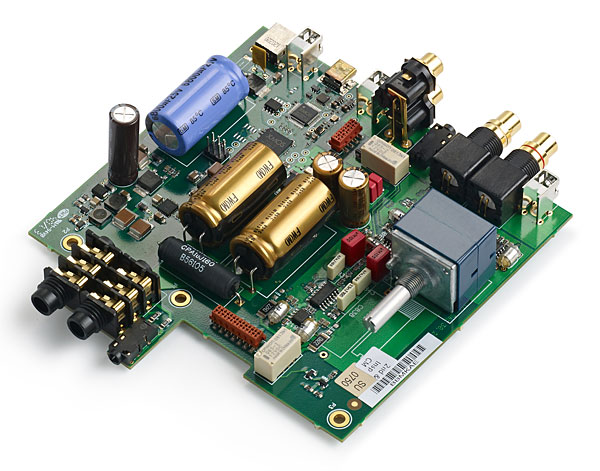 Listening to Analog
I used the Prime's analog inputs to audition the LP candidates being considered for Stereophile's last few "Recordings of the Month," feeding them from the single-ended outputs of a Channel D Seta L phono preamp. Our "Recording of August 2014" was the Black Keys' Turn Blue (LP, Nonesuch 7559795555). While I don't entirely agree with Robert Baird that the LP's balance is "smooth and downright dreamy in spots," it was a lot more listenable than the typical modern victim of the Loudness Wars, especially via the Meridian Prime. I could readily hear into the mix of this recording, discerning "the minds behind" the music making.
For digital, I used Pure Music running on a Mac mini and the Auralic Vega DAC. My primary headphones were the Audeze LCD-Xes, but I also used Bowers & Wilkins P7s and Sennheiser HD-650s. With the Prime fed power by the stock wall-wart supply, the sound of Elgar's Serenade for Strings, with George Hurst conducting the Bournemouth Sinfonietta, an early Chandos recording (ALAC files ripped from CD, CHAN 8375), was rich and warm, with plenty of depth and weight to the double basses. George Vakhnadze's relatively closely miked piano in his performance of Rachmaninoff's Piano Concerto 2, with Jansug Kakhidze conducting the Tbilisi Symphony Orchestra in 1996 (ALAC files ripped from CD, Sony Classical Infinity Digital 62294), had excellent midrange clarity and authoritative low frequencies, with, again, a rich orchestral balance.
With "Get Lucky," from Daft Punk's beautifully produced Random Access Memories (24/88.2 AIFF file, HDtracks/Columbia 88883716861), again, the Prime's analog inputs and headphone outputs presented this music with a warm, smooth balance.
These comments all refer to the sound of the Prime without its Analogue Spatial Processing engaged. The ASP 1 setting pushed the center of the soundstage forward, sacrificing stereo separation to give a more vibrant sound. ASP 2 presented the music from a more distant perspective, but still with a narrower stereo image than with ASP bypassed. Over time, I decided I really didn't like either ASP mode—ASP 1 made orchestral violins sound a little like violas—and continued my auditioning without them.
For the past 25 years that I have been making recordings, I have primarily used the same microphone array: a pair of cardioids, with the capsules angled at 115° and spaced 7" apart, plus an outrigger pair of omnidirectional mikes. One benefit of this mike technique is that, for headphone listening, the use of widely spaced omnis means that the image is not entirely confined to the space between the ears. In June 2008, I had recorded Canadian pianist Robert Silverman performing Robert Schumann's Symphonic Études in Sauder Hall, at Goshen College, in Indiana. I had hoped that this recording would be released as a Stereophile CD, but that never happened. Instead, it appeared this year on a limited-edition OrpheumMasters CD (OM/CIC001). While the rich sound of Bob's Steinway was positioned within my head with the Prime headphone amplifier, the glorious hall acoustic formed an ambient halo that reached beyond and behind the line connecting my ears.
This is not a true binaural recording, of course, in which the entire soundfield exists outside the head. During the time I was reviewing the Prime, I was transferring to digital recordings I had made on analog cassette in the 1970s and '80s, including one made at the UK's Farnborough Air Show in 1980.
I had used small Sony omnidirectional mikes clipped to my sunglasses so that the capsules were suspended in front of my pinnae. Listening to the flyby of the Battle of Britain Memorial Flight—propeller-driven Spitfire and Hurricane fighters, and a four-engine Lancaster bomber—through the Meridian Prime, not only was I immersed in the sound, but the images of the airplanes as they crossed the stage from far on one side to far on the other was above and in front of my head. By contrast, the sounds of cars, spectators talking, and of the PA announcer were where they should be: at the level of my ears (footnote 1).
Adding the Prime Power supply
The Prime's measured volume didn't change when the wall-wart supply was replaced with the Prime Power Supply ($1250), but it sounded as if it had. George Vakhnadze's piano in the Rachmaninoff concerto had a touch more body, a tad more authority. The organ-pedal bass line in Vaughan Williams's arrangement of the Welsh folk tune "Rhosymedre," played by Philip Ledger on Organ Music from King's (24/192 needle drop from LP, EMI HQS-1356), acquired both a little more weight and sounded more separated from the organ's upper registers.
The kick drum and Nathan East's growling bass guitar in "Get Lucky" acquired more punch, the mix sounding less woolly than with the stock supply. I would have gotten up to dance, had I not been tethered to my writing desk by the headphone cord.
And the roar of an F-18 Hornet's twin turbofans as it took off at the 1980 air show was even more viscerally lifelike with the Prime powered by the Prime Power Supply. Oh my!
The height effect with these binaural airplane recordings was not as pronounced with the B&W P7 headphones than it had been with the Audeze LCD-X cans, perhaps because the P7s' midrange is a little recessed by comparison. The P7s' treble is more lively than the Audezes', however, which was a benefit with the Elgar recording. I'm not surprised that my colleague Tyll Hertsens was impressed by the $399 P7s.
---
Footnote 1: I have included a sound clip in this Web reprint so that others can determine whether or not they perceive this height, or if it is specific to my own head-related transfer function, which I assume must have been captured by the tiny mikes hanging in front of my pinnae.