Munich High End 2014: Day 1 Continued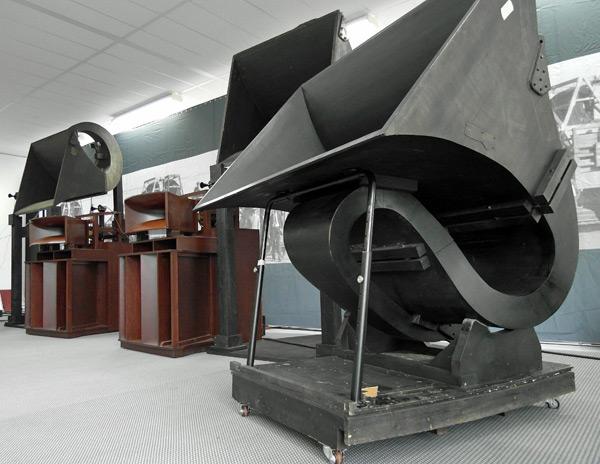 How good does it get? I think I'm closer to having an answer to that one.
I'm a person of faith, and I do try my best to sin as little as possible. Yet within 10 seconds of entering the Silbatone Audio room—seconds occasioned by a multisensory experience as shocking as it was pleasant—the first words that escaped my lips were "Jesus tap-dancing Christ on a cracker." I was hearing Maria Callas sing an aria from an Italian opera unknown to me; I was seeing a long wall of enormous loudspeakers, the largest of which was a pair of exceedingly rare Western Electric 13A horns made for Warner Brothers in 1926, not long before Al Jolson's first talkie. I was listening to the world's first hi-fi system, and I would argue with no man who says it's the best.
The system, which cost over $100,000 just to pack, insure, and ship to Germany, was sponsored by M.J. Chung, the Korean industrialist and owner of Silbatone Acoustics, whose electronics were used to drive the above-mentioned horns, along with two reproductions of the famed Western Electric 597A tweeter—which, like the compression drivers that drove those horns and a pair of the slightly smaller Western Electric 12A horns, were made by G.I.P. Laboratory of Japan.
Among the record players used were a turntable/tonearm combination by the noted designer Frank Schroeder, and a vintage 'table restored by tonearm specialist Thomas Schick, whose name is familiar to many Stereophile readers.
Messrs. Schroeder and Schick were both in attendance—often taking turns as the system deejay—and both are far younger than I ever imagined. (On Thursday, Schroeder (above, left) took the time to pose with Jonathan Halpern of Tone Imports (middle) and John DeVore of DeVore Fidelity (right); I'll return to Thomas Schick and his latest creations in a later post.)
The Silbatone room proved to be the crossroads of this audio world—colleagues from every walk of audio life described it as the highlight of the show—and it was there that I met Auditorium 23 founder Keith Aschenbrenner, and his wife, Monika (above). Considering both the products he has distributed and those he has designed—loudspeakers, turntables, transformers, and cables—one could argue that Keith Aschenbrenner has brought the highest caliber of playback into more homes than almost anyone else on the Continent.
The vintage theme followed me throughout the show: a motif that reoccurred throughout High End 2014, beginning with the liberal use of ancient amps and preamps in decorating some of McIntosh's displays. Odd that I must come so far to see them, when my home is only 120 mile from Mac's Binghamton, NY headquarters.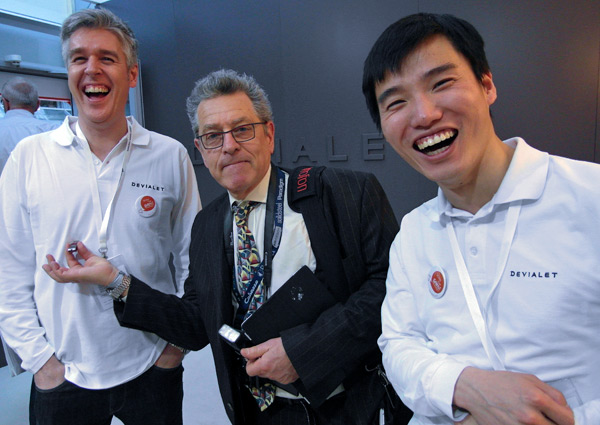 Just as I entered one of two Devialet exhibits, Mikey Fremer (above center) entered from the other direction, and regaled both myself and Devialet's Andy Kennard (left) and Yaohan Yang with a joke that I won't repeat here and now. Kennard, Yang, and other Devialet employees wore buttons proclaiming the arrival of SAM—not the enduringly erudite Sam Tellig, but a Devialet innovation called Speaker Active, Matching, which uses digital signal processing in tandem with a (growing) database of the specs of specific loudspeaker makes and models. The company hopes to have at least two hundred popular speakers in their database by Christmas.
Just down the lane from Devialet, loudspeaker specialists KEF boasted a window display that wouldn't look out of place on the Champs Elysee: From let to right were the KEF Muon, the well-known Blade, the newer-than-new Blade Two, and the KEF Reference 5. The Blade Two, which uses the same main driver as the Blade but smaller side-mounted bass drivers, is scheduled to sell in the US for $24,000/pair, as contrasted with the $30,000 of the standard Blade.