T.H.E Show 2014: Day 2 Afternoon
Another great singer/songwriter at the Atrium Poolside was Audra Lee. Check her out on YouTube or her
Facebook page
. Gratitude to Richard Beers and Bob Levi for such great entertainment.
Cake Audio of San Clemente scored big by pairing the Rockport Technologies Atria loudspeakers ($21,500/pair) with the Balanced Audio Technologies (aka BAT) REX I preamplifier ($20,000) and VK-655SE amplifier ($16,500). Together with a new Brinkmann Balance turntable set-up ($35,500 total) allied to a Dynavector XV-1t phono cartridge ($9250) and Brinkmann Edison phono stage ($12,990), as well as an Esoteric K01 transport/DAC ($19,500) and maximally transparent Nordost Valhalla 2 cabling, the system impressed on Lou Reed's perennial, perpetually played "Walk on the Wild Side." Gratifyingly warm highs, great bite on sax, and fine air were the source of immediate pleasure. In addition, exceptional spaciousness and just the right balance between romantic warmth and analytical detail distinguished a track on an LP by Eagles founding member Glenn Frey. This system left me very, very happy.
"Boutique manufacturer" and dealer Electra-Fidelity of Las Vegas demmed a system that alternated their own Electra-Fidelity A3-500 300B monoblocks ($9995/pair) with Atma-Sphere M-60 Mk.III.2 monoblocks with V-Cap upgrade ($7590/pair). Speakers were the unusual-looking AudioKinesis Zephrin 46 loudspeakers ($4500/pair).
The way the speakers' LCS Late Ceiling Splash radiation pattern, which was invented by James Romeyn and Duke LeJeune (implementing reverberant field theories by Dr. Floyd Toole and Dr. Earl Geddes), threw images way high, as well as their amazing three-dimensionality, was quite impressive. Nonetheless, with the Atma-Spheres in the system, the sound on a Patricia Barber CD was too rich for my blood. Also in the system were an Atma-Sphere MP-3 Mk.III.2 preamplifier with built-in tape head preamp ($5660), Otari MX-5050 Mk.III tape transport, and Resolution Audio Cantata Music Center ($6995).
In a room shared by Sunny Components of Covina and VANA Ltd. distributors, a first production run pair of Vienna Acoustics' Imperial Series Liszt loudspeaker system ($15,000/pair) shared the spotlight with the equally fresh Dan D'Agostino Master Audio Momentum integrated amplifier ($45,000). A 16/44.1 file of Gulda playing the adagio from Mozart's Piano Concerto 23, conducted by Harnoncourt, exhibited great spaciousness, as well as wonderful highs with gorgeous, liquid, crystalline overtones. But the midrange sounded, to quote my notes, "weird."
I know. What does that mean? Well, on a 45rpm pressing of that old stand-by, Ella & Louis, Ella sounded wonderful, but there was an extra, unnatural boost in her midrange. Booming on the bottom did not help matters.
FritzSpeakers seems to have a new model at every show I cover, which means lots of new models. This time, the Fritz Carrera 7 ($3500/pair) kept company with the Electra-Fidelity A3-500 300B 8 watt monoblocks ($9995/pair) I missed hearing in their own room. With an Electra-Fidelity Magnetic line amp (a fancy way of saying "preamp"—$1795), WyWires Silver Series cabling, and Parasound Zcd CD player ($400), the sound on a jazz track was nice and smooth, with notable dimensionality around brushes.
Anders Ertzeid of Hegel demonstrated their Hegel H 300 Integrated amplifier ($5500), using a MacBook Air to stream 16/48 files to Raidho X1 loudspeakers ($6400/pair) via Ansuz cables (made by the same company that manufactures Raidho). As far as I can tell from my notes—I received no literature—in six months, a service with the unfortunate name of WIMP—the name may change—will reach the US. WIMP accesses a database similar to Spotify that stores data as 24/96 files, and then streams them as the 16/48 files we heard in the room.
Listening to Prince's "A Case of You," bass was out of control, but everything above it sounded very, very nice. Noting great spaciousness on another, unidentified track, I scribbled in my notes, "Sounds really great." It's clear that CD-quality streaming could change the landscape faster than you can say, "Hegel."
A pre-production pair of Pietra Verde loudspeakers ($45,000/pair estimated price) stood out for their unique, rigid solid granite enclosures, each with a different grain pattern, that help eliminate panel resonance. Demmed by their co-designers, acoustical engineer Jeff Candy and fabricator Richard Nenzel, the Pietra Verdes are hand-made and tested in San Diego using proprietary algorithms and numerical modeling tools.
The speakers partnered with Emotiva's XDA-2 DAC and XPA-1L monoblocks. I didn't write much in my notes about the music, but I recall wondering if the "nice classical music" the boys were playing would have made a greater impression had the price of the electronics been more commensurate with that of the speakers.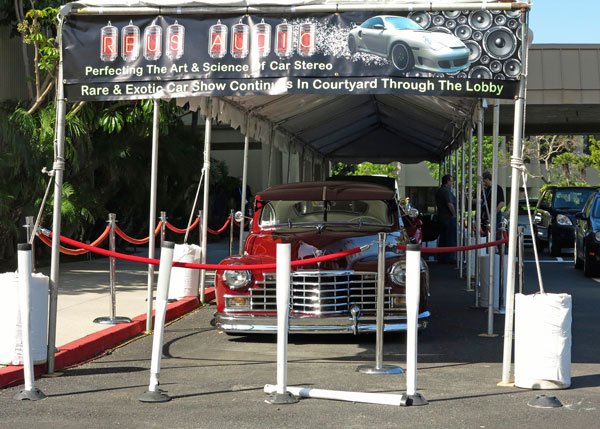 And thus we end Day Two as we began Day One, with a hybrid mix of the old, as in a vintage automobile, and the new, as in audio custom-fitted to each car's acoustics by Reus Audio Systems of Orange, CA.