Sony Goes All-Out with High-Resolution Audio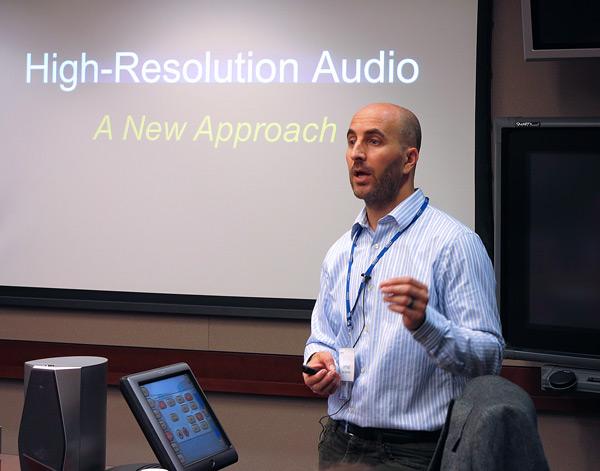 On Thursday April 24, Sony announced a new round of reasonably priced products, all of which are capable of high-resolution audio playback. The products, which include receivers and 5.1 array loudspeakers, may be aimed at mass-market consumers, but the sounds they produced at an exclusive press preview at Sony's Southern California headquarters demonstrated that even the least expensive is capable of convincingly conveying the sonic differences between MP3, Red Book CD, and hi-resolution content.
Sony's unequivocal embrace of high-resolution audio—the acronym HRA seems to have become the mutually accepted, industry-wide term—was the main order of business. Defining HRA as everything greater than Red Book CD (16/44.1k) Jeff Hiatt, the company's Director of Home Audio (above), began by stating, "We have sacrificed quality in order to get convenience. MP3 has been degrading the quality of music, and was a quantum leap backwards. The young generation doesn't even realize that they're not listening to music as the artist intended it be heard."
Hiatt referenced a study by the industry-based Consumer Electronics Association (CEA), in which 90% of consumers indicated that sound quality was the most important factor to them. Of those, 60% said they are willing to pay more for it.
"Sony and CEA have made the commitment to high-resolution audio," he declared, as he pointed to ad campaigns that include endorsements by Herbie Hancock and Sting, as well as to January's Hi-Res Tech Zone at CES 2014.
To underscore the high-resolution push on the part of the Big Three recorded media organizations—Sony, Warner, and Universal Music Group (UMG)—Hiatt introduced Jim Belcher, UMG's VP of Global Digital Technology and Production. In a presentation that showed the relative strength of download sales vs. physical media, Belcher clarified that while the U.S. leads the world in both total downloads and preference for downloads over physical media—60% of U.S. sales involve digital downloads—people in Japan, Germany, and France continue to prefer physical product over files.
There may be three main HRA retailers in the US, but more are gearing up to join HDTracks, Super Hi-Rez, and ITrax. Even while acknowledging that currently, "vinyl is selling very well for us," Belcher prognosticated a continued decline in physical products, greater reliance on HRA downloads, and the emergence of uncompressed and high-resolution digital streaming. (In his only mention of classical musical, he noted that hi-res streaming of classical content already exists in Europe, but has yet to reach the U.S.)
Belcher cited UMG's extensive analog back catalog, which is now available for HRA re-mastering and licensing. Many contemporary artists are already delivering HRA content, which UMG, in turn, feeds its retail partners via the internet. The main challenge is to come up with common definitions and terms for consumers; bring artists and producers up to speed on the advantages of HRA; and complete the supply chain puzzle of metadata, archiving, and distribution. There is currently a cross-label initiative to preserve and strengthen metadata, and make it more available for consumer access during playback.
Sony is currently sponsoring up to 10 HRA consumer listening and education events per month in retail outlets. Given recent cuts to its workforce, the company is struggling to keep up with demand. It recently made a major HRA push at SXSW, and plans to offer a free hi-res download version of Michael Jackson's "new" album, XSCAPE, with the purchase of each new HRA-equipped Sony product.
Hiatt, Belcher, and Aaron Levine of Sony's Home Theater division all emphasized that their companies support both hi-res PCM and DSD. "We are format-agnostic," each man affirmed in turn. It's up to engineers are artists to decide on the recording format; Sony's job is to play all of them back. Given that today's chips can handle all formats, they predicted that, in another 12 months, the argument over which hi-res format is superior will, in one sense, be moot because the hardware will be able to play all of them back.
"The last thing Sony wants is another format war," they said. "The bottom line is what's best for the music, and delivering the hi-res experience to the consumer. We are trying to be agnostic, and let the consumer ultimately decide."
Belcher added, "Universal has retailers who ask for DSD because their customers ask for DSD. It's part of the natural progression from vinyl to hi-res. The big challenge is getting the digitally minded to understand that there's a better experience available in hi-res. HRA is a reason to listen to an album from the first track to the last."
Inevitably, talk of Pono emerged. Acknowledging that, influenced by Pono, Sony is looking at how to best address the HRA portability experience in everything from audio-only playback devices to phones, Hiatt noted that Neil Young's declaration that it's all about the music is good for everyone. Pointing to the new gold "Hi-Res Audio" label on Sony products, he hinted that as early as CE Week in June, we can expect announcements of concrete steps by multiple industries to integrate HRA content delivery and playback into single products.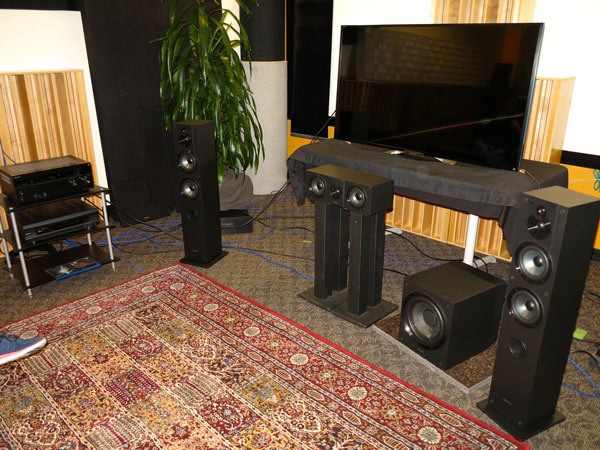 Listening
Auditioning a broad range of products that included the already released SRS-X9 Hi-Res wireless speaker ($699.99), SS-HA3 Hi-Res bookshelf speaker ($399.99), and PHA-2 Hi-Res portable headphone amplifier ($599.99), the difference between 16/44.1 and HRA was readily apparent. The compelling three-dimensionality of HRA was audible even from the sides of the soundstage created by a new product system (above) that included the available-in-May STR-DN1050 Wireless network AV receiver with Hi-Res ($599.99) and new mass market SS-CS speaker line, the most expensive of which is the SS-CS3 floorstanding loudspeaker ($239.99 each). It may not have been audiophile-grade sound, but the sense of total immersion held promise of seducing a whole new generation of music listeners.
Most striking, to these ears, was when Sony's Yuki Sugiura (above), who has served as the face and heart of Sony's hi-res product demos at virtually every audio show I've covered, demmed an audiophile system that paired the HAP-Z1ES 1TB Hi-Res HDD Music Player ($2000), reviewed by Kalman Rubinson in the May 2014 issue of Stereophile, and equally praised SS-NA2ES loudspeakers ($10,000/pair) with Sony's mass-market STR-DN1050 (below). Despite some dryness, the AV receiver's "Pure Audio" mode conveyed the other products' midrange warmth and smoothness, as well as arresting three-dimensionality, on double-DSD upsampled renditions of Steely Dan's "Babylon Sisters," Beck's recently released "Morning," and the Minneapolis Symphony's version of Stravinsky's Firebird Suite.
With my appetite whet for more time with the HAP-Z1ES, Sony's presentation gave assurance that they, UMG, and other organizations are committed to forging ahead with HRA.