The Divine Miss King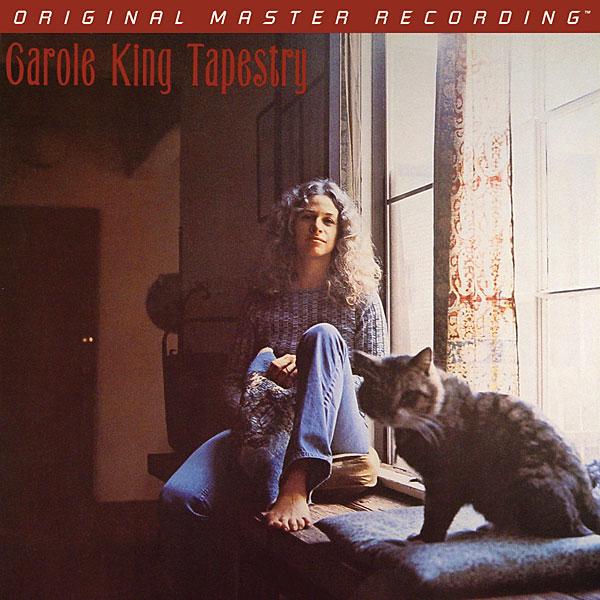 The vinyl reissue wave gets smarter by the day. Now, many of the titles that were once licensed and reissued on 180 and 200 gram vinyl by Classic Records, and which have now become highly valuable and silly expensive on eBay, Discogs and other websites, are being licensed again and reissued at more reasonable prices. I was very happy to see that an old favorite, one of the greatest album length collections of songs ever, Carole King's
Tapestry,
has recently been given the luxury reissue treatment by Mobile Fidelity, who worked from the original master tape. Best known prior to this as half of a songwriting team with her former husband Gerry Goffin, King, the former Carol Joan Klein, cut
Tapestry
in California at A&M Studios, with Lou Adler at the helm and Hank Cicalo engineering.
Listening to MoFi's wonderfully quiet pressing is guaranteed to make your head shake, both at how beautiful this new mastering and pressing job is, but also at the quality of the music. From the first chugging chords of 'I Feel The Earth Move," through the wistful "So Far Away" and the decisive "It's Too Late" with its great bass line and Curtis Amy's soprano sax solo, onto the only tune I could ever play drums to, "Home Again," and the almost hidden pleasures of "Beautiful" and "Way Over Yonder" there's not a clunker in the bunch. Often the place on LPs where the lesser material was parked, Side Two may be even more glorious: "You've Got a Friend," "Where You Lead," "Will You Love Me Tomorrow?" the sassy change of pace, "Smackwater Jack," and the final two fastballs, the title track and her take on perhaps her finest song, "(You Make Me Feel Like) A Natural Woman."
Wow.
Even today, I'm hard pressed to think of a single record with this much unforgettable material. Had the White Album been cut down to one disc, it might have been the equal of Tapestry. It's to the point where you wonder why someone, her manager maybe, didn't suggest something like, "Carole baby, maybe you oughta save at least one hit for the next record?" But then this was a different era. One where musicians swung for the fences. But even having said that, this was still a particularly extraordinary collection of songs for that or any other era. And all from a woman who'd never really been a singer or performer before! Having musicians the caliber of James Taylor, Danny Kortchmar, Merry Clayton, Russ Kunkel, Charles Larkey aboard for the sessions didn't hurt much either.
If records can change lives then Tapestry, which has sold over 25 million copies, has more converts than a lot of religions. A very personal, gnashingly emotional record, it spills its guts across the grooves in spectacular fashion. It may well be the perfect album. It is undoubtedly one of the best soul records ever made. And you gotta love that crazy cat!