Genesis and Linn at Elite Audio Systems San Francisco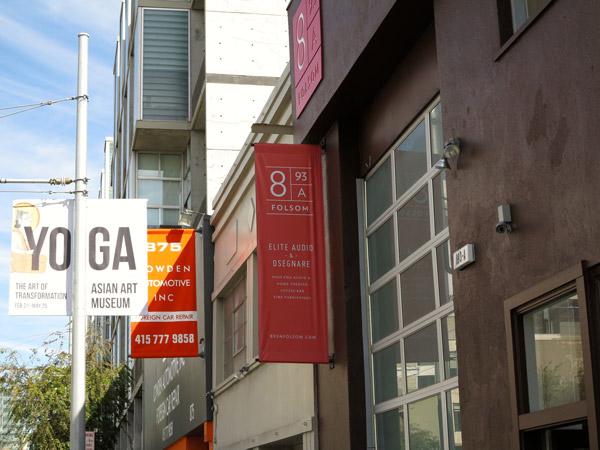 How often have you encountered someone reciting your obituary? That's what happened when he of the living dead visited Michael Woods' aesthetically sensational
Elite Audio Systems showroom
in San Francisco on February 22, only to discover Gary Leonard Koh, CEO of and chief designer for
Genesis Advanced Technologies
, declaring, "The days when people sat in one sole sweet spot listening to music are over."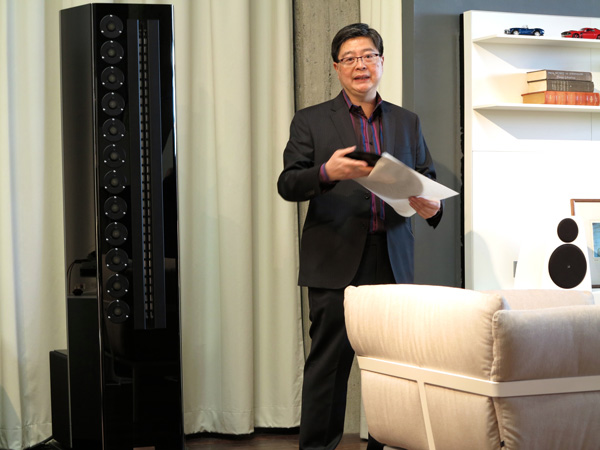 Dismayed to learn that my purportedly dying breed has already died off, I perked up when Gary posited his imposing Genesis 2jr line-source loudspeakers ($85,000/pair) as being far more listener-friendly than Wilson Audio loudspeakers. And that was but one of two audacious statements uttered at Elite Audio Systems from the CEOs of Genesis and, six days later, Linn.
Genesis first: "Wilson targets the audiophile primarily listening alone, whereas I see my target market as the music lover who wants to listen together with friends and/or family in a family environment," Gary explained. "In order to be able to do that, the Genesis loudspeakers are designed to create a big, wide sweet spot that works equally well for urban music, rock, and symphonic as well as the usual jazz combo or female vocal soloist. I also strive to make my loudspeakers engaging and non-fatiguing, so that they do not draw attention to themselves."
It was intriguing to test out the claim that the Genesis 2.2 Junior (G2jr) loudspeakers, with their line array of 1" circular-ribbon HF transducers, ribbon midrange, and integrated servo-controlled 12" woofers that are said to measure flat down to 20Hz, throw a wide soundstage that seems equally coherent and involving whether one was seated, standing, or moving about the room. Equally fascinating was the assertion that the furniture between speakers and listeners would not detract from the musical experience. What I can't swear on the Bible that removing the furniture would not have demonstrably improved the sound—the movers were observing the Sabbath on Saturday—I can affirm that what I did hear, no matter where I sat or stood, was very coherent.
Joining the Genesis 2.2 Juniors were Genesis GRA1440 class-D monoblock amplifiers ($22,000/pair) and three kinds of Genesis cabling: Loudspeaker Interface cables ($4800/3m pair), Component Interface cables ($2000/1m pair), and Power Interface cables ($2200/1.5m). Supplying them with great music were the superb Spiral Groove SG1.1 turntable ($25,000) with Spiral Groove Centroid unipivot arm ($6000) and Ortofon Anna MC cartridge ($8,499), supported by Koh's Plexiglass amp support stands and Spiral Groove Strange Attractors ($500/set of 4); and the Burmester 077 preamp ($50,000) and Burmester 100 Phono preamp ($20,000).
Ironically, for an analog front end whose cartridge was named for soprano Anna Netrebko, not a note was heard from her or any other opera singer. But we did hear the system's beautiful midrange warmth, virtually holographic image, impressively impactful bass, and naturally bright but non-fatiguing top on tracks and LPs that included Aaron Neville's gorgeous 1968 recording Everybody Play the Fool and Ella Fitzgerald singing Rodgers & Hart. Along the way, we encountered Al Grey and the Basie Wing, with trumpeter Grey using a toilet bowl plunger as a mute; the Swedish House Mafia; the Oscar Peterson Trio's Nigerian Marketplace from Montreux 1981, on an LP derived from an 18-bit/50kHz master that Gary says sounds infinitely better than the CD pressing; the band Rare Earth; and, toward the end of the demo, a bit of a recent vinyl mastering of the late Giuseppe Sinopoli conducting Richard Strauss's Death and Transfiguration.
The speakers didn't sound anything like the Wilson Sophia 3s and Sashas I've had in my reference system, but that was the point. Every successive recording shed more light on the distinct sonic signature of a system that was less than optimally set up. For starters, in order to spare Woods' gorgeous flooring from damage, the speakers resounded on springy sliders rather than spikes. Anyone who has experimented with speaker supports knows what the lack of solid grounding does to deep bass.
Secondly, Gary's proprietary amp stands, which were intended to isolate the Genesis GRA 1440 monoblocks from vibration, were appropriated for the turntable, which otherwise didn't stand a chance sitting next to the right speaker's mighty side-firing woofers. (I'm told that Spiral Groove' red and black Strange Attractors also helped mightily in the vibration isolation department, and hope to test them out before long.)
In addition, both handsome furniture rack and room set-up were intentionally non-audiophile (below), and chosen solely for their visual impact. Michael says he has yet to find a dedicated, effective audio rack that can truly double as high-end furniture.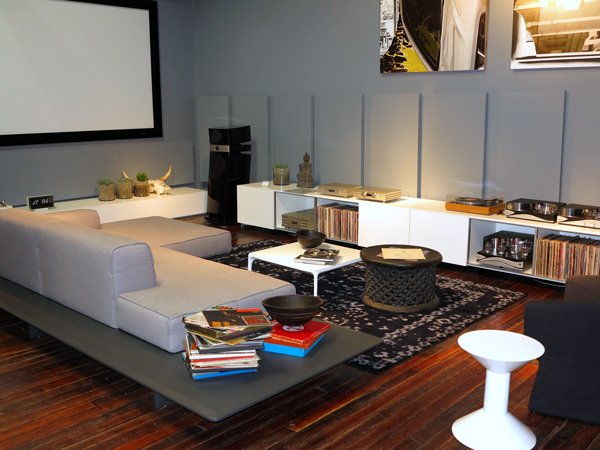 Décor carries equal import with sound in what surely must be the most stylish and sophisticated high performance audio/video retail outlet in the United States, if not beyond. Complete with a store-fronting coffee bar that subtly introduces patrons to quality sound and tempts them to venture into the vast, two-level showroom at the heart of Elite Audio Systems, the store's canny location in San Francisco's ever-expanding South of Market tech zone drew, even on a sunny Saturday afternoon, any number of inquisitive visitors in their 20s and 30s.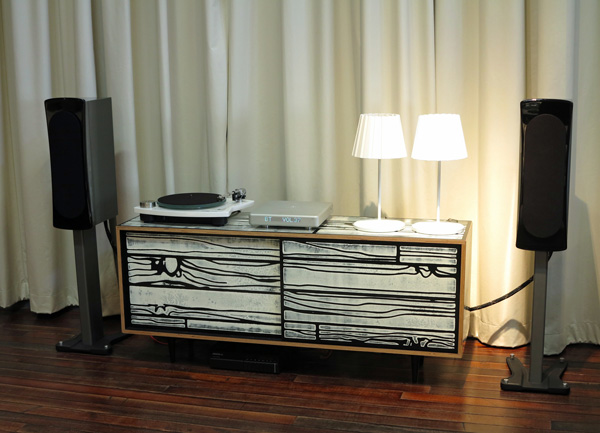 For one of those visitors, Gary Koh demonstrated his considerably smaller Genesis 7.2c loudspeakers ($6000/pair) via music streamed by Bluetooth to what I believe was a Roksan Oxygene. When a potential audiophile-in-the-making claimed that he couldn't tell the difference between MP3 and CD quality, I asked some questions that revealed that he had no acoustic reference in which to ground his experience. I then queried if he had ever attended the San Francisco Symphony (whose home, Davies Symphony Hall, was maybe 10 blocks away). When the answer was no, we had a discussion that, I would like to think, planted seeds for future symphonic exploration.
The demo offered more than its fair share of delights. Among them were a visit by Michael's wife, attorney Charmaine Yu, and the couple's not yet four month-old daughter, Natalie Grace Woods. And toward demo's end, Gary Koh had a surprise reunion with a first-grade classmate from Singapore, whom he had not seen in a good 50 years.
An evening with Linn: On February 28, Woods soldiered through the loss of his 94-year old father two days before to host a Linn Products 40th Anniversary celebration that included Linn CEO Gilad Tiefenbrun and Marketing Director Angus Lawrie. The men displayed a simple yet complete system whose two sources, a Linn Majik LP12 turntable ($4320), outfitted with Akurate MC cartridge, and a Linn Akurate DSM digital streamer/preamp ($8500), fed Linn Akubarik integrated active loudspeakers ($24,950/pair). These 5-way loudspeakers include two bass drive-units, housed in the cabinet's base in an Isobarik configuration.
Gilad, company founder Ivor Tiefenbrun's son, began by explaining that his parents bought their hi-fi even before they had furniture. Early on, he discovered that very small changes to a turntable had a huge effect on the sound of a system. Hence, his father developed the Linn Sondek LP12 turntable, which remains in production to this day. As one audience member, who bought his in 1975, could attest, the turntable is completely upgradable piece by piece to current specifications.
"Because a hi-fi system cannot make a recording sound better [than it can be], Linn exists to close the gap between the artist and the recording," he said. "We reduce the sources of loss, as well as noise and distortion."
To demonstrate his point, Gilad focused on one of his favorite Linn recording artists, Emily Barker. Gilad first heard the Australian-born Barker in a teeny venue in Glasgow. When he introduced himself, Barker, who knew of Linn's high-resolution Studio Master recordings, asked for a record deal. Her forthrightness paid off.
To illustrate the difference a good recording can make, Gilad played, first, a sonically compromised YouTube clip of Barker, then an ill-tuned track, "Nostalgia," from her early CD that is the theme song of the UK's popular Van Walker TV show; and, finally, Linn's sonically superior 24-bit Studio Master re-recording of the same song. Even though playback levels were different—the 24-bit recording was significantly louder, to the point of overdriving the speakers—one could tell that the differences in the silence between the notes, color saturation, and overall musicality were enormous.
"The way to judge a system is to feel how it touches your heart," said Gilad before streaming another 24-bit track as an MP3 via Airplay, and showing that it still sounded better than Barker's original, poorly recorded CD. "It's an art to reproduce music that starts inside someone's head and heart," he said.
Then came the good news—Linn will release, at a date not yet determined, a new application for iPad and computer that will handle classical music metadata much better than anything currently available—and the audacious statement that you've hopefully been waiting for.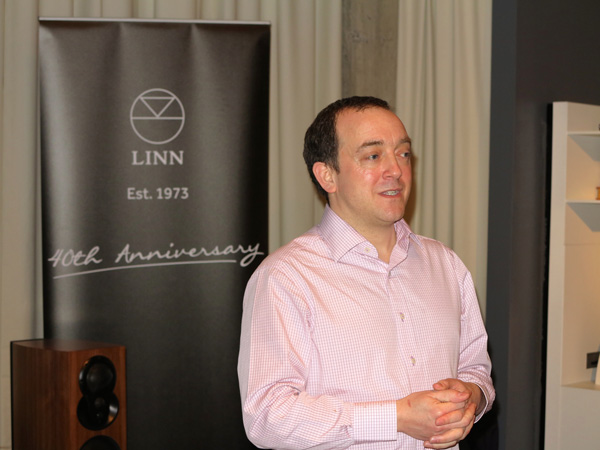 To quote from the head of a company whose SACD releases are recorded in PCM, then upsampled to DSD, "There is no need for DSD. You'll get better quality sound if you convert DSD files to PCM and play them back through our server . . . Sony is pushing DSD because it is in financial trouble, and has in DSD a proprietary format that can produce a constant revenue stream for the company. Sony is trying to own a piece of people's music libraries. I think DSD will fail. I urge people to keep their entire collection in PCM."
The breather came in the form of a maximally entertaining presentation from the exceptionally witty Martin Daraz, Ambassador of Highland Park Single Malt Scotch. Noting that the plinth of the sold-out, very Limited Edition 40th Anniversary Sondek LP12 was made from the very same wood as the casks used to age Highland Park Scotch whisky, and that each turntable came with a bottle of the prized liquor, he instructed peasants such as myself in the proper way to sniff and savor Scotch. "We make the whisky by nose," he said. Since my own nose continues to grow at an alarming rate, I couldn't resist checking it out.
With everyone quickly warmed up, the evening ended with a drawing for two of Linn's Barker CDs (also available as hi-res Studio Master downloads from Linn) and a Linn 40th Anniversary LP (above). For the third time since I became a Contributing Editor to Stereophile, I won a raffle. After I noted that I had given my last raffle prize, a wonderful pair of Audioengine 2 self-powered loudspeakers, to my niece, and that my LP system was currently in storage pending our house sale and move, an attendee who claimed that his entire store of 4000 uninsured LPs had been burned in a fire on December 20 did everything short of going down on his knees to snooker me out of the LP. Hey, even critics have hearts. May the LP bring him as much joy as Linn's products have been bringing audiophiles for over 40 years.