Lawrence's Double Bass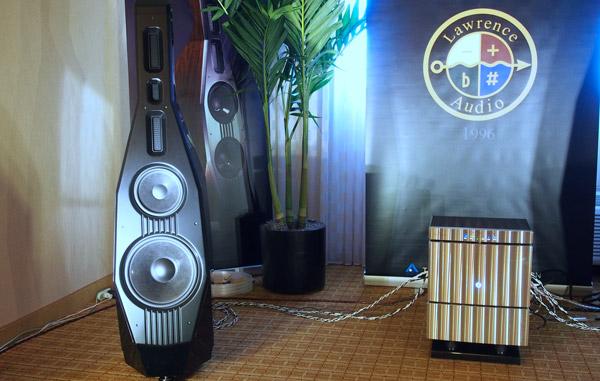 Taiwanese speaker manufacturer used an 400Wpc/8 ohms Jeff Rowland Design Group 825 stereo amplifier and Aeris DAC to demonstrate its new Double Bass loudspeaker ($28,000/pair), with audio data sourced from a Bryston BDP-1. The Double Bass combines an MTM ribbon array with an 8" sandwich-cone mid-woofer and 12" sandwich-cone woofer in a vented enclosure that resembles, yes, a double bass.
Initially, with the system playing an orchestral version of a Brahms Hungarian Rhapsody, the sound was both bright and lacking image depth. I was not impressed. But then the Lawrence staffer replaced his home-made woven speaker cables shown in the photo with Nordost Valhalla. I am not one for ascribing huge differences in sound quality to wires. But in this case, the change was dramatic, the presentation sounding more full-range and more authoritative, with improved imaging specificity.