A Short Show Report from Manila
At least 2,500 audiophiles attended the November HiFi Show at the luxurious Dusit Thani hotel in Manila, Philippines on November 10 and 11, 2012. The show featured thirty-nine exhibition rooms with a total of thirty plus dealers exhibiting products from across the globe.
The November HiFi Show began in 2003 as an informal vinyl swap between members of the Philippino web community Wired State, a website dedicated to friends in audio. Six months of preparation took place prior to the event with communication between show planner Antonio De Leon, hi-fi dealers across the Philippines, and various online audiophile communities such as Wired State, PinoyDVD, and the show's own Facebook page. According to Antonio De Leon, previous hi-fi shows in the Philippines featured thirty plus exhibitors all in the same common space. Exhibitors challenged each other to volume wars making it difficult for patrons to listen to any of the systems. As a result, De Leon, affectionately known as TonyBoy, set the goal to re-create a show experience similar to he saw in the United States where each exhibitor had a separate hotel room.
American brands at the show included Audio Research, VTL, Lamm, Magico, Von Schweikert, Conrad Johnson, Oracle, JBL, Revel, Mark Levinson, Kimber, Cardas, Berkeley Audio Design, and Modwright.
Many brands from the Philippines also exhibited. Harana Audio constructs turntables with Garrard plinth turntables and loudspeakers using vintage Altec and JBL drivers. JE Labs presented tube amps designed by engineer Joseph Esmilla. Tono Audio brough tube phono-preamplifiers. A-Audio Research arrived with loudspeakers. Hypertriode demoed their system modifications, and JV Audio Concepts showcased horn-based speakers. De Leon promotes the November HiFi show as a platform for local builders by subsidizing their room costs.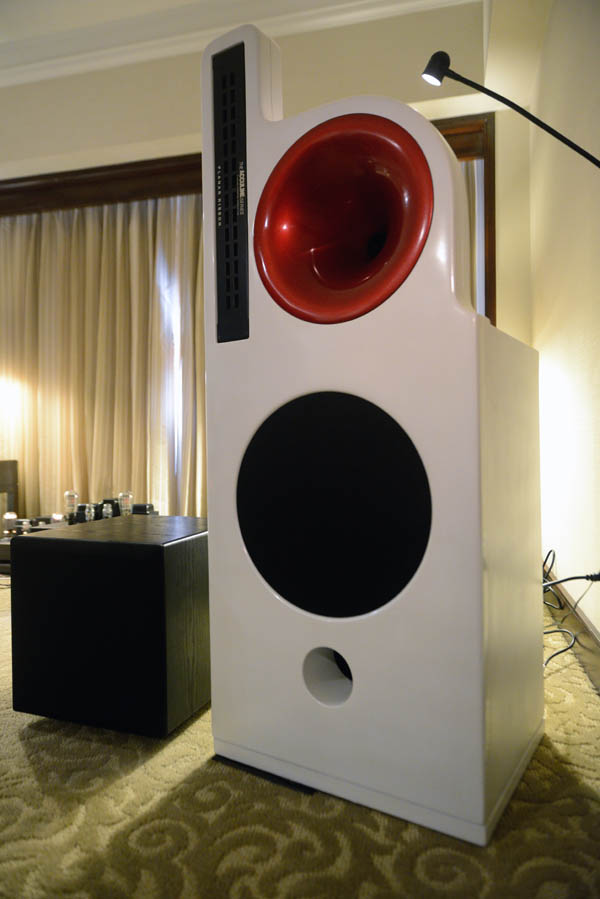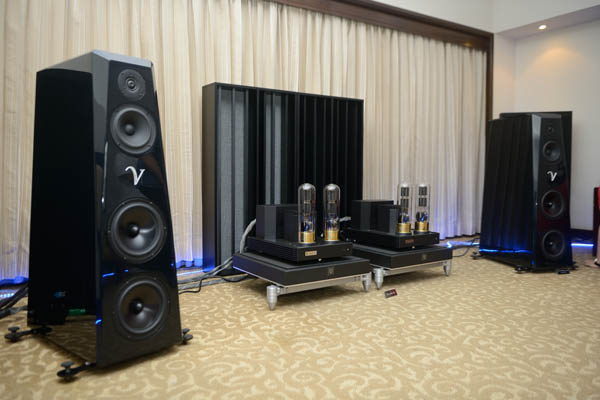 Presentations primarily featured high-resolution digital, but vinyl could be found as well. Stereo listening dominated. While classical and female jazz vocals were most predominant in the listening rooms, 70s rock emerged from the Vinyl Depot where records were on sale. Live music at the event included the jazz band Extrapolation, a group of college kids playing Miles Davis, Cole Porter, and Herbie Hancock tunes. Harana Audio brought along a restored Technics RS-1700 reel-to-reel playing back disco.
Even the Philippino President Benigno Aquino III, an avid audiophile, made appearances in the Focal-VTL, Von Schweikert-KR Audio, and Magico-Lamm rooms for some listening sessions. He even bought a CD at the Vinyl Depot. Obama, we're waiting.
Next year, De Leon hopes to bring in new brands and more people. The show for 2013 marks the 10th Anniversary for the November HiFi Show.