Capital Audiofest, Day Three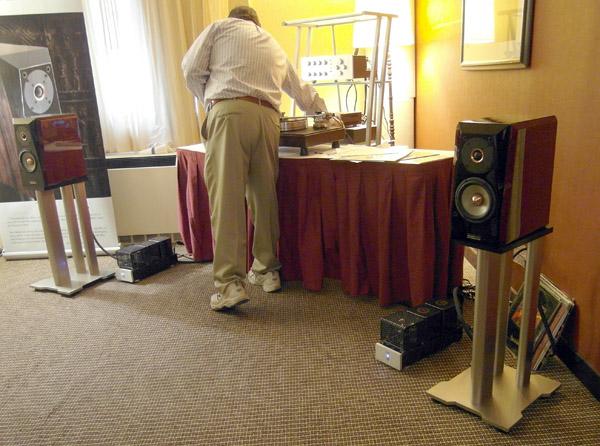 There was this guy in the room shared by Joseph Audio, VAS, and VPI (above), and I guess he'd been there for a little while before I came in: big guy, sort of athletic-looking. Jeff Joseph had apparently just played one of his CDs for him, and the guy was stunned. You could tell he wasn't just being polite: "That was . . .
really
good!" Irrespective of the name over the door, I think we all live for moments like that.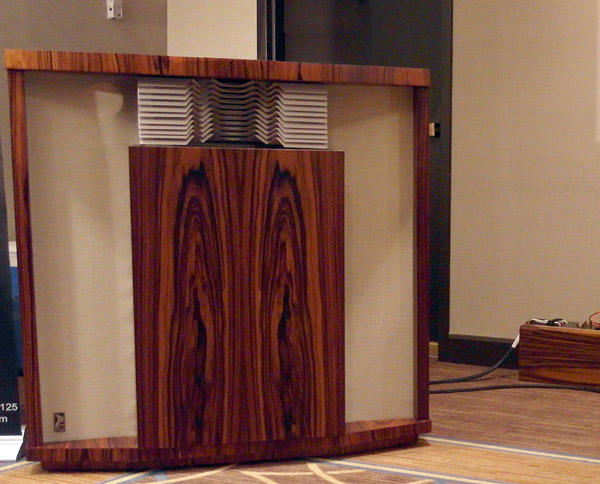 I've admired for years the vintage-inspired designs of John Wolff and Classic Audio Loudspeakers; at Capital Audiofest, their lens-loaded Hartsfield loudspeaker, now upgraded with proprietary field-coil drivers (regularly $36,500/pair, although the demo pair was available for a show-special price of $27,500), delivered tactile, realistically textured, shockingly clear sound on classical and rock music alike. I was also astounded at how far from one another the Hartsfields could be located in the enormous ballroom setting, while maintaining superb center-fill accuracy and depth. A truly stunning demonstration.
To drive the Hartsfields, John Wolff alternated between Atma-Sphere's class-A, OTL Novacron monoblocks ($12,000/pair) and the single-ended Allnic T-1500 ($7950), connected with cable products from Purist Audio Designs. Both the Atma-Spheres and the Allnic are among the most beautifully styled audio electronics one can buy, especially the Novacron—an enduring design that also happens to be the first to alert us to the musical possibilities of the great 6C33C low-impedance indirectly heated triode.
One is also reminded of the glories of older technologies in the presence of Robin Wyatt of Robyatt Audio, whose enthusiasm for great vintage gear seems boundless. Wyatt is the US distributor for Miyajima—whose Premium Mono phono cartridge is among the finest such products I've used—and for Capital Audiofest he demonstrated a system built around Quad ESL-63 loudspeakers (reconditioned by Electrostatic Solutions of Kansas City, MO and connected with TelWire of Allentown, PA), driven by Miyajima's own OTL monoblocks and fed with a Miyajima-equipped vintage Gray turntable and unipivot tonearm that was the talk of the show. At one point Robin Wyatt played his copy of the recent reissue, by the Electric Recording Company, of Johanna Martzy's famous recording of the Bach unaccompanied violin sonata and partitas; at the end of one piece, a show attendee spoke up: "I think it was worth the $20 I paid to get into this show to hear that."
Having heard so much about Border Patrol amplifiers—Greg Roberts of Volti Audio is especially fond of their work—I was happy to meet their maker, Gary Dews, a relocated Englishman with seriously good taste in music. While showing off the organic, well-textured, naturally colorful sound of Border Patrol's P20 push-pull 300B amp ($13,750), used to drive a pair of Living Voice Avatar loudspeakers, Dews turned me on to the music of Ben Goldberg and his album Go Home, in which clarinet, electric guitar, and electric bass are combined in a manner I've never before heard: utterly brilliant stuff.
New Hampshire-based LKV Research demonstrated their 2-SB solid-state phono preamplifier ($2500, direct) and a prototype of their forthcoming line-level preamplifier, to very good effect. A VPI Classic II record player did the vinyl-spinning honors, and the system also included a Premier-series amplifier from Conrad-Johnson and a pair of Magneplanar 1.7 loudspeakers from Magnepan: two classic companies whose gear I don't get enough of at contemporary audio shows.
Other new names at the show included Sonic Hemisphere—a maker of power-conditioning accessories and (apparently) Avalon Acoustics-inspired loudspeakers—and Anticables, a maker of . . . er, cables.
A great array of visually stunning gear awaited me in the larger of two rooms sponsored by retailer The Voice That Is, including the Aurender W20 music server ($16,800) and the enormous Tidal Sunray loudspeakers ($154,900/pair), used in concert with one of my favorite D/A processors, the reliably musical Bricasti M1 ($8595). At one point Rush's "Tom Sawyer" came up on the server, and the more I listened, the more impressed I was with this system: yes, I was skeptical at first (you know: Big. Shiny. Expensive. Conspicuous), but by the time I left, I wasn't sneering.
More than once, my weak eyesight and even weaker way with a camera forced me to return to certain exhibits for photographic do-overs. (Imagine my surprise upon realizing that the pale circles superimposed over my portrait of Vu Hoang were caused by dust on my lens and not Kirlian orbs.) The return visit was a pleasure in the case of the room sponsored by New Hampshire dealer Fidelis, where the Red Wine Audio Signature 57 integrated amplifier ($3995), Harbeth Monitor 30.1 loudspeakers ($5995/pair), and fascinating Stein Music Harmonizer room-conditioning accessory ($1995) conspired to make me love even Natalie Merchant: an artist whose work has never before impressed me, yet whose "Motherland" sounded audaciously good on this small, attractive system.
Finally: I don't know how he does it, but Jeff Catalano of Manhattan's High Water Sound virtually always assembles a system that plays music in an enchanting, physically involving, and downright soulful manner—and yet, at the same time, satisfies the desires of those who come to hear good sound in the more traditional, high-end-audio sense. Catalano's systems seem to do everything; that, combined with his sense of the adventurous in music, make the High Water room one of the few real must-hears at any show. In particular, Steve Tibbetts' Northern Song and Anja Garbarek's Smiling and Waving were amazing when heard through the combination of TW-Acustic record player, Tron and Thoress electronics and, perhaps most of all, the new Eufrodite Zigma Plus loudspeaker from Horning Hybrid ($24,000/pair) a Danish company that seldom fails to impress.