Blue Aura v30 Blackline desktop hi-fi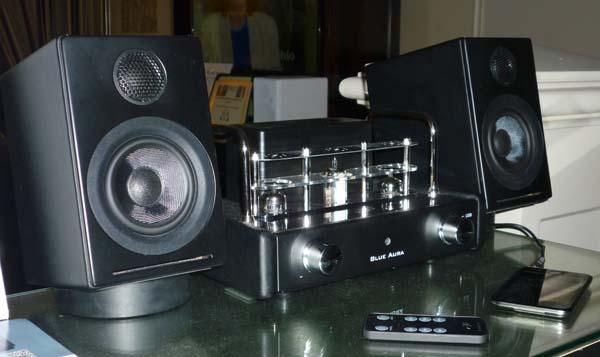 Specializing in user-friendly, wireless and desktop audio systems, Blue Aura is a UK-based company with manufacturing facilities in China. Though founded in 2010, the company gained presence in the US market just seven months ago. Here we see Blue Aura's v30 Blackline system ($549), comprising 20Wpc hybrid vacuum tube amplifier and passive WS30 desktop speakers.
The amp has a built-in 16-bit/48kHz-capable DAC and offers RCA, USB mini-B, and 3.5mm inputs, as well as a headphone output and remote control. Clad in faux-leather, the speakers use a 3.5" paper-cone mid/woofer and ¾" soft-dome tweeter. Cables are included with the system, but users can opt to go wireless with Blue Aura's WSTxR wireless transmitter and receiver kit ($149). The WS30 is also available in a wireless-ready, powered version—the WS30i costs $279/pair.
"We're trying to make our products as user-friendly as possible," Blue Aura's Alex Chiou told me. To that end, the company has decided to replace traditional binding posts with Ethernet connections, thereby avoiding any confusion over speaker wire—even the simplest aspects of hi-fi can prove challenging to the beginner.
Blue Aura currently sells direct and through Amazon.com, but the company is looking to build a dealer network. All Blue Aura products are offered with a 30-day money-back guarantee and two-year warranty.