Recording of March 2013: Old Yellow Moon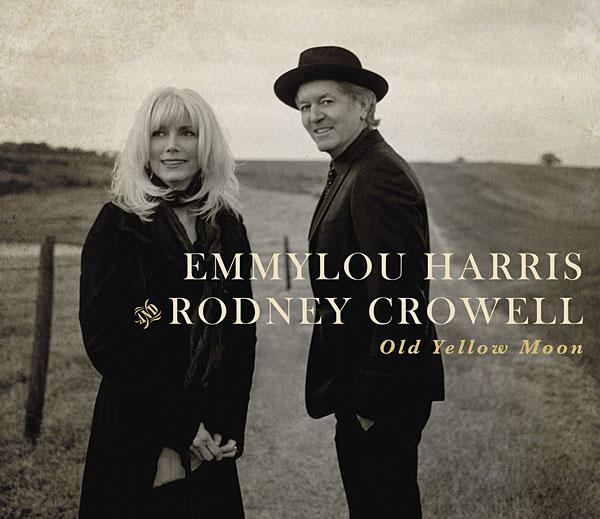 Emmylou Harris & Rodney Crowell: Old Yellow Moon
Nonesuch 534285-2 (CD/HDTracks download). 2013. Brian Ahern, prod.; Donivan Cowart, eng.; John Baldwin, Noland O'Boyle, asst. engs. AAD? TT: 41:04
Performance *****
Sonics ****½
A recent survey of my teenaged nephew and his friends turned up a number of musical trends both predictable and surprising. It sent them into paroxysms of disbelief and laughter when the old-man uncle asked whether they liked any guitar bands, like, say . . . Green Day. Guitar bands, to say the least, ain't cool. Pop-oriented hip-hop artists like Wiz Khalifa are. So are white, pop-rock "country" singers like Jason Aldean, whom teenaged boys, even in the age of piracy, continue to spend money on, be it downloads or a CD to rip.
Like everything else in the music business these days, Nashville has changed. What labels remain now chase hit singles rather than solid albums. The loudness wars there are over, with overprocessed sound the clear winner. And the songwriting, once the unassailable jewel in Music City's crown, has turned to soulless, soft-rock gruel played and sung by a bunch of clean-cut, tattooed halfwits, who are more concerned with overnight stardom than any lasting artistic impression. A universe away from Hank and Patsy, not to mention Willie, Waylon, and the boys, Nashville is now the pop-rock capital of the world, and in the process has sadly lost much of the soul that once poured from that monument to craft and heart known as Music Row.
Yet back in the 1970s, when Nashville had room for more flavors, from Charley Pride to Charlie Daniels, a young singer could cut her own trail. From Pieces of the Sky (1975) through White Shoes (1983), the team of Nova Scotian producer Brian Ahern and former Gram Parsons duo partner Emmylou Harris recorded an alternate universe of country music. That first album, Pieces of the Sky, announced to the world that Harris and Ahern, who married in 1977, meant to respect the past and incorporate the present while keeping an eye firmly fixed on the future by drawing material from the Beatles, Shel Silverstein, and, in the case of "Bluebird Wine," from a young, unknown singer-songwriter from Texas named Rodney Crowell. More a country-rock or perhaps a folk-rock album, Pieces of the Sky also quickly became known as one of the more expensive records of its era to produce, largely due to the fact that Harris and Ahern had paid to build one of the greatest backing bands in rock history, aptly known as the Hot Band. Although several tracks on Pieces of the Sky were cut with members of Parsons' former band, the Fallen Angels, the rest were recorded, with little rehearsal, by the new group. To assemble this killer ensemble, Harris and Ahern decided to raid the hottest band they could think of at the time, recruiting pianist Glen Hardin, drummer Ron Tutt, and the incomparable guitarist James Burton, from Elvis's band—which, despite its leader's many problems, was always incredibly musical. Although there were personnel changes over time, the hottest incarnation of the Hot Band was the one that simmered with the vocal duets of Harris and Crowell.
Now the pair have reunited to record an album that both re-creates their long-ago vocal magic and is the antithesis of today's soulless country music. Opening with the mid-tempo "Hanging Up My Heart," by former Hot Band pedal-steel player Hank DeVito, and Roger Miller's "Invitation to the Blues," which Ray Price made into a honky-tonk hit, the album shifts gears with "Spanish Dancer," by Patti Scialfa (Mrs. Bruce Springsteen), with Harris's soprano, still strong if agreeably burnished and mellowed, leading the way. Next is a slow duet on Crowell's "Open Season on My Heart," with Ahern on acoustic guitar, Fallen Angel John Ware on drums, and Pieces of the Sky alum and Little Feat keyboardist Bill Payne on B-3 organ, all of whom underline the famous opening stanza:
Here's to the corners yet to turn
Here's to the bridges yet to burn
Here's to the whole thing blown apart
It's open season on my heart.
But then these two veterans reach into their bag of tricks, kick up the tempos, and pour on the country soul in a swinging version of Kris Kristofferson's "Chase the Feeling." That vibe continues in a new version of "Bluebird Wine," recorded here at a faster tempo, with Crowell singing lead instead of Harris. Given this pair's vocal abilities and introspective personalities, a sad song or two is inevitable, and none here is greater than their soaring, intertwining, bittersweet rendering of Matraca Berg's epic "Back When We Were Beautiful." A gentle, lyrical "Old Yellow Moon," another DeVito number, closes the album. Like the Ahern-Harris productions of the past, the sound is beautifully delineated and detailed. A long-overdue good idea proven to be great.—Robert Baird