The Gospel According to Mark Levinson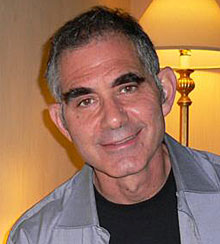 Nothing at 41 E. 62nd Street in Manhattan offers any clue as to what sort of business that takes place inside. The waiting room feels vaguely monastic: straw mats on the floor, a row of shoes near the door. Like a day spa offering acupuncture and
shiatsu
. There's no corporate name, no logo, no mission statement.
A clock running six and a half hours late hangs above a receptionist's unoccupied desk. An enormous white dog is asleep under framed pictures of old blues artists: Son Thomas, Etta Baker, Pernell King, Cora Fluker, Big Joe Williams.
An energetic young woman named Elizabeth invites us—photographer Courtney Winston and me—to make ourselves comfortable. On a notepad I draw a crude pyramid with a little triangle at the top, like the one with the mystic eye on the back of the dollar bill. "If this is the audio market," I tell Courtney, "Cello and a few other companies occupy the ultimate high-end. Mark Levinson is one of the people who got it all started."
As if on cue, the man in question appears. He greets us with an almost imperceptible bow. "Sorry to keep you waiting," he says. "I've got a guy here who wants to put Cello in all of his cineplexes." A sale like this would make most businessmen dance on their desks, but Levinson isn't the demonstrative type. He's truly apologetic.
While he takes care of business, we head upstairs to the third floor. Cello recording engineer Kurt Lundvall (son of Bruce Lundvall of Blue Note fame) shows us the thickly carpeted music room, its walls and ceiling encrusted with modular RPG (Refractive Phase Grating) Diffusers. Gray bass traps soften the corners. The windows are covered with heavy laminate shutters massive enough to block out the noise from the streets below. A single door weighs 350 lbs. The room is designed to be acoustically neutral, but not dead. It's very quiet.
Apart from the acoustic treatment, the place doesn't look much like a recording studio: no mixing boards, no glass-paneled booths, no racks of signal processors. The recording equipment—modified B&K measurement microphones, Cello Encore preamp, Apogee AD1000 analog-to-digital converter, two Nagra-D digital open-reel recorders, and two pairs of Stax Lambda Pro Signature headphones—fits easily on some modest wooden shelves. The top shelf holds a box of old Capitol master tapes, here for remastering. They're insured for a million bucks each.
It's really more a rehearsal room. Visiting musicians like violinists Vadim Repin and Julian Rachlin, composer Marvin Hamlisch, or jazz greats Lee Konitz, Tommy Flanagan, and Jacky Terrasson meet here to practice and improvise, sometimes recording themselves and listening to the results through Cello equipment.
Max Roach's custom-made drum kit stands in one corner, near a shiny-black August Forster grand piano. A sofa is occupied by a pair of large stuffed animals. Two frenetic bobtailed cats, Giacomo and Little One, play hide-and-seek under the piano and behind Levinson's treasured double bass—made in 1680, he says—and his flugelhorn in its case. Along the walls stand Indian stringed instruments: a sarod and several tambouras. Levinson, a longtime student of Ali Akbar Khan, may be the world's only practitioner of North Indian music on the upright bass.
He joins us, speaking emphatically about his crusade to introduce the professional music community to "the Cello process: no EQ, no post-production, no editing. We want to empower musicians. They have gotten used to the idea that their performances are simply the raw material which engineers use to make the final product. Having ultra-accurate playback gear in such close proximity to a rehearsal space is a revolutionary concept."
In a sweeping statement that takes in the entirety of the commercial music world—musicians, recording engineers, and playback equipment designers included—he says, "Memory fades. How can you make a claim for playback accuracy if you don't have the actual musicians there for comparison? That's how we do it. Most people in this industry make claims for accuracy based on playing commercial recordings. It isn't honest."
Levinson builds a convincing case with a few well-chosen words. He points out that one of the most persistent problems in the audio industry is "the lack of a basic standard for tonal accuracy. Did you know there's a 15dB spread in tonal balance among high-end loudspeakers? We have a video standard for color balance. Why can't we have something like that in audio? That alone would go a long way toward resolving these disputes." Listening to Levinson and Lee Konitz improvise "something in B-flat," then immediately hearing the recording through an assortment of Cello gear, I couldn't help but agree that reality is the only valid check for accuracy.
In the hallway, he takes a call from a confused customer in Florida. The problem? An inaudible center channel in a megabuck home theater. Levinson patiently walks the owner through a system calibration, with the intended soothing effect. As Cello's director, he exercises the skills of the diplomat and therapist many times a day.
One might assume he comes by it naturally: His father was Harvard and Yale psychology professor Dr. Daniel J. Levinson, author of (among many titles) The Seasons of a Man's Life, a seminal work that launched the field of the study of adult development. Privately, though, Levinson is almost awkwardly shy. In his preferred attire—blue jeans, T-shirt, and a pair of worn-out moccasins—he's easy to spot among the suited and polished legions at trade shows and high-level pow-wows.
We're here a week early, he insists. Scheduled for delivery in a few days is a Sonic Solutions 24-bit workstation. Like most audio professionals, Levinson is wildly enthusiastic about "24/96," the 24-bit, 96kHz-sampling-rate operating standard of the Digital Versatile Disc. "I think substantially improving the Compact Disc is a dead issue," he tells us. "24/96 is a huge leap forward. We haven't even begun to explore the potential. It won't be long before you'll be able to buy a machine that will totally blow away everything available now. The future is going to be really amazing."
"Really amazing" may be an accurate prediction for Cello, too—especially if all goes well with his new financial partner, whom Levinson describes as "one of the creators of the Internet" and "an intensely focused businessman with visionary ideas about Cello's direction, and the resources to make them happen." The company's new headquarters at E. 77th Street and Madison Avenue are scheduled to open in January 1998. In addition to showrooms and offices, the building will house a world-class restaurant with live music and a New York sitting room for, in Levinson's words, "Italy's greatest tailor," Gianni Campagna. Campagna and his son Andrea are artisans in the old-world handmade tradition. Their creations—no sewing machines, please—are worn by folks like actors Pierce Brosnan and Sharon Stone.
This development has been on hold more than two years due to other demands, such as a contract with the Library of Congress to build a room for no-compromise archiving of the Library's millions of recordings, reaching all the way back to Edison's earliest efforts. The Library's Cello Room boasts Grandmaster loudspeakers and Performance amplifiers, a number of Audio Suites and Audio Palettes, several custom-made Cello reference analog tape recorders—Nagra-T transports with Cello electronics—as well as components from other manufacturers. The Library's updated Audio Preservation Department enjoyed its public debut March 13 1997.
"Let's watch a video," Levinson says. We settle down in front of a big screen flanked by towering loudspeakers. On the floor are eight large silver boxes: Cello's Performance amplifiers. As configured here, they are capable of 6000 watts each into the 2 ohm, 99dB-sensitive Grandmasters. This system is a deadly weapon. Mismanaged, it could deafen a man in less than a minute.
Levinson cues up a laserdisc and zips to a nice "unplugged" performance of the Eagles' "Hotel California." The picture from the line-quadrupled Ampro projector is marvelous: rich, saturated colors, deep contrast, sharp detail, depth perspective. The sound, of course, is glorious. Courtney Winston, seen-it-all habitu;ae of Manhattan's art scene, is seriously impressed.
"Let's play some music," Levinson says. "No pictures. What did you bring?" Courtney produces a Capitol Jazz CD reissue of Miles Davis' Birth of the Cool. Kurt Lundvall retrieves their recently remastered 20-bit tape of the same recording and threads it onto a Nagra-D. Levinson starts the Nagra about 15 seconds after the CD, and switches between them as we listen. Audio technology was remarkably good 50 years ago, but the remastered 20-bit version has life.
Levinson rolls out a Palette preamplifier/equalizer on a one-piece Lucite stand. As we listen to the original "Moon Dreams," he switches the Palette's equalizer in. "Those cymbals—they're a little soft, don't you think?" Courtney nods. "Turn the 25k control until they feel a little more real." The cymbals take on increased presence. "The bass seems way off in the background, doesn't it?" Levinson says, indicating the left-most of the Palette's six tone controls. Guiding Courtney through re-equalizing the old recording by ear, he explains how this control affects that instrument, in the process bringing the musicians more into the room. The music becomes fuller, more present, more involving. Finished with the makeover, Levinson switches the equalizer out. The soundstage collapses into the sonic equivalent of a cardboard cut-out. It's a stunning effect, a magician's trick.
Mark Levinson doesn't believe in the inviolable preciousness of commercially recorded music. "It's absurd," he says, referring again to nonexistent playback standards. "How do we fix it? The Palette." He doesn't hesitate to criticize equipment or recordings made by others, or to apply liberal doses of the Palette's magic to make them sound better. In a violation of one of the basic tenets of the high-end religion, he encourages his customers to do so, too: just twist those dials until that less-than-perfect recording sounds more like music.
He admires good engineering in competitors' products, but declines to discuss them, preferring instead the bigger topic of what he sees as the industry's malaise: the eternally unhappy audiophile and his endless upgrade syndrome, and "the cartel of manufacturers and publishers who perpetuate it." Dealers are largely powerless pawns trapped in the system, Levinson feels, but the industry overall seems more interested in making a quick buck than in satisfying the musical needs of the people who support it.