Capital Audiofest—Day Two Late Afternoon
As you can see from the massive 1930s cinema-style horn system that graced the Crowne Plaza's Salon I, there was a significant retro vibe to the 2012 Capital Audiofest, something that became clear as I started my sweep of the second-floor rooms.
I had already come across a couple of examples of the vibe on other floors, including this classic combination of a vintage Jensen supertweeter, a horn-loaded Western Electric compression driver, and a Western Electric/Jensen 15" woofer in a custom cabinet ($44,000/pair) in the Deja Vu room. Driven by a Deja Vu Vintage Collection 349 stereo amplifier ($27,000) and a Vintage Collection 127C preamplifier (both using Western Electric transformers and tubes), with Snake River cables and a Technics RS-1800 open-reel deck, these speakers did make Ella Fitzgerald sound like Ella, at least.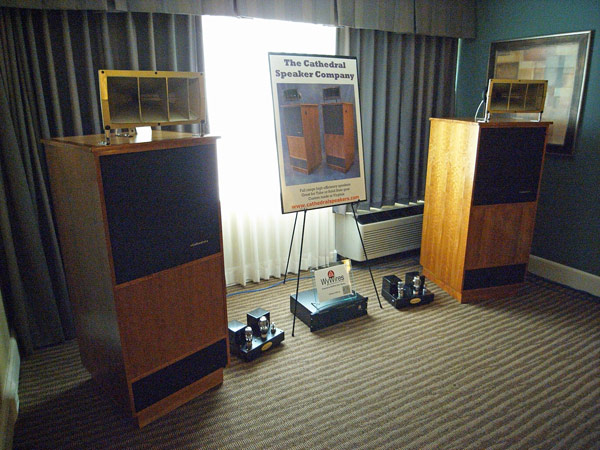 I had been impressed by the quality of Cathedral Speakers' retro-style models at the 2011 CAF. At the 2012 Show, they were exhibiting the Model 3113 ($6995/pair with Altec 811-B horn), which uses Eminence Pro Audio drive-units and offers a claimed sensitivity of 100dB/W/m. The system included a vintage Scott Stereomaster 233, fitted with Russian tubes and caps, with a Bel Canto DAC2.5 source. Cables were all WyWires Blue Series. No Ella in this room but a Duke Ellington LP had natural tonal qualities and great vitality.
One of the Silnote Cables rooms on the second floor featured a pair of floorstanding two-way Tyler loudspeakers, the DP15, which weighs 125 lbs, combines a huge 15" woofer with horn-loaded highs, offers a claimed 98dB sensitivity, and costs $4000/pair or $3000/pair from the manufacturer's website. This combination of drivers in a two-way design is perverse, the 15" woofer becoming so directional at the top of its passband that it is hard to see how its output could be optimally integrated with the tweeter's at the bottom of its passband. The sound? Only so-so, I'm afraid.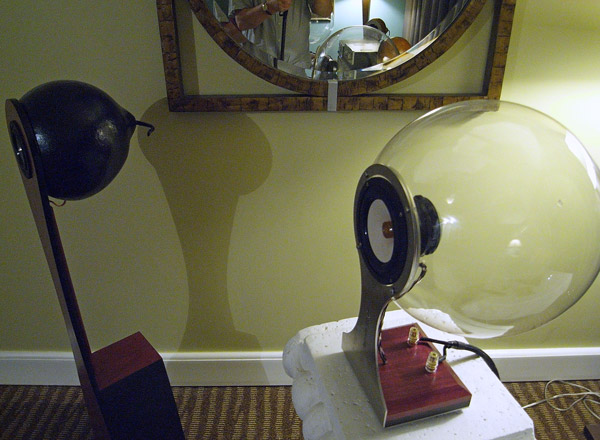 Across the corridor from the Tyler room, another Silnote Cables room featured the even more perverse Oasis speakers. These feature a single full-range drive-unit mounted in an enclosure formed either from a calabash gourd or in the case of the model in my photograph, a blown glass sphere. A sphere is possibly the worst shape for a speaker enclosure, as all the internal standing waves occur at the same frequency. I couldn't judge the sound of these speakers as the display was silent. I decided not to ask for some music to be played.
The system in the room shared by Myemia, Lowther America, Hifi Heroin, Azurahorn, and Analog Instruments, was not silent. Far from silent, in fact. What appeared to be a field-coil–energized Lowther drive-unit was mounted in an enormous horn and supported at low frequencies by two 15" woofers.
It was a relief to enter the final room on the second floor that I managed to visit before I had to be down in the hotel's ground-floor atrium for the raffle at 6pm. After the outrageous Lowthers, the Volti Audio Vittora speakers ($12,600/pair) seemed almost normal. A three-way design, combining a 15" woofer in a folded W-horn with 2" outlet midrange compression driver loaded with a wooden tractrix stepped horn, and a 1" ring-radiator compression tweeter in a Baltic Birch plywood enclosure, these speakers are hand-made by Volti's Greg Roberts. Apparently it takes 240 man-hours of labor to build each pair. Either Greg Roberts' own SET amp with 2A3 output tubes or a Border Patrol 300B amplifier provided the power for this 104dB-sensitive speaker via Mojo Audio cables; source was an EMM Labs CDSD transport and DCC2 SE Digital Control Center, the latter used as the system preamp. There was also a Volti Vittora 18" subwoofer ($2400) in the room, driven by a Marchand MB42 300W amplifier ($1200), to handle frequencies below 50Hz.
Finally, a retro speaker that attempted to sound modern while preserving the benefits of high sensitivity. The title track on the SACD of Steely Dan's Gaucho was reproduced with a full-range balance, extended highs and lows, natural tonal quality in midrange, and excellent dynamics.
Down in the atrium while waiting for the raffle to start, I saw a pair of speakers using the classic Altec-Lansing Voice of the Theater 604 coaxial drive-unit, which mounts a multi-cellular treble horn in the throat of a 15" paper-cone woofer. I know this drive-unit has acquired almost religious status, but back in the day, when I was working as a bass guitarist in studios, a speaker like this, with the 604 driver mounted in a small enclosure, was my least favorite monitor, due to its lack of lows.
And to finish my trip into world of weirdness at CAF, across the room from the Altecs was this: two arrays of organ pipes beneath which, according to 6 Moons writer Larry Borden, who drew my attention to this monstrosity, were 24 paper-cone drivers firing upward into the pipes. And to be honest, this was not the worse-sounding speaker at the 2012 Capital Audiofest. It may have aimed low, but it achieved its goal!