From a 3-Speed Jobbie to the Cutting Lathe:
How Bill Pauluh Became an Audiophile
In our "Becoming an Audiophile" series, readers share stories of how they got into the hi-fi hobby. This is the story of how Bill Pauluh became an audiophile.
I've been involved with music, phonographs, and hi-fi going back to when I was four or five years old. I came up at the end of the 78rpm era in the late 1950s. I would guess that I'm in the ballpark age of Michael Fremer. The really big "six oh" is arriving at the end of July—scary.
I got my love of music from my mother and my mechanical/troubleshooting ability from my father. Put music and mechanics together and you get phonograph records! A natural for me!
I received my first record player on Christmas day, 1957—a little 3-speed jobbie that my parents got from the G. Fox & Co. department store in Hartford, CT. They also got me a bunch of "Red Raven" records. These were 8" in diameter and had a recorded band area of about 1.5". The rest of the disc contained a huge label with an animation on which you placed a multi-facet mirror to reflect the animation. I eventually met the person who mastered these!
Anyway, as I got a few years older, I started buying my own 45s (Chubby Checker's "The Twist" being one of the first) and the collection started to grow. As a typical collector, I still have those 45s.
After a time, I started wondering "How do you actually make a record?" Anyone could make a reel-to-reel tape recording—that was easy. I wanted to make a record! No internet: I searched high and low in libraries, but found nothing.
Along the same time (mid 1960s), I had been given an RCA Victor 45rpm portable record player, model 45EY3.
Well, the 45EY3 developed a problem with the changer, so I took it down to a local TV/Radio repair shop in my town and watched in ashen horror as the owner banged the unit around, trying to get it to stop cycling constantly. The "ah-ha" moment hits me square in the face: I better start learning about repairing these things. So that started me on the road to repair. I started haunting the old radio supply houses in Hartford and finally found a manual titled Servicing Record Changers. Yeah, man! I need that! Then I got my hands dirty and greasy. Started fixing record changers, asking neighbors if they had any old radios they didn't want, hauling 1940s-era consoles back to the basement to tinker with.
But how do you make a record?
One day, I came across a Wilcox Gay disc/tape recorder sitting around in a closet at my high school.
Took it home and found that everything worked but the crystal cutterhead. I replaced the cutterhead with a good crystal cartridge, found some still useable steel cutting needles, and employed some unused blank lacquer discs that I had found from junk shops. Once I'd gotten it working, I brought it in to class for show-and-tell and had a classmate read some stuff to demonstrate. Everyone in class flipped!
That path started to slowly branch out, and as I grew older, I slowly started to gather more bits and pieces. I learned about Boynton Studio in Morris, New York (close to McIntosh Labs) and started to buy some gear from them for disc recording. By this time, I had started to read Audio magazine—saw it at the supermarket magazine rack, May 1967—and I started becoming more aware of "components."
Hanging out after school at my friend Mike Rowe's house, I saw my very first hi-fi stereo component system that his father assembled. He assembled the turntable, a single-speed Fairchild with Fairchild tonearm on an unfinished homemade wood base. Had a vacuum tube H.H. Scott stereo amp and tuner and two cool JBL speakers placed in the living room. And the rows of jazz 12" LPs along the floor—WOW!
So now I've got a little allowance money and I start buying all kinds of records. You know, the top 40 singles and oldies, jukebox operators, going to every record shop in downtown Hartford... And then I find out about the Belmont Record Shop. Getting there required a bus transfer and I started going there because they were supposed to have "EVERYTHING," new and old! The store was divided into two sections—mono records with small listening stations on the right side, and stereo records on the left—right next to their hi-fi salon, "The Sound Room." I started going into the sound room to check out the gear. Their flagship line was Fisher and they also carried Garrard turntables, components by Altec, Electro Voice, and many others.
Eventually, I bought two thirds of my first system there. Getting back to the records, the old back stock that they had was amazing! I bought brand-new late 1950s RCA Victor 78rpm records ("New Orthophonic High Fidelity") and, man, did they sound good on my portable Motorola Stereo. The shop got to know me real well, and eventually I worked there.
Then, around 1969, I started going to The Stereo Shop on Asylum Street in downtown Hartford. They were (and still are) the McIntosh franchisee in the greater Hartford area and still do business to this day.
I remember buying two copies of the first "modern" direct-to-disc LP there: Lincoln Mayorga and Distinguished Colleagues (Sheffield Labs #1). Doug Sax and Lincoln were frustrated by the cruddy quality of many current LPs and wanted to bypass the "magnetic tape" stage and show what a modern disc-cutting system could do. Back then a lot of people blamed the "bad" sound of LPs on the cutting systems. On the front cover of Sheffield #1 was a great photo of Doug Sax's Scully lathe with a Neumann SX-68 cutterhead. I'm thinking: "Wow...Scully lathe? Gotta find out more about that!"
Back in high school, some of my friends are starting to investigate hi-fi components. As their older brothers had some cash and were putting together their first systems, we were trying to save up our meager allowances in hopes of eventually assembling our own as well. We get together and discuss turntables, cartridges, amplifiers, speakers, reel-to-reel vs disc, and so forth: "The frequency response of amp A is 20 to 20,000 cps plus or minus 3db. Will it sound better than amp B whose frequency response is 20 to 22,000 cps plus or minus 3.5 db?" You know, really nitpicking specifications. We had a lot to learn. We send away for product catalogs and check out the newspaper ads that were starting to appear from some new discount dealers like Cranston Studios in Danbury.
I start learning more about record-cutting and got better gear and I just kinda went trial and error, figuring out pieces of the large puzzle. After graduating high school in 1970, I land a job at a small stereo shop run by a guy named Dave Maack, who was trying to make a go of it. Newly married, he couldn't pay me much, but I jumped at the chance. We carried Marantz, Rabco, Thorens, P/E Turntables, ADC and Shure cartridges (the V-15 Type II had just come on the scene). We had Rectilinear speakers, Acoustic Research, Audio Dynamics, and Sony tape decks.
We hung in there until September 1971, but couldn't make ends meet, so the store closed and I was out of a job. (Dave and I still are in contact, more than 40 years later.)
I land at the Belmont Record Shop in October 1971 and work there full time. The store had burned down in March 1971 and it took about six months to rebuild. The Sound Room was to be no more, as Joe didn't want to get into that again. Maybe he could sense what was coming down the road with the audio business.
A couple of years later, a co-worker of mine at the Belmont Record Shop, Rick Pulito, asked me if I could recommend a new turntable for his sister Janet. Her turntable didn't work and she wanted to get a new one. I asked Rick what kind does she have? "A Garrard 40 B automatic turntable." I told Rick to have Janet bring it in, as I knew I could fix it. I can still visualize Janet walking down the main aisle of the store to our back counter with that Garrard in hand. Long story short - I fixed it, didn't want any payment, Janet offered to buy me a drink, we start dating, and now we've been married for over 30 years - the best thing that ever happened to me! By the way, the turntable still works!
In my stare time, I started offering a disc-recording service, since I now had a Rek-O-Kut lathe and Presto 1-D cutterhead, driven by a 100W Fisher mono amp. That cutterhead could only go out to 10kHz, but it was better than anything I previously had! I had traded an AMI Model I jukebox for the cutting system. Then I started working for Douglas Clark at a recording studio in East Hartford called Creative Sound Studio. Well, one day around August 1973, I walked in to purchase some blank lacquers for my stuff, and Doug says, "I got an engineer who's gonna be leaving soon. Do you know of anyone who would like a job?"
I almost fall on the floor! I answer, "Yeah, me!"
A whole new chapter in my life begins now. I go back to Belmont Record Shop and tell my boss Joe Cyr that I'll be leaving. He's stunned. He doesn't want to lose me. "Is it the money?" he asks. Well, I didn't make much there, but did it because of my passion for all types of music. I answer to Joe, "It's not the money Joe. This is something I have to do! Tell you what, are you okay with me working part-time?" You see, I still wanted to keep up with what was happening on the retail end of the music business. "Okay," Joe said, "it's a deal."
So, I begin working for Doug and his wife Linda beginning September 1973. As I wasn't going to college, this would become my "college education," as there were no schools anywhere to learn this craft at that time. Now the real learning begins! Back in that time, there was very little recording equipment being made. You had to make it yourself. Doug's a pretty amazing person. He made his own console, built his own plate reverb, bread-boarded all kinds of circuits to do whatever. His cousin Gordon would send him a schematic he drew up and have Doug build a few and try 'em out. A decade earlier, Gordy worked in downtown Manhattan at Stea/Phillips Recording Studio. He was a great engineer with a great set of ears!
What an eye opener for me. Now I'm starting to get exposed to electronics. I don't know the theory, but I'm picking up a lot from day to day operations with Doug. When Stea/Phillips closed down, Doug acquired the disc cutting system that Gordon built. It was comprised of tandem Fairchild model 740 lathes, each with a Grampian Model D mono cutterhead. The equipment rack had a massive Haeco G-200 amp designed by a brilliant engineer named Howard Holizer. He really elevated that state of the art in disc cutting! Go ahead and ask Bernie Grundman; he'll tell you!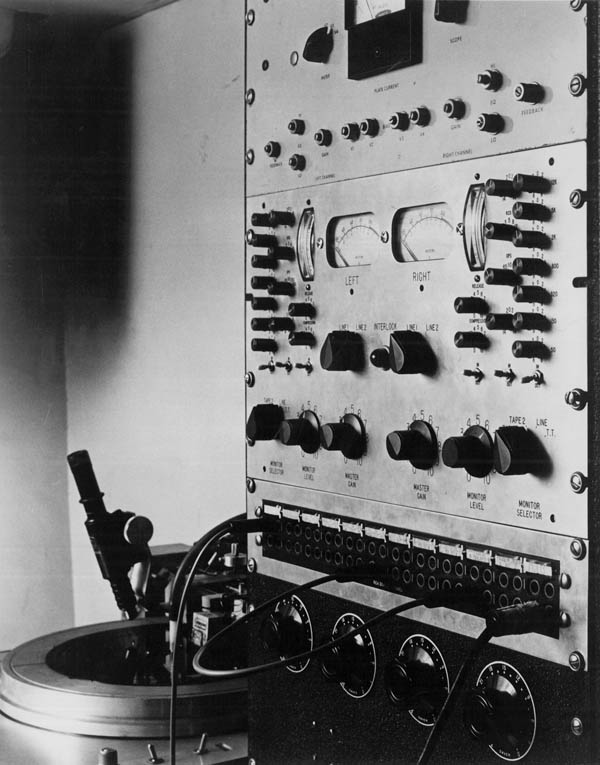 The G-200 amp was designed to drive two Grampian D cutters. These excellent magnetic cutters from the UK were very inefficient as the stylus armature assembly pivoted on two very hollow torsion bars. It took more power to drive the stylus, but the advantage was that the primary resonance of the cutter is in the 9–10kHz region, keeping the secondary resonance above the audio range. Good transient response? You bet! And the cutter was unaffected by mechanical loading of the lacquer disc!
Howard Holizer employed RCA 6146A beam power tubes for the output section of the amp. These were mostly used by ham operators for transmitting purposes (!), but they were also very good for audio. This was the first time I had ever seen an amp of this caliber! The overall construction was beautiful!
The RCA 6146As required a plate voltage of 750 volts! This required an exterior anode connector on the top of the tube—you wouldn't dare try to pass that voltage thru the octal base. And they also required a very regulated power supply, which was that 85-lb brick that sat at the base of the rack! Man was that heavy!
In the middle was the custom board that Gordon designed: a compressor and peak limiter for each lathe, and a really custom remote push-button control for partial automation of the lathes. I had never seen such a system, much less knew how to operate it! Doug started teaching me all kinds of things.
I learned how to calibrate the Grampian cutters for flat frequency response, watching the light pattern reflections of the various frequencies as he hooked up an HP signal generator, decibel meter, and scope, to make sure we were applying frequencies of equal level as we started at 15kHz, going down to 14, 13, 12, 11, 10, 9, 8, 7, 6, 5, 4, 3, 2, and 1kHz. I held a flashlight at the lacquer disc, looking at the width of each frequency band to ensure that they were all equal in width. Width equals voltage. We'd aim for as flat a response as possible, watching for any resonant peaks in the 9–10kHz region. If we saw a peak, then Doug showed me how to add some Dow Corning 200 fluid through the top access hole of the cutter, and wait for the fluid to work its way down and get absorbed in the cigarette-paper wick, which was wrapped around the armature assembly for the cutting stylus. Then we'd grab a new 12-inch lacquer and start to cut more frequency bands to see if the peak is gone. Man, where else could I learn, much less know, that this was needed to be performed? No schools—you had to be in the industry!
And we're not even done! We now have to apply RIAA equalization and start cutting a whole new test disc. And we also have to have a "calibrated" phono playback system. And that means having an industry standard RIAA calibration disc. And you can't play it too much, as the high frequency bands won't be any good for calibration purposes. Whew!!
I learned how to solder, calibrate the record, and playback sections of all the tape gear: Ampex 351 2-track, Ampex A440 Mono Full Track, 1-inch 8-track Scully, and later on, our 2-inch 16-track MCI. I learned how to re-lap heads to polish down the groove that wears down the peak of the tape heads, then to remount the heads, adjust for correct azimuth, zenith and wrap, and then put on a calibration test tape to align the playback side, and then do the record side. I also took the transports apart to clean and lube the motors and such.
I learned audio editing on the Ampex 351, and, most important, I learned how to listen—I developed a good set of ears—what's good sound, what's bad, the sonic effects of compression, limiting, noise gates, EQ…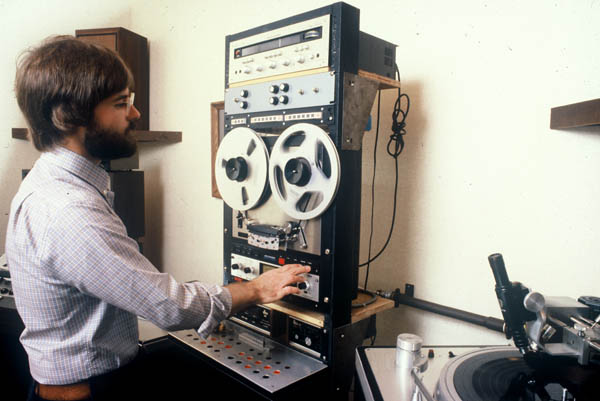 Doug takes me down to New York City to get acquainted with people in the industry, and I meet Ray Hagerity—the guy who mastered the Red Raven records that I had as a child. I see his custom modified Scully lathe—the only one of its kind in the world, which could cut multi-groove puzzle records (many that were used in toys) and supersmall-diameter records, such as the Philco Hip Pocket records (some of which I had purchased a few years earlier at Belmont Record Shop).
I went to my first AES show at the Waldorf=Astoria Hotel, and I met Jack Mullen there. He brought along his huge collection of vintage audio equipment. Jack was pretty much responsible for getting magnetic tape recording going in this country after World War II. Fascinating story of how he ended up at radio Frankfurt and eventually disassembled two German magnetophons and shipped them back to his mother's house in the US. He rebuilds the electronics with American components and travels around southern California demonstrating these units to the film industry. Bing Crosby hears them and wants Jack to record his radio show, higher quality and easier editing than the disc-to-disc method they were using. I'm flipping out! I can't believe what I'm hearing and seeing! Jack's even got a Western Electric Vitaphone recording lathe with a 3"-thick wax master disc on the turntable! This was the same lathe that was used for the first sound motion pictures—synchronized sound on disc!
My hi-fi friends have never seen this stuff! And here I am, right smack dab in the middle!
I go to pressing plants, album jacket fabrication plants, print shops, etc. We get better disc cutting gear—by this time (1975), we had a secondhand Haeco SC1 stereo cutter on one of the two Fairchild lathes and had learned the differences between cutting stereo discs and cutting mono discs.
In 1977, RCA's Studio B in Nashville closes up. We get a call from an audio dealer in Pennsylvania—Charlie Weigand of Weigand Audio. He's got the Westrex 3D cutter from RCA Studio B. We make a trade: the Fairchild 740 lathe with the Haeco SC-1 cutter in exchange for the Westrex 3D cutter. Doug takes two McIntosh MI75 amps from Stea/Phillips and adds a motional feedback circuit to them. They're used to suck out the 29db peak at 1kHZ, which is the primary resonate peak of the Westrex Cutter. And that when I began cutting masters!
I pretty much did all of the disc-cutting at the studio, and was well acquainted with the Fairchild lathes. I had to manually adjust the pitch (or number of lines per inch), as well as the depth of cut, because we were cutting in both the lateral and vertical planes with stereo in order to maximize the recording level and to be more efficient with the real estate on the disc. I had to run through each master tape to become familiar with the songs, the dynamics, make note if there was any excessive low frequency out-of-phase material, as that's gonna cause a lot of vertical cutting and that means you have to increase the depth of cut—but you can only go so far as you risk cutting into the aluminum substrate of the master lacquer, and then you'll blow a stylus!
I started doing stuff for other local studios in the area, as we were the only studio in New England that could handle the whole process, both tape and disc! I even got some master tapes from one of the pressing plants we used. One was the reissue of the Ed Rudy/Beatles record that came out after John Lennon's assassination. My name is in the lead-out groove area! Sonically, it had a bad buzzing in the 14kHz area, so I sucked it out with a notch filter. I was also instructed to edit out the words "pulse beat," every time Rudy would say: "Our Radio Pulse Beat News microphones..."
Hi-fi, indeed!
Doug taught me a lot.
To most engineers, the disc cutting process was a mystery. It really is an art. In 1977, I met a gentleman named Mort Fega— good ol' MF.
He became like a second father and mentor to me. I started hanging out at the University of Hartford's radio station WWUH on Tuesday nights 8:30 to midnight, and I learned a lot from Mort. Man, do I miss him!
In the fall of 1982, Doug had to let me go, as the climate was changing. The TEAC 3340 is taking a lot of business away. More bands are rolling their own. Magazines like Mix, start appearing on newsstands. I go to a technical school (Computer Processing Institute) and study electronic theory as well as learn about microprocessors. The Coleco Adam computer is going to come out soon and "thousands of new jobs are going to be available." Coleco was located in nearby West Hartford. Well I graduate the course with a 4.0 average and start to make a shift.
A friend of mine (who worked with me at Belmonts), went to a similar trade school and landed a job at Royal Business Machines, servicing photocopiers. The Hartford branch needed another technician. I figure I can do the work. I apply, get the gig, become a tech on the road, and learn the secret life of the photocopier.
From there, I became an instructor at the home office in Windsor, CT, do that for about two years, move on to a small video department, and start learning video production. Well, I've been with the company for 28 years this month (it's now Konica Minolta Business Solutions USA, Inc.), and I develop technical training materials, using whatever media is appropriate. I currently use Final Cut Pro 7 and Adobe Premiere PRO CS5.5, Sony Sound Forge, and Adobe Audition for audio work, Photoshop, and a bunch of others.
In my spare time, I keep busy rebuilding vintage vacuum tube amps and repairing/refurbishing various classic turntables (Garrards, Duals, Collaros, etc.). I've also gotten some younger co-workers at Konica Minolta spinning vinyl now with automatic turntables that I needed to find a good home for.
Recently, I've completed total restorations on 3 Pilot Radio Corporation Hi Fi consoles from the 1956-58 era (the Pilot "Ensemble" series - models PT-1030A for a co-workers father, and a PT-1030B and PT-1030D for my collection). Pretty awesome sounding units, especially for their size. As a matter of fact, after my brother-in-law Rick heard my Pilot PT-1030B, he finally went out and bought himself a really nice system: Jolida tube amp, ZU Audio "Omen" speakers, Project Expression turntable, Bellari phono preamp, new rack and so forth!
Whew!
And this all started out because I wanted to know: "How do you make a record?"
Want to share the story of how you became an audiophile? Send your stories to stephen.mejias@sorc.com.